Sanctions Against Iran Partially Lifted As Compliance With Nuclear Deal Is Confirmed By IAEA
Another hopeful step forward, thanks to diplomacy.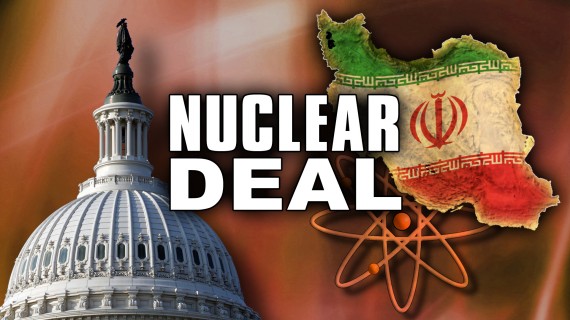 The United States and several European nations have officially lifted a series of sanctions against Iran after the International Atomic Energy Association certified that the it had complied with the initial requirements of the nuclear deal reached last summer:
VIENNA — The United States and European nations lifted oil and financial sanctions on Iran and released roughly $100 billion of its assets after international inspectors concluded that the country had followed through on promises to dismantle large sections of its nuclear program.

This came at the end of a day of high drama that played out in a diplomatic dance across Europe and the Middle East, just hours after Tehran and Washington swapped long-held prisoners.

Five Americans, including a Washington Post reporter, Jason Rezaian, were released by Iran hours before the nuclear accord was implemented. The detention of one of the released Americans, Matthew Trevithick, who had been engaged in language studies in Tehran when he was arrested, according to his family, had never been publicly announced.

Early on Sunday, a senior United States official confirmed that "our detained U.S. citizens have been released and that those who wished to depart Iran have left." The Washington Post also released a statement confirming that Mr. Rezaian and his wife, Yeganeh Salehi, had left Iran.

"Iran has undertaken significant steps that many people — and I do mean many — doubted would ever come to pass," Secretary of State John Kerry said Saturday evening at the headquarters of the International Atomic Energy Agency, which earlier issued a report detailing how Iran had shipped 98 percent of its fuel to Russia, dismantled more than 12,000 centrifuges so they could not enrich uranium, and poured cement into the core of a reactor designed to produce plutonium.

But Mr. Kerry was clearly energized by the release of the Americans, an issue he took up on the edges of almost every nuclear negotiation, and pursued in separate, secret talks that many involved in the nuclear issue were only vaguely aware were happening.

(…)

With the start of the so-called implementation day, the day that the accord goes fully into operation, the structures are finally in place for Tehran to re-engage with the world after decades of isolation.

But even in a week that started with the release of 10 sailors who drifted into Iranian waters — the Defense Department still has not provided an explanation of how that happened — and ended with a prisoner swap that seemed drawn from the pages of the Cold War, it was far from clear whether Tehran would choose to re-engage — at least very quickly.

In Tehran and Washington, political battles are still being fought over the merits and dangers of moving toward normal interchanges between two countries that have been avowed adversaries for more than three decades. But Mr. Kerry suggested that the nuclear deal had broken the cycle of hostility, enabling the secret negotiations that led up to the hostage swap. It was far from a sure thing: Just weeks ago, Iran was demanding the release of nearly 20 Iranians convicted or indicted in the United States; an administration official said that number had been whittled down to seven, but even that still rankled some.

"Critics will continue to attack the deal for giving away too much to Tehran," said R. Nicholas Burns, who started the sanctions against Iran that were lifted Saturday as the No. 3 official in the State Department during the George W. Bush administration. "But the fact that Iran's nuclear ambitions will be effectively frozen for the next 10 to 15 years is a real advantage for us," he said, adding that "it was achieved by tough-minded diplomacy and not war."

(…)

Mr. Kerry emerged to tell reporters he had reached the goals he has talked about for two years. "Each of the pathways that Iran had to a nuclear weapon have been verifiably closed down," he declared. Noting that Tehran has frozen much of its activity during the negotiations, he responded to critics of the deal — including, without naming them, the Republican presidential candidates — who say that Iran will immediately cheat.

We have now two years of compliance under our belt," he said. "Obviously, past performance does not guarantee future results." But, he argued, "we know without doubt that there is not a challenge in the entire region that wouldn't become much more complicated if Iran had the ability" to produce nuclear weapons."

But Iran has something it desperately needs: Billions in cash, at a time oil shipments have been cut by more than half because of the sanctions, and below $30-a-barrel prices mean huge cuts in national revenue.

Just how much cash is a matter of dispute. A senior American official said Saturday that Iran will be able to access about $50 billion of a reported $100 billion in holdings abroad, though others have used higher estimates. The official said Iran will likely need to keep much of those assets abroad to facilitate international trade.

The Obama administration on Saturday also removed 400 Iranians and others from its sanctions list and took other steps to lift selected restrictions on interactions with Iran. Another 200 people, however, will remain on the sanctions list under for other reasons, including terrorist activities, human rights abuses, involvement in civil wars in Syria or Yemen or ties to the country's ballistic missile program.

Under the new rules put in place, the United States will no longer sanction foreign individuals or firms for buying oil and gas from Iran. The American trade embargo remains in place, but the government will permit certain limited business activities with Iran, such as selling or purchasing Iranian food and carpets and American commercial aircraft and parts.

It is an opening to Iran that represents a huge roll of the dice, one that will be debated long after Mr. Obama he has built his presidential library. It is unclear what will happen after the passing of Iran's Supreme Leader, Ayatollah Ali Khamenei, who has protected and often fueled the hardliners — but permitted these talks to go ahead.
What the IAEA certification means, of course, is that Iran has met the first round of requirements under the nuclear deal that was finalized this summer and put into effect in early fall. This means that they have begun the process of shutting down one of the their primary research reactors, a process which required them to pour concrete into the core of the reactor to ensure that it cannot easily be restarted as well as other steps that, at least in the short and medium term are intended to make proceeding down the road to a nuclear weapons difficult if not impossible. In exchange for this, Iran is gaining access to funds that have been frozen in some cases for years. For the most part, these funds consist of money that is rightfully owed to the government of Iran or to Iranian companies for goods or services provided to foreign nations or bank deposits in the names of those entities. These funds have been frozen due to the sanctions imposed by the United States, Europe, and the United Nations. The certification also means that Iran will regain access to the international banking system as well as the ability to sell its oil on the open market going forward. That last item is an interesting one given the fact that world oil prices have been plunging in recent weeks in response to signs of a weakening economy in China that would lead to lower demand for energy from that part of the world. Many oil analysts believe that Iran putting its considerable reserves back into the world market will likely mean that prices will continue to fall, and that they're likely to stay low for some time to come. While this development will not be welcomed by the oil industry, and could have interesting impacts in nations that rely on oil as their primary sources of income such as Saudi Arabia, it could have a positive impact here in the United States and Europe as money typically spent on energy and transportation is freed up for other purposes.
Going forward, of course, the question will be whether Iran is continuing to comply with its obligations under the nuclear agreement, including the provisions that permit the IAEA to inspect facilities that the Iranians had previously said would be off-limits to foreigners. To the extent that they continue to comply, then it will arguably be the case that one can call the nuclear deal a success but it is obviously far too early to say what will happen in that regard. Additionally, it's worth keeping in mind that the issues between the West and Iran are not limited to Iran's nuclear program and that much work remains to be done. For one thing, there are some sanctions related to the nuclear deal remain in place until further compliance with the agreement is certified in the future. Additionally, there are a completely separate set of sanctions against Iran due to its attempts to develop ballistic missiles, including a new round of sanctions that the United States imposed today in response to yet another Iranian test of ballistic missile technology.Additionally, Iran continues to hold foreigners as prisoners on trumped up charges, continues to support terrorist organizations such as Hezbollah and Hamas, and continues to support the regime of Bashar Assad in Syria. Across the Persian Gulf, tensions between Iran and its Sunni neighbors in Saudi Arabia and the Gulf States remain at a high level after the execution early this month of a prominent Shia critic of the Saudi regime. Clearly, normalizing Iran's relationship with the rest of the world will be an ongoing process. However, as today's events, along with the recent quick resolution of the incident involving ten American sailors and the release of Jason Rezaian and other detained Americans shows, there at least appears to be a line of communication open that could allow for the process to resolve those disputes to be resolved some day. Hopefully, that's a good sign for the future.