Shot And Chaser: Barry Goldwater Was Right Edition
Barry Goldwater saw what the so-called "religious right" would become decades ago.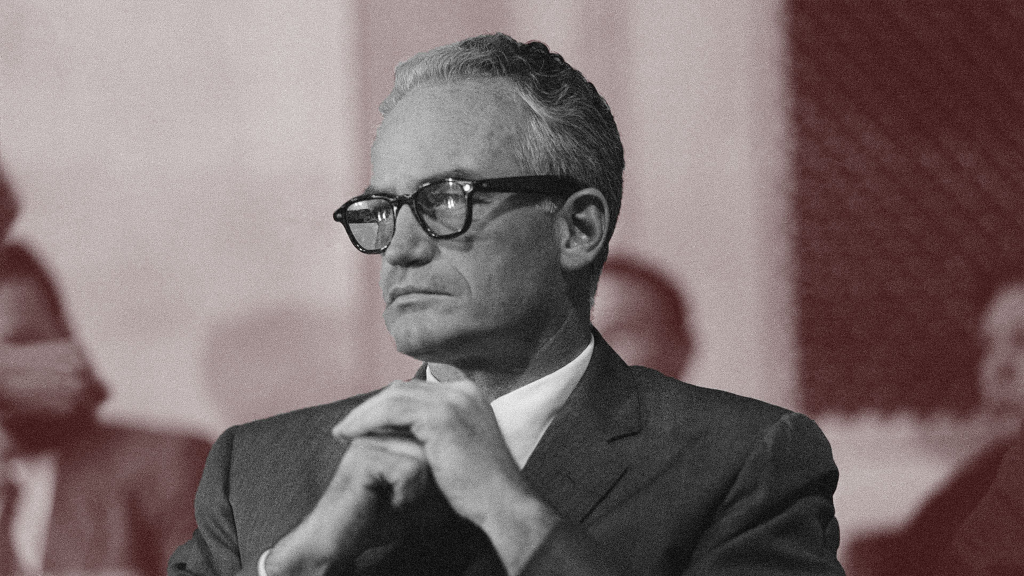 "Mark my word, if and when these preachers get control of the [Republican] party, and they're sure trying to do so, it's going to be a terrible damn problem. Frankly, these people frighten me. Politics and governing demand compromise. But these Christians believe they are acting in the name of God, so they can't and won't compromise. I know, I've tried to deal with them.

(…)

There is no position on which people are so immovable as their religious beliefs. There is no more powerful ally one can claim in a debate than Jesus Christ, or God, or Allah, or whatever one calls this supreme being. But like any powerful weapon, the use of God's name on one's behalf should be used sparingly. The religious factions that are growing throughout our land are not using their religious clout with wisdom. They are trying to force government leaders into following their position 100 percent. If you disagree with these religious groups on a particular moral issue, they complain, they threaten you with a loss of money or votes or both. I'm frankly sick and tired of the political preachers across this country telling me as a citizen that if I want to be a moral person, I must believe in 'A,' 'B,' 'C,' and 'D.' Just who do they think they are? And from where do they presume to claim the right to dictate their moral beliefs to me? And I am even more angry as a legislator who must endure the threats of every religious group who thinks it has some God-granted right to control my vote on every roll call in the Senate. I am warning them today: I will fight them every step of the way if they try to dictate their moral convictions to all Americans in the name of 'conservatism.'" – Barry Goldwater, prophet.
One of Donald Trump's most prominent Christian supporters will argue in a book due out before the 2020 general election that American evangelicals "have a moral obligation to enthusiastically back" the president.

The book's author, Faith and Freedom Coalition founder Ralph Reed, became a loyal foot soldier for Trump immediately after he nabbed the Republican presidential nomination in 2016 — commanding hordes of white evangelical voters from his perch on the candidate's religious advisory board to trust that the New York businessman would grow the economy, defend religious freedom and dismantle federal protections for abortion, if elected.

According to the book's description, obtained by POLITICO, the original title for the book was "Render to God and Trump," a reference to the well-known biblical verse, "Render to Caesar the things that are Caesar's." The message from Jesus in Matthew 22, has been used in contemporary politics to justify obedience to government — or in the case of Reed's book, to Trump.

Regnery Publishing confirmed the book's existence but said the title is "For God and Country: The Christian case for Trump." The publisher declined to comment on the reason for the title change.

In his book, Reed will "persuasively" argue evangelicals have a duty to defend the incumbent Republican leader against "the stridently anti-Christian, anti-Semitic, and pro-abortion agenda of the progressive left," according to the description.

He will also rebut claims by religious and nonreligious critics that white evangelical Protestants "revealed themselves to be political prostitutes and hypocrites" by overwhelmingly backing Trump, a twice-divorced, admitted philanderer, in 2016.

"Critics charge that evangelical Trump supporters … have so thoroughly compromised their witness that they are now disqualified from speaking out on moral issues in the future," the description reads.

Reed, who once said Trump's comments about women in the leaked "Access Hollywood" tape were low on his "hierarchy of concerns," belongs to an informal group of evangelical leaders — including Franklin Graham, Jerry Falwell Jr., Robert Jeffress and Paula White — who have become some of the president's most devoted fans and vocal defenders since he took office. They have cast his foray into politics as divinely inspired; equated him to biblical figures such as Esther, an Old Testament heroine; and frequently cited Scripture to rationalize his most controversial policies — actions that other religious scholars and leaders have found particularly cringeworthy.

"I think evangelical efforts would be far better spent critiquing their own shortcomings than sanctifying a president," said Matthew Rowley, a research associate with the Cambridge Institute on Religion and International Studies at Clare College.
You were more correct than you realized, Senator