White Evangelicals and the Trump Paradox
Why the 'moral majority' is willing to tolerate so much immorality from their leader.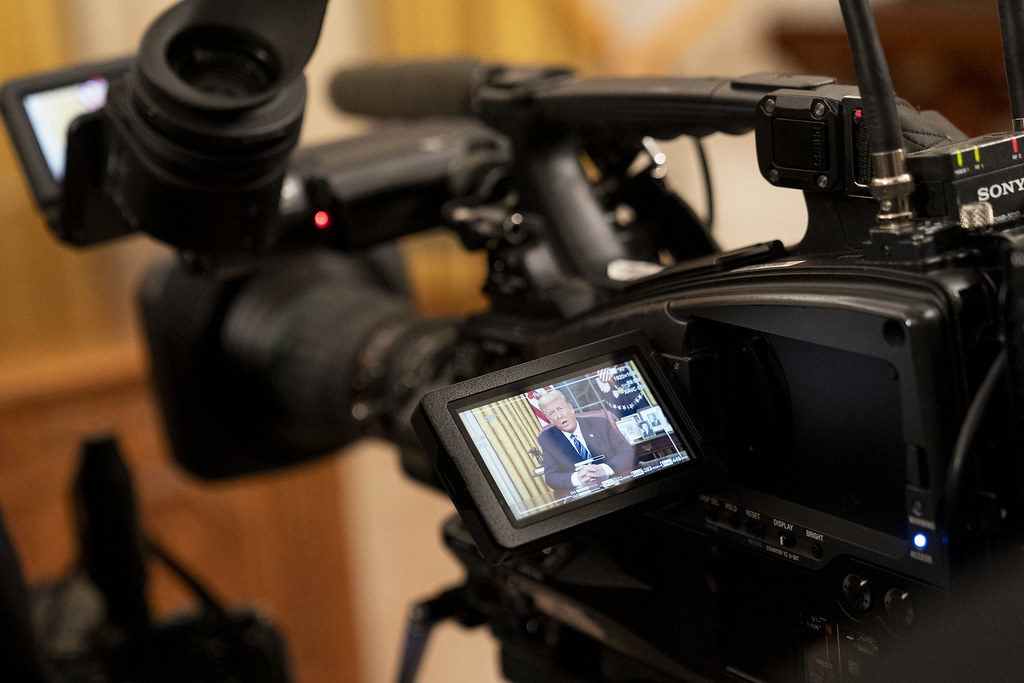 In the comments on Steven Taylor's post relying Rod Dreher's disgust over President Trump's coronavirus speech, OTB regular @Moosebreath commented,
While I am glad (entirely non-sarcastically) that Dreher recognizes this, up until a couple of weeks ago, his position was that pretty much all of this was true, but it was worth it for the judges and executive orders protecting conservative Christians. So I am also glad (more than a bit sarcastically) that he now realizes that the President's ability to handle a crisis is more important than protecting the rights of Christians to treat gays and members of other religions as second class citizens.
Leaving aside whether that's a fair or charitable interpretation of Dreher's preferences (I haven't been a regular reader in a long time), he is hardly alone in that conflict.
The Pew Research Center has a fantastic study out today on this very topic titled "White Evangelicals See Trump as Fighting for Their Beliefs, Though Many Have Mixed Feelings About His Personal Conduct." It's quite detailed and I won't attempt to cover it all here but a couple of excerpts illustrate the point.
Heading into the 2020 election season, a new Pew Research Center survey delves into the relationship between religion and politics, including perceptions about President Donald Trump among white evangelical Protestants, a key part of his electoral base. It finds that white evangelicals largely see Trump as fighting for their beliefs and advancing their interests, and they feel their side generally has been winning recently on political matters important to them. But when it comes to Trump's personal qualities and conduct, many express mixed feelings. Even among this strongly supportive constituency, most do not view Trump as a very religious, honest or morally upstanding person (though many white evangelicals say he is somewhat religious, fairly honest or fairly morally upstanding).
Now, I find it baffling that people think Trump is moral or religious. But note the breakdowns of the polling here: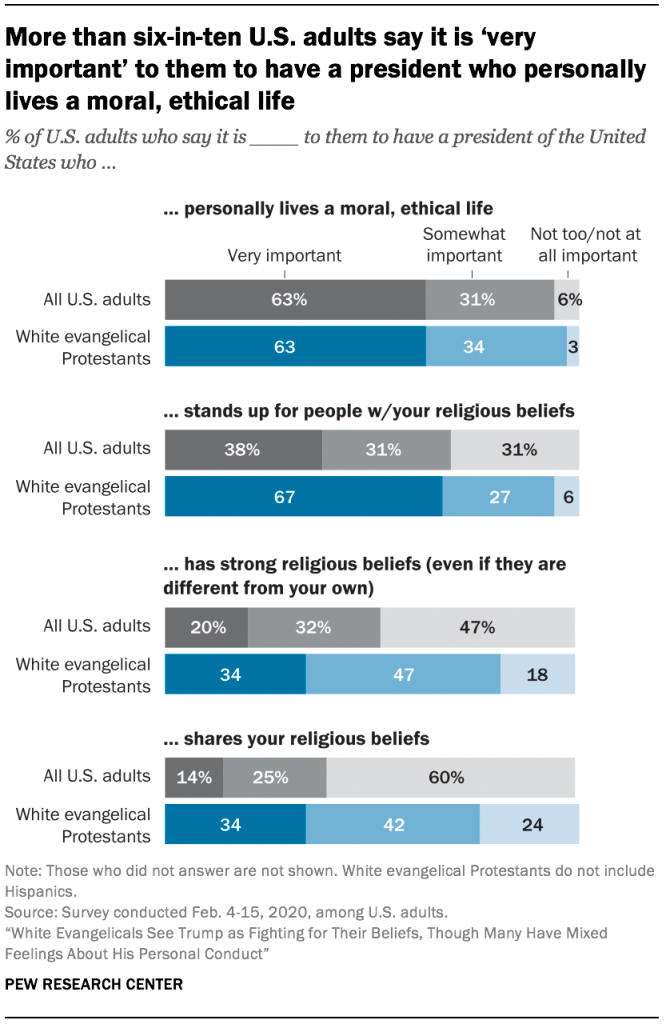 White evangelicals have identical views as adults in general on the importance of a President leading an ethical or moral life. But they're almost twice as likely to care that he stands up for people with their religious beliefs and more than twice as likely to care that he shares their religious belief.
And white evangelicals say Trump fits the bill: Fully eight-in-ten white evangelical Protestants say that the phrase "fights for what I believe in" describes Trump "very well" or "fairly well," including roughly half who say this describes him "very well."
The disparities here are shocking. But white evangelicals overwhelmingly think Trump fights for their interests, has served their interests, and they therefore (I believe) agree with him on many or most issues.
And here's the Dreher paradox: they believe all that despite also believing Trump is less than moral personally.
Just 15% of white evangelicals say the phrase "morally upstanding" describes Trump very well, and about a quarter say "honest" is a very good descriptor of the president (23%). About one-third of white evangelicals (31%) say they like the way Trump conducts himself as president (aside from his positions on the issues). Fully two-thirds either have "mixed feelings" about his conduct (44%) or say they don't like it (22%). And only about one-in-eight white evangelicals (12%) think Trump is a very religious person.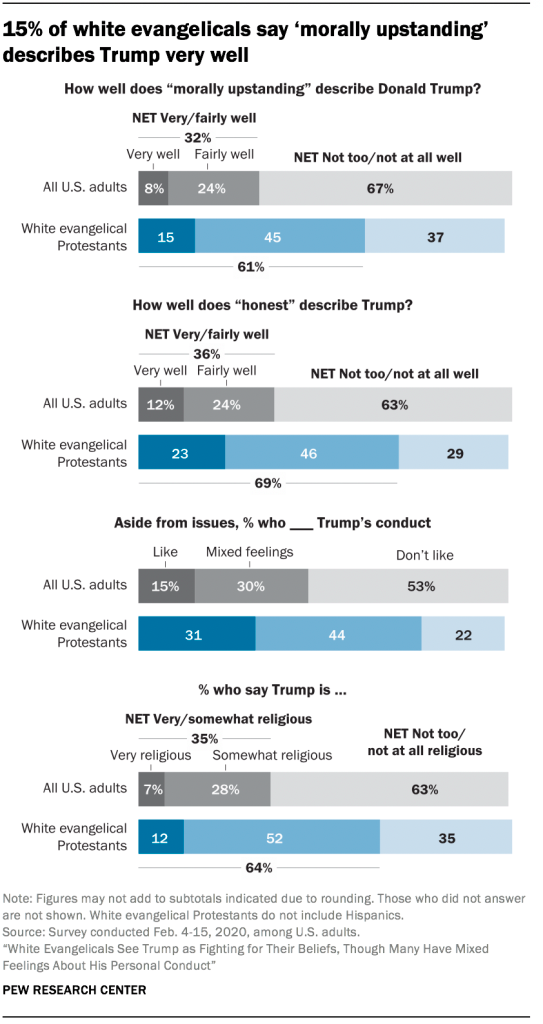 None of this should surprise us. White evangelicals have long felt—with good reason—that their way of seeing the world is in decline. They, quite rightly, see elite institutions—the mass media, the academy, the courts, etc.—as overturning the world they believe in. We've known that for a long time but Pew reinforces that:
Fully two-thirds of white evangelicals think Christianity's influence is decreasing in American life. And a similar share of white evangelical Protestants (66%) say there is at least some conflict between their own religious beliefs and mainstream American culture, including three-in-ten who say there is a "great deal" of conflict.

Why do people feel this way? The survey asked respondents who said Christianity's influence is declining a series of follow-up questions to gauge several possible causes for this decline, and the most common reasons cited as "major causes" are growth in the number of people in the U.S. who are not religious and misconduct by Christian leaders. But among white evangelical Protestants, the most commonly cited reason for Christianity's declining influence is "more permissive attitudes about sexual behavior and sexuality in popular culture" (see Chapter 2 for full details).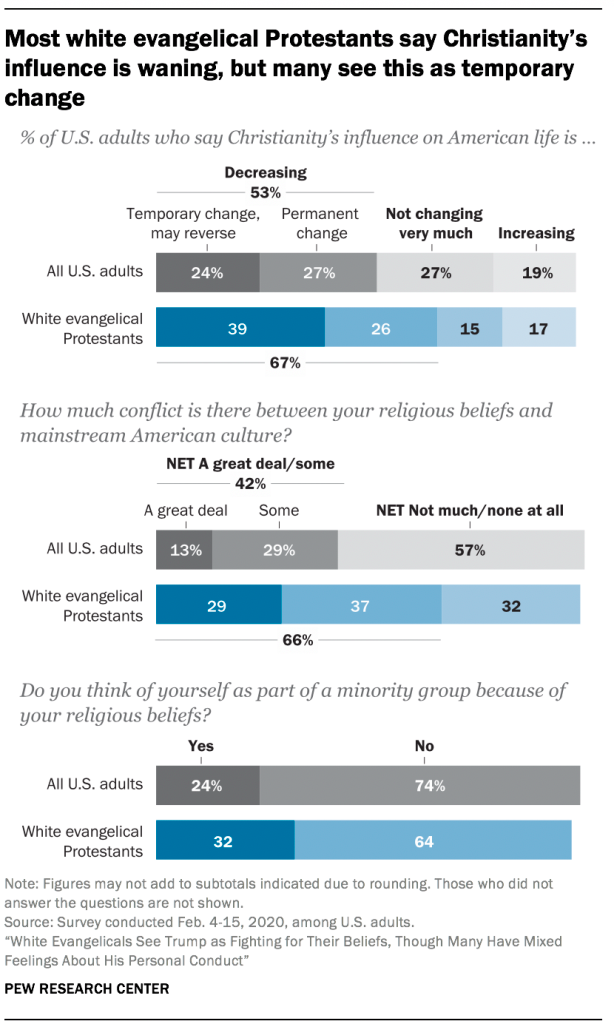 While Moosebreath and others characterize this as a fight over "the rights of Christians to treat gays and members of other religions as second class citizens," white evangelicals (and not an insignificant number of the Southern blacks who helped make Joe Biden the Democratic frontrunner) see it as being true to their faith.
And they're willing to look the other way on Trump's transgressions because he not only tells them that they're right and the elites are wrong but he takes concrete actions like appointing conservative judges to the bench as a bulwark.