Should Congress Hold Eric Holder In Contempt?
If the Department of Justice does not fully comply with Congressional subpoenas, then there seems to be no alternative other than holding the Attorney General in contempt.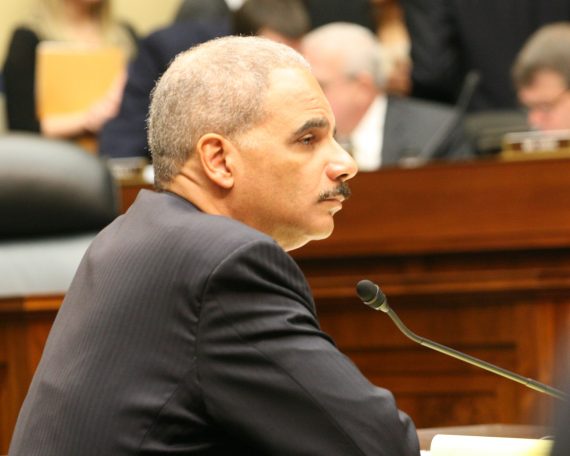 House Republicans are seemingly united in the desire to move forward with a Contempt Of Congress charge against Attorney General Eric Holder for what they say is the Justice Department's refusal to comply completely with the subpoenas issued by the House Government Oversight Committee in connection with its investigation of the "Fast &  Furious" gun walking scandal. Down the road from Congress, the White House and Justice Department remains similarly unwilling to budge from their position that they have provided all of the documents they intend to provide in response to the subpoenas. What that means is that, with Campaign Spring quickly turning into Campaign Summer, Washington appears to be setting itself for the biggest Separation of Powers showdown we've seen in quite some time.
Already, the White House is saying that this entire matter is a essentially a political witch hunt, despite the fact that questions remain unanswered about exactly what it was Arizona-based ATF officials thought they were doing when they began selling hundreds if not thousands of high-powered weapons to sham buyers and watched those weapons "walk" across the border to Mexico without making any effort to track where they were ending up. For their part, Republicans say that all they want are the documents that they have, pursuant to their oversight powers, requested in duly issued subpoenas:
House Republicans sounded like they were ready to go to war with the Obama administration Monday over the Fast and Furious program as they announced a committee vote to hold Attorney General Eric Holder in contempt of Congress.

But behind the scenes, House Republican leaders want nothing more than for the White House and Justice Department to fork over thousands of pages of documents related to the ill-fated gun-running program and avoid a dramatic — and potentially distracting — House floor showdown.
At the same time, though, the article goes on to note that House Republican Leadership recognizes that this isn't the message they want to be going into the campaign season with. Poll after poll over the past several years have shown that the last thing voters want to see is confrontation between the various sides in Washington over something that isn't easy to explain. At the same time, of course, I don't think that the Democrats are going to benefit very much politically from this either. As with the debt ceiling debate, a showdown over contempt citations between the White House and Congress would likely lead to the same kind of "pox on both their houses" response from the public that we saw in the polls in the wake of the debt ceiling fiasco last summer.
That doesn't mean that Congress should just give in on this, though. Obviously, there are political motives in the investigation and more than a few Republicans are likely salivating over the prospect of "getting" a high-ranking Obama official on the eve of the General Election campaign. However, Congress has a legitimate role in oversight here, and there are more than enough unanswered questions about this scandal that seems to have no logical explanation to justify continuing the investigation. Moreover, as Mitchel A. Sollenberger and Mark Rozell argue in today's Roll Call, the Justice Department's intransigence in response to these subpoenas leaves the Government Oversight Committee with little choice but to go forward with contempt proceedings:
[N]ewly leaked information about the DOJ's actions leaves no doubt that the committee has a duty now to aggressively pursue any and all information germane to its investigation. Six wiretap applications for the Fast and Furious program signed off by Assistant Attorney General Lanny Breuer, Deputy Assistant Attorney General Jason Weinstein and Deputy Assistant Attorney General Kenneth Blanco  provide clear evidence that this scandal reaches the top level of the DOJ. Dismissing the investigation as mere partisan politics simply is not credible given what we now know.

The undisputed fact is that there are two dead federal agents and potentially hundreds killed in Mexico because top DOJ officials approved the sale of thousands of weapons and never determined how such dangerous firearms would be tracked.

Furthermore, DOJ has been sitting on a request for specific information about Fast and Furious since October. To be sure, it has produced a series of Friday night document dumps that allow the attorney general to testify that he and the department are really cooperating with this investigation.

But everyone on the committee knows it is the oldest trick in the book to release reams of materials while holding back those that are most directly germane to answering its questions. And one cannot help but wonder what information is in the more than 130,000 documents relating to Fast and Furious that Holder recently admitted that the Justice Department has not disclosed.

So the committee has exhausted its means of compelling the DOJ to cooperate fully with this investigation. Enough is enough. Eight months of stonewalling make it clear that further appeals for documents, additional testimony by the attorney general and other department officials will not change this pattern. If Congress wants to get to the bottom of this scandal and make sure that the responsible officials are held accountable, it has to use whatever constitutional tools it has at its disposal, even if that means holding Holder in contempt.

The necessary path for Holder going forward is to finally cooperate with the Congressional investigation and respond forthrightly and fully to the subpoena requests. Such a decision is not only in the best interest of the Obama administration but also of the American people, who have a right to know the truth and to demand  accountability. Continued stonewalling does not resolve this battle between the branches and it suggests that Holder possibly has something to hide.
There's very little here that I can disagree with. As the representatives of the people, Congress has a duty to oversee the agencies of the Executive Branch, and to investigate in situations that require it even if it may end up being politically messy and inconvenient. Yes, there's a partisan motive involved but, in some sense, that's a good thing. Would a Democratic controlled Congress be pursuing this matter with similar zeal? For that matter, would a Republican Congress have pursued the Iran-Contra Scandal with the zeal that the Democrats did in the late 80s? Regardless of what criminal actions may or may not have been committed here, something that isn't really the jurisdiction of Congress anyway, the American people have a right to know what happened her. For that matter, this investigation also implicates national security interests. Specifically, this scandal implicates our relations with our southern neighbor, whose generally pro-American Attorney General is still upset that she was kept entirely out of the loop about what was going on with Fast & Furious even while weapons involved in the scandal were no doubt being used to kill Mexican citizens in the country's bloody drug feuds. It simply isn't enough for the Justice Department and the White House to say "Trust us." The oversight process exists precisely because we cannot trust them without making sure there's someone looking over their shoulder.
How will this all end? Well, an incident during the Bush Administration may provide a clue:
During the Bush administration, as Democrats pushed a probe into the firing of U.S. attorneys in late 2006 orchestrated by White House officials, the Justice Department refused to take any action on a criminal contempt resolution approved by the House. This left the House Judiciary Committee with the option of suing the White House in federal court, which it did. The process lasted months, and in the end — despite an early round victory for the Judiciary Committee — both sides cut a deal before setting a legal precedent binding future presidents and Congresses.
That's  what will happen this time, no doubt, but whether it happens before or after Eric Holder is found in contempt is the question we're all waiting to find out the answer to.