Should We Care About Anthony Weiner's Wiener?
So, Anthony Weiner is a lying dick. Does it matter?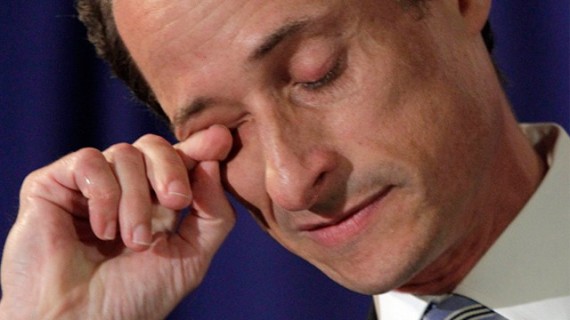 So, it turns out, Anthony Weiner is not only the sort of man who sends photos of his underwear-encased private parts to young woman but a lying SOB who spends weeks professing that his account has been "hacked" and demanding that the police investigate the injustice that's been done to him.
Should we care?
There's a strong argument to be made that we shouldn't. After all, the women involved were of legal age and, insofar as we know, consensual recipients of Weiner's junk shots. Isn't it really a private matter with little impact on his public business?
Megan McArdle offers a solid effort at the standard retort:
My take on the Clinton scandal at the time was that it got about the right result. Clinton lied under oath. And while I might ordinarily have been sympathetic to complaints that he shouldn't have had to answer such questions, my understanding is that Clinton himself signed into law the legislation under which his behavior–with, mind you, a state employee–was illegal. At which point, I thought the only person in the world who should have had to answer those questions was sitting in the dock. We impeached him, sending the message that, no, you don't get to lie under oath just because you're the president, and then we didn't punish him, sending the message that no, we are not crazy enough to remove the leader of the free world from office over a minor sex scandal.

But later I read Jeffrey Toobin's rather sympathetic account. And I was shocked. I'd had no idea how reckless Clinton had been, dragging off this girl he barely new for a little, um, grip-and-grin. It was completely, astonishingly irresponsible. For all he knew, she might have walked out of that office and told the world. He was playing around with her while he was on the phone with major world figures. Does that tell us something about how Clinton did his job? I think it has to.
Then again, Clinton was the commander-in-chief of the World's Last Remaining Superpower. Weiner is 1/435th of one half of one third of the U.S. federal government. Still, Megan argues,
What he actually did is bad enough: sexting from work?  With strangers he met over the internet?  As with Clinton, this is strange and reckless behavior for a public figure whose inappropriate behavior could be used to blackmail him.  I don't think it's somehow out of bounds to point it out, or how much we're losing by having less available air time to report forgettable sniping between Republicans and Democrats over the debt ceiling.
(The issue is very important.  Most of the reporting right now says the same thing over and over with new quotes, and no one except other journalists appears to be reading it. Not the fault of reporters–we still have deadlines even when not much is happening.  But I'm skeptical that we're really sucking all that much oxygen from Vital Issues of The Day.  If a major news event actually happened–say, the debt ceiling or a nuclear reactor was breached–we would quickly forget all about Anthony Weiner's, er, alleged acts of photojournalism.)
Maybe it's because I'm older and tireder but these days, the "not our business" school of sex scandal seems to function as a get-out-of-monogamy-free card for powerful men who want to behave badly.  If Anthony Weiner were to, say, start randomly swearing at a constituent and calling her terrible names, would anyone argue that we should not report this on the grounds that the behavior's legal?  How about if he'd been tricking old ladies out of their pension checks with a shady stockbrockerage? Sure it's legal, but we think it tells us something about his character, and that it's actually useful to know those sorts of things about the people we elect.  Gallons of ink have been spilled over Newt's attempt to discuss the terms of his divorce while his wife was recovering from cancer surgery*, and rightly so; it's an act of epic self-absorption, and it's hard to believe that this would never have affected his job performance.
I think this is right. Is it a huge story in the grand scheme of things? Of course not. Is it news? Yep.
And I don't have any animus against Weiner, who I know almost exclusively from his appearances on Jon Stewart's program. He always came across as a reasonable fellow. (I've since gathered from DC area news radio that he's not particularly well liked by his fellow Congressmen, either generally or within the New York delegation. But that could well be a feather in his cap.) Yes, he's a liberal Democrat. But anyone elected from his district would be, too, so I don't have any particular interest in seeing him go.
But his is another in a seemingly endless line of stories of powerful men behaving badly. It's worth some attention, even if the drip-drip-drip nature of the story gave it undue attention. But I'd point out that Weiner could have put an end to that by not compounding his indiscretions with lies.