Should We Continue To Subsidize Rural Mail Delivery?
It may have made sense to subsidize rural mail delivery once, that may not longer be the case?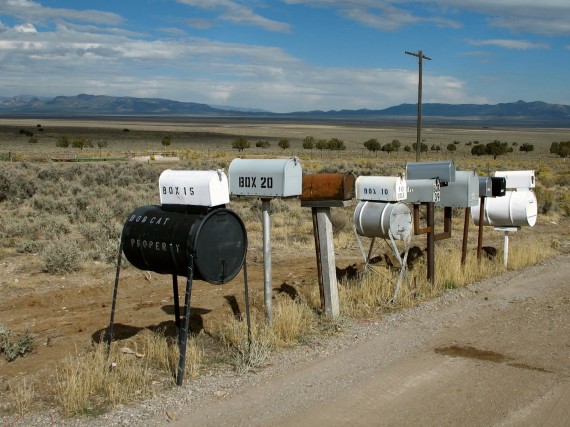 Commenting on the news that the Postal Service would seek to end Saturday mail delivery, Matthew Yglesias makes this comment:
USPS is built around a cross-subsidy model. The idea is that a monopoly on the right to deliver daily mail will generate lucrative profits in most cases, and those profits will allow the USPS to cover the cost of unprofitable routes, thus fulfilling its Universal Service Obligation. And for a long time, it worked great. In fact, the profits were so big that the USPS workforce was able to help itself to relatively generous compensation packages while still leaving plenty of money to run the postal service.
But the monopoly has become less lucrative and that's not going to change in the future. That's squeezed the budget, squeezed postal workers' compensation packages, and is now squeezing the quality of nationwide mail service. As a country, we need to ask ourselves whether providing subsidized mail delivery to low-density areas is really a key national priority. Without the monopoly/universal service obligation, it's not as if rural dwellers wouldn't be able to get mail, it's just that they might need to pay more in recognition of the fact that it's inconvenient to provide delivery services to low-density areas. Nostalgia-drenched Paul Harvey Super Bowl ads aside, it's not the case that rural Americans are unusually hard-pressed economically or are disproportionate contributors to the economy. They are, rather, the beneficiaries of numerous explicit and implicit subsidies, of which the Postal Service's universal service obligation is one.
Most of the complaints one hears about privatizing first class mail and ending the USPS monopoly on its delivery center around the issue of what is to be done about delivery to rural areas. The basic idea behind is that it shouldn't cost rural customers, or those who want to correspond with them, more to send first-class mail than it does to send first-class mail from one major city or suburb to another. There's no economic rationale for this kind of policy. Indeed, it exists nowhere else almost nowhere else in the delivery business right now. If you want to send a package via USPS, you are generally going to pay based on where you're sending it to. UPS prices its delivery services in much the same manner. The only place you see "flat-rate" pricing is in things such as overnight mail, which is based on an entirely different kind of business model from regular package shipping and for which the customer is paying a premium for the convenience of next-day, or 2nd-day, delivery of something that would ordinarily take a few days longer.
Instead of being based on economics the subsidization of low-cost delivery to rural areas is based mostly on issues of equity and the idea that it's not fair for rural customers to pay more than urban and suburban customers to mail a simple letter. In the days when a large portion of our population was based in rural areas, this is something that may have made some sense, but I have to wonder if it does now. As Yglesias notes, it's simply not the case that rural residents are, as a rule, more economically hard-pressed than their fellow Americans in suburbs and cities. So, why should we maintain the policy of requiring USPS to follow this rule, and why should it be a bar of any kind to the idea of opening up the delivery of first-class mail, and other classes of mail for that matter, to competition? Moreover, considering that the rural share of the population continues to shrink over time, how much longer does it make sense to keep this policy in place?