Socialist Canadians Wealthier Than Capitalist Americans?
"The average Canadian has quietly become richer than the average American," claims a pro-Canada organization.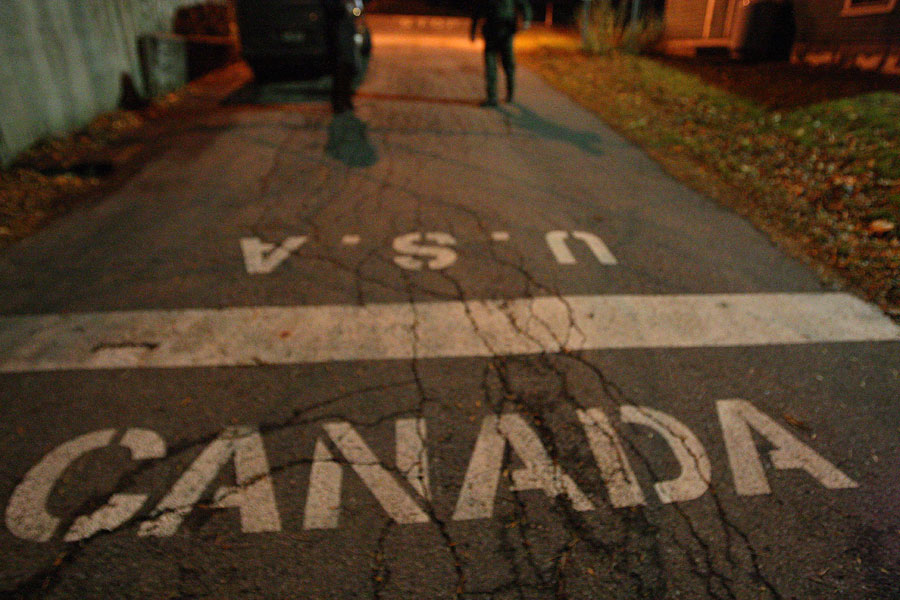 Michael Adams, president of something called the Environics Institute, passes on the interesting news that "The average Canadian has quietly become richer than the average American."
Over the past five years, net worth per Canadian household has exceeded net worth per American household (total combined value of liquid and real estate assets minus debt) for the first time.

Currently, the average Canadian household is more than $40,000 richer than the average American household. (According to the latest Environics Analytics WealthScapes data, the average household net worth in Canada was $363,202 in 2011; in the U.S. it was $319,970.) And these are not 60-cent dollars, but Canadian dollars more or less at par with the U.S. greenback. Furthermore, these figures ignore public-sector (government) debt that presumably people on both sides of the border or their children will some day have to pay. Such debt is higher in the U.S. as a percentage of GDP than it is in Canada.

Has Canada experienced a sudden surge of productivity or entrepreneurial genius? Not exactly. Our resource sector is certainly firing on all cylinders, but the biggest reasons for Canadians' deep pockets relative to Americans' in recent years are the related phenomena of the 2008 economic crisis and the collapse of the U.S. housing market. Because house prices in the U.S. have plunged, the real estate held by Canadians is now much more valuable than that held by Americans (worth over $140,000 more on average). In fact, Canadians hold more than twice as much real estate as Americans and, once mortgages are factored in, have almost four times as much remaining equity in their real estate. Americans' liquid (non-real estate) assets are still greater than Canadians'.
Now, I'm not persuaded that a metric so heavily influenced by housing prices is a meaningful metric of wealth. I'd think something that took into account overall standard of living would make more sense. Then again, Canadians rank slightly ahead of Americans in terms of nominal GDP/capita and slightly behind us on GDP/capita at purchasing power parity.
Regardless, it sparks an interesting debate, given the different social climate and regulatory policies. Novelist Stephen Marche weighs in:
On July 1, Canada Day, Canadians awoke to a startling, if pleasant, piece of news: For the first time in recent history, the average Canadian is richer than the average American.

According to data from Environics Analytics WealthScapes published in the Globe and Mail, the net worth of the average Canadian household in 2011 was $363,202, while the average American household's net worth was $319,970.

A few days later, Canada and the U.S. both released the latest job figures. Canada's unemployment rate fell, again, to 7.2 percent, and America's was a stagnant 8.2 percent. Canada continues to thrive while the U.S. struggles to find its way out of an intractable economic crisis and a political sine curve of hope and despair.

[…]

Good politics do not account entirely for recent economic triumphs. Luck has played a major part. The Alberta tar sands — an environmental catastrophe in waiting — are the third-largest oil reserves in the world, and if America is too squeamish to buy our filthy energy, there's always China. We also have softwood lumber, potash and other natural resources in abundance.

Policy has played a significant part as well, though. Both liberals and conservatives in the U.S. have tried to use the Canadian example to promote their arguments: The left says Canada shows the rewards of financial regulation and socialism, while the right likes to vaunt the brutal cuts made to Canadian social programs in the 1990s, which set the stage for economic recovery.

The truth is that both sides are right. Since the 1990s, Canada has pursued a hardheaded (even ruthless), fiscally conservative form of socialism. Its originator was Paul Martin, who was finance minister for most of the '90s, and served a stint as prime minister from 2003 to 2006. Alone among finance ministers in the Group of Eight nations, he "resisted the siren call of deregulation," in his words, and insisted that the banks tighten their loan-loss and reserve requirements. He also made a courageous decision not to allow Canadian banks to merge, even though their chief executives claimed they would never be globally competitive unless they did. The stability of Canadian banks and the concomitant stability in the housing market provide the clearest explanation for why Canadians are richer than Americans today.

Martin also slashed funding to social programs. He foresaw that crippling deficits imperiled Canada's education and health- care systems, which even his Conservative predecessor, Brian Mulroney, described as a "sacred trust." He cut corporate taxes, too. Growth is required to pay for social programs, and social programs that increase opportunity and social integration are the best way to ensure growth over the long term. Social programs and robust capitalism are not, as so many would have you believe, inherently opposed propositions. Both are required for meaningful national prosperity.
Now, this is a mixed bag, indeed. Clearly, the American banking sector suffered a massive hit from the profligacy and weak oversight of the recent past. Then again, so did the European banks, which were more tightly regulated.
For that matter, I'm a bit skeptical of drawing too many lessons from comparisons of two vastly different countries. Canada is geographically bigger than the United States yet has roughly one-ninth the population. Further, while it's starting to change, Canada's demography remains so overwhelmingly European in origin that the most recent census breakdown by "ethnic origin" lists Canadian (32.22%), English (21.03%), French (15.82%), Scottish (15.11%), and Irish (13.94%) as its five most popular responses. The horrible legacy of Jim Crow and the real challenges of essentially open migration from a linguistically disparate developing country likely skew US performance far more than differences in fiscal and regulatory policy.
While our living standards are quite similar, making debates about relative wealth largely academic, social mobility is much easier in Canada than the USA. A recent OECD study [PDF] found that only Italy and the UK topped the United States in the connection between parental wages and those of their children; Canada, by contrast, was down with Australia and the Benelux countries in relative fluidity.
The reason is pretty simple: Money buys more here than there.
The stronger and tighter Canadian safety net doubtless ameliorates true poverty better than its more porous American counterpart. More importantly, while it's probably better to be rich and sick in the United States than the Great White North (or, at least, it would be if rich Canadians couldn't simply come here whenever the felt like it) it's certainly better to be poor and sick in Canada. Canadians don't risk bankruptcy from catastrophic illness; Americans do.
Additionally, as noted over the weekend, the American road to wealth tends to go through elite universities—and the children of the well off have a much easier onramp. While rich Canadians doubtless have many of the same advantages, Canadian higher education is much more heavily subsidized, meaning the ability to pay is less of a factor in deciding where to go to school.