Some Questions for Those who Oppose an Opening with Cuba
A little round of Qs and As on US-Cuban policy.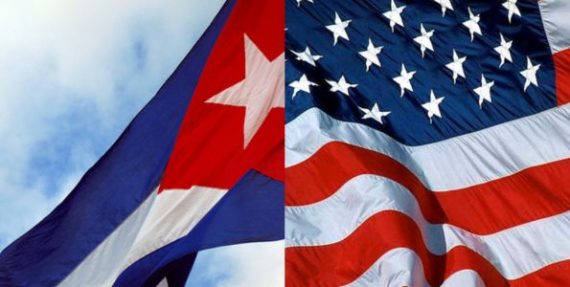 If one's goal is to change the Cuban regime, please answer the following questions:
1.  How well has the last 50ish years of US-Cuban relations lead to the realization of your goals?
2.  Has the embargo helped the Castro regime or damaged it (especially in the post Cold War era)?
3.  Will the US have more, or less, influence over Cuba if there are normalized relations?
My answers are (feel free to provide your own in the comments):
1.  Not very well.  If the stated goal of the policy was to foment regime change, it is hard to find a more egregious example of US foreign policy failure if one takes into account the amount of time that the policy has been in place.  I can accept an argument for the policy during the Cold War.  However, since the early 1990s the policy has been held in place by a combination of spite and electoral college math (and certainly not because of efficacy).  The fact that Helms Burton (which codified the embargo in to law) was passed in 1996 underscores the insanity of the situation given that Cuba was not a security risk in any sense of the word in 1996.
A certain, now clichéd, definition of insanity comes to mind when I listen to people who state that we need to keep doing the same thing (and it we just do it a little harder it will work this time!).  No doubt the same folks think that a little more cash will finally lead to victory in the war on drugs (the policy logic, at least, is pretty much the same).
2.  There is little doubt that those who study this issue will tell you that the embargo has been more of an aid to the Castros to this point than a hindrance.  Any evidence that the Cuban economy was struggling had an easy answer:  it's the Yanqui's fault.
3.  The notion that continued isolation will help this situation makes no sense.  More US investment, more interaction with people and products from the US, not to mention removal of the ability to blame the US for Cuba's woes, will put pressure on the regime to change.
Bonus response:  normalizing relations with Cuba diminishes its reliance on Venezuela.
I know that none of this is original or brilliant analysis.  But, apparently, it needs to be said yet again because so many people still don't get it.
The whole thing reminds of people who insist that we cannot talk to Iran about their nuclear program until they agree, as a condition of talking, to stop their nuclear program.  The notion that US influence is only useful if we isolate ourselves from those we wish to influence is rather peculiar (to put it mildly).