Speaking of Reagan…
If people feel the need to evoke Reagan, it would be nice if they would evoke the real one, rather than an alt reality version.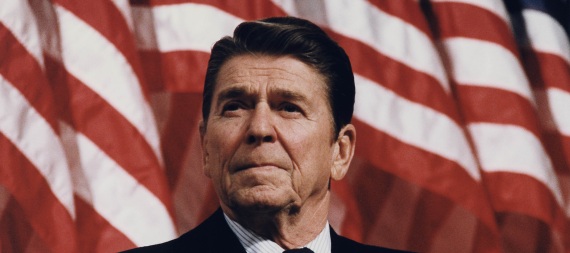 Earlier today, Doug Mataconis noted
The Ronald Reagan that governed for eight years in the 80s was, in many ways, very different from the mythos that many on the right, such as Rush Limbaugh and Sean Hannity, have created of a tax-cutting, hawkish foreign policy-following conservative icon.
Along those same lines, Joe Conason notes in Salon:  What Sarah Palin forgets (or never knew) about Ronald Reagan
While attacking President Obama's nuclear weapons policies the other day — and the strategic arms reduction treaty that he signed with Russia — Palin said, "We miss Ronald Reagan, who used to say, when he would look at our enemies, he would say: 'No. You lose. We win.' That's what we miss. And that is what we have to get back to."
Conason goes on to show that Reagan, like Obama, spoke about a nuclear free world and even pursued an active series of dialogs with our nation's most serious adversary (the Soviets).
Indeed, I agree with Senator Lindsey Graham (as quoted by Doug at the link above):  "Ronald Reagan would have a hard time getting elected as a Republican today."
If we were to look at things like immigration, taxes and negotiating with adversarial states, Reagan (the real one) would hardly be the darling of the Tea Party but would instead likely be branded a RINO.
And I will conclude by saying it is bad enough that people get stuck in the past, but even worse that they cling to a fantastical one (although, that is what tends to happen when one starts looking backwards).
See also the CSM:  Nuclear weapons-free world: a vision of Kennedy, Reagan, Obama.
I will confess, btw, that I find the notion of a nuclear-free world to be a nice goal in the abstract, but ultimately not much more than wishful idealism.  And I further always treat pronouncements by politicians in this real with a grain (if not shaker) of salt.
h/t:  Fellow OTBer Robert Prather via Facebook.