Stop Looking For The Next Ronald Reagan
If Republicans keep looking for the next Ronald Reagan, they're going to be disappointed for many reasons.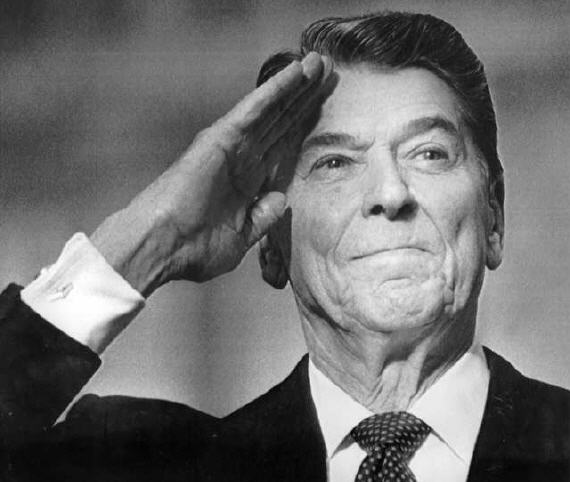 As I noted in my post about the new CBS/New York Times poll, some 8 in 10 of  the Republican respondents to the poll said that it is too early for them to say who they will support in the 2012 race, and some 24% of respondents are undecided on a preference.  Bruce McQuain makes this observation about that particular data point:
Republicans are still looking for Ronald Reagan.  A man or woman who can not only lift the malaise but lift the spirit as well.   Who can not only apply practical principled solutions to our problems but make America feel good about itself again.

Right now, that person isn't yet in the race, or if he or she is, they've not emerged as such.   This country is in desperate want of inspiration, reassurance and practical experience.   The current candidates just aren't measuring up to that want or need.   Thus the poll results.

Is there a Ronald Regan out there?  Is there a candidate that will finally step forward and fulfill those voter wants as Reagan did when running against Jimmy Carter.
Three thoughts come to mind. The first is that there is no "Ronald Reagan" out there. There was only one Ronald Reagan, and even he wasn't the mythical figure of Republican lore than he's become today. Republicans tend to forget, for example, that it was Ronald Reagan who raised taxes several times during his Presidency and paid scant attention to the budget deficit. They also tend to forget that it was Ronald Reagan who retreated from Beirut after terrorists attacked our Marines there, and that it was Ronald Reagan who negotiated with and sold arms to hostages. Now, the first of these happens to have been wise policy (the second, I think we can all agree, was just incredibly naive), but that doesn't detract from the fact that neither measures up to the myth of Ronald Reagan that the right has constructed for itself. As James Joyner, Steven Taylor, and myself have all noted in different contexts over the past year or so, Ronald Reagan would be considered a RINO in today's GOP, judging solely on his record as President and, before that, Governor of California. In fact, in that last regard, Mitt Romney may be closer to Ronald Reagan than any of the other candidates on the stage.
The second point is that almost no President actually seems Presidential at this point in the race:
The next best thing to being president is being a major party nominee for the presidency.  Having survived the brutal internecine fight to make it to the Super Bowl of American politics confers a tremendous prestige.  Aside from perhaps Michael Dukakis, who seemed to actually lower his stature during the general election campaign, all of the nominees in my political lifetime — say, the 1980 race forward — became plausible by the end of their party convention.   Some — George HW Bush, Bob Dole, and John McCain — began the race with such strong resumes and reputations that they didn't need it.   But Ronald Reagan went from B-movie actor and cowboy who shot from the hip to presidential timber.  Clinton was able to show off his tremendous charms, overcoming even rather embarrassing personal scandals.   George W. Bush probably grew the most during his run, going from fumbling and clueless to commanding leader.  John Kerry, who already had the war hero thing going for him, managed to largely shake off the effete rich boy thing and make a strong showing.
And, of course, Barack Obama went from junior Senator from Illinois to garnering one of the most impressive wins by a non-incumbent Democrat since Franklin Roosevelt beat Herbert Hoover in 1932. Back in October 2007, not many people thought that was going to happen. The GOP field is set, one of those people is going to be the nominee. Realistically, I would say there are only two of them who have an realistic shot at the nomination. When they get it, though, their stature will rise and, if they win, it will rise even further because they will be President of  the United States. Will they succeed at that task? Only time will tell, but whatever happens it's time to stop hoping that they'll be the next "Ronald Reagan"
Finally, this idea of looking to politicians for inspiration seems horribly outdated and misguided to me. Politicians are human beings, some of them deeply flawed human beings as we've learned over the years. Looking to them as moral guideposts, or as someone around whom the nation should rally strikes me as being far too reminiscent of the way Europeans used to view their royalty. It's a natural reaction to a charismatic leader, perhaps, but it strikes me as a wholly unnatural thing for a free people to believe in. The "leaders" serve us, not the other way around, and we don't need to be looking to them for anything other than doing the job that the Constitution requires them to do. Once you start investing some other person with the moral authority of "Leadership," the tendency to grant them power they don't deserve and should not be given.