Stu Scheller's Sideshow
The convicted criminal has taken his shenanigans to court.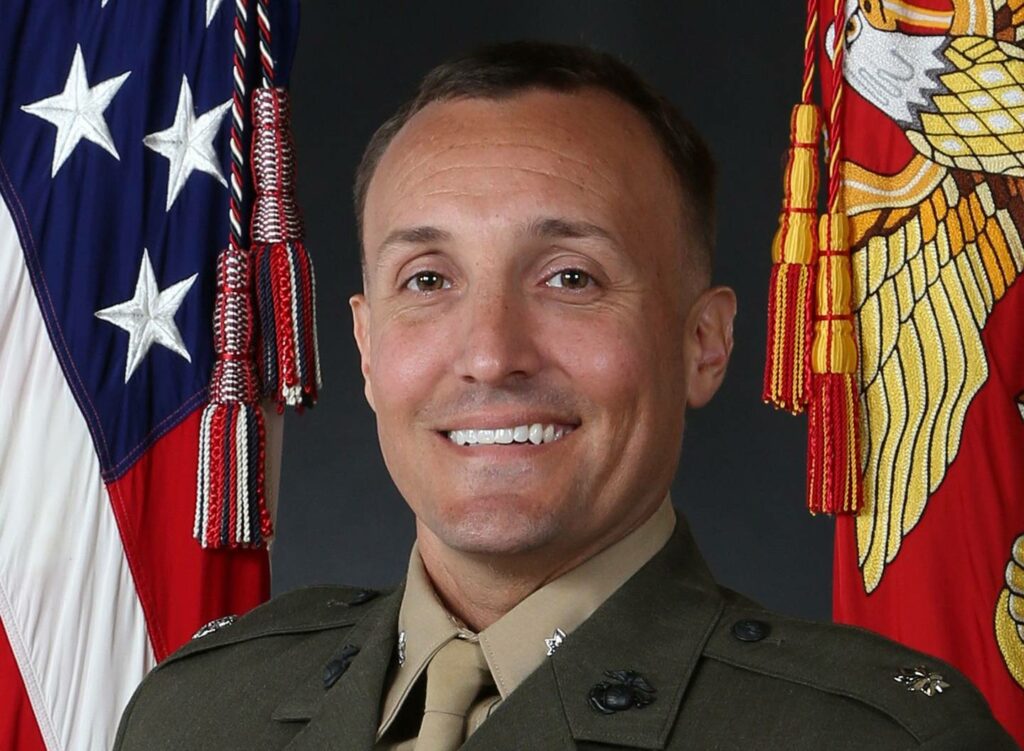 I haven't commented here on the bizarre tirades of Marine LtCol Stuart Scheller about the failures of our military and political leaders in Afghanistan. While I write a lot about military affairs and have a deep professional interest in civil-military relations, I couldn't quite get a handle on the case. I'm not quite sure that I have it all figured out even now.
When I first heard about it, when I was filling in for another professor at work, I hadn't seen the video and noted that there are in fact appropriate ways for that sort of criticism to be delivered, even over social media. When I saw the (first) video, which Scheller posted to his LinkedIn account, I quickly realized this was not an example of that. Not only was it an unprofessional rant, but it was delivered in his uniform from his office; it was not only inappropriate, it was illegal. At the same time, though, I was prepared to cut him a lot of slack. The hasty withdrawal from Afghanistan is an emotional event for those who have lost friends and comrades in that fight.
But before I could comment on it, I discovered that he was a recent graduate of the College and got mixed reviews as to whether this was in character. And, roughly at the same time, Scheller posted another video (and another and another) and my focus went from his violation of professional and ethical norms to real concern for his mental health and well-being.
As things have shaken out, I've gathered that Scheller is a talented officer—one doesn't get selected for command at the lieutenant colonel level, an indicator that one is on the path to making full colonel otherwise—but rather arrogant. I still have doubts about his judgment and mental health. But, at the same time, he has chosen to surround himself with disreputable figures like the war criminal Eddie Gallagher and certainly seems headed for the "wingnut welfare" route. I'm not sure whether this is simply where his poor judgment in this matter has left him or whether it was his intention all along.
Regardless, per the Military Times ("Day 1 of outspoken Marine's trial brings guilty plea and political sideshow") here's where we are now:
When Lt. Col. Stuart Scheller's defense team called Rep. Marjorie Taylor Greene, R-Georgia, to the virtual witness stand Thursday afternoon, the tablet showing her Zoom testimony to the Camp Lejeune, North Carolina, courtroom fell down.

So did her arguments during the sentencing phase of the Marine officer's special court-martial, which meandered from her personal 9/11 experience to calls for President Joe Biden's resignation.

Amid repeated relevancy objections from Lt. Col. Nicholas Gannon, the Marine Corps' top prosecutor, Greene was cut off multiple times by Col. Glen Hines, the military judge who will rule on Scheller's sentence Friday.
I am not a lawyer but absolutely question how Greene's testimony could possibly be relevant. Still, I'm inclined to grant the defense significant leeway during the sentencing phase.
Earlier in the day, Scheller had pleaded guilty to all charges against him as part of a plea agreement with the Corps, which will conclude a saga that began when he took to social media Aug. 26 to demand accountability from senior leaders for their perceived failures in Afghanistan.

Scheller was convicted of violating Article 88 (contempt toward officials), Article 89 (disrespect toward superior commissioned officers), Article 90 (willfully disobeying a superior commissioned officer), Article 92 (dereliction in the performance of duties), Article 92 (failure to obey an order or regulation) and 27 specifications of Article 133 (conduct unbecoming an officer and a gentleman).
To steal a line from Aaron Sorkin: "These are the facts of the case. And they are undisputed."
Although the agreement set a maximum punishment of forfeiting two-thirds pay for 12 months, during the afternoon portion of the sentencing hearing prosecutors asked that Scheller forfeit $5,000 monthly for six months. He will also receive a punitive letter of reprimand, resign his commission and receive an honorable discharge or general under honorable conditions as part of the agreement, so long as Navy Secretary Carlos del Toro signs off on the character of the discharge, prosecutors said.
Again, I'm not a lawyer. But I'm unsure as to how Scheller is going to forfeit pay that he won't receive.
Were I SECNAV, I would not be inclined to grant Scheller, a convicted criminal, a discharge under honorable conditions. His service does not warrant that.
The money is unlikely to be an issue.

Scheller has raised more than $2.5 million through controversial former Navy SEAL Eddie Gallagher's Pipe Hitter Foundation. That money, according to the foundation's website, is to be used not only for his legal defense, but also emergency relief funds, relocation expenses and transition out of the military, possible loss of military benefits and retirement, and family support for his wife and three children.
That large number of people think Scheller and Gallagher are somehow heroes is sad but unsurprising.
It's noteworthy that there's no "possible" loss of retirement here: he has not served long enough to have earned one. By throwing away his career after eighteen years of service, he failed to reach the twenty-year mark required. Indeed, he acknowledged as much in his very first video.
Despite his guilty pleas, Scheller's stance on the issue of accountability for the chaotic Afghanistan withdrawal remained firm throughout the day, first in his responses to Hines' questions and later when he delivered a 20-minute statement explaining his actions. He also denied that any of his social media posts called for violence.

"I believe fundamental change needs to occur in the military," Scheller argued. "I am being held accountable for my actions. The general officers should be held accountable for their failures."

He also described the challenges he faced after he started making videos and posting his views on social media.

Scheller's first viral video, which showed him speaking in uniform, was posted to Facebook and LinkedIn Aug. 26 after 11 Marines, a Navy corpsman and a soldier were killed in a suicide bombing at the Kabul airport. That video, which as of Thursday had a total of nearly 1.5 million views on the two sites, garnered him much support and attention, but after that "the system had turned its back against me," Scheller said during the trial.

After Scheller violated a gag order from his chain of command with subsequent videos and social media posts, he spent more than a week in the brig. He also said that his wife left him.

Scheller said he was moved to continue speaking out by what he called a "two-tiered system of accountability," whereby senior leaders did not face adverse action, but he — and any other Marine who might speak out about it — is punished for saying "hard truths."
Whether generals face "accountability" for losing wars is debatable. But it's simply nonsensical to compare that with committing actual crimes.
Three of Scheller's former colleagues, two of whom were lieutenants with him in Iraq, described him as a "Marine's Marine" and reflected on the good he had done for the Corps before the crimes to which he pleaded guilty.

Hines, the judge, emphasized that troops "don't retain the exact same constitutional rights" as civilians. Prosecutors, too, noted that it was not relevant whether Scheller was right or not — he was on trial because of what he said and where he said it.
That Scheller was a solid officer before he started posting tirades on social media is certainly a mitigating factor that should be considered in sentencing. But he's had years of formal training and education in military schools ranging from The Basic School to the Expeditionary Warfare School to Command and Staff College. He knew damn well what the rules were. Again, even in the first video tirade, he acknowledged that he was throwing his career away.