Suicides Surging Among American Troops
After a decade of war, suicides are surging among American troops.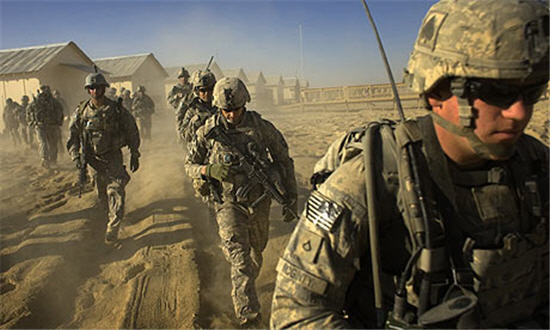 ABC News is out with a report that suicides among American troops are at what can only be considered an unacceptable rate:
Suicides are surging among America's troops, averaging nearly one a day this year — the fastest pace in the nation's decade of war.

The 154 suicides for active-duty troops in the first 155 days of the year far outdistance the U.S. forces killed in action in Afghanistan — about 50 percent more — according to Pentagon statistics obtained by The Associated Press.

The numbers reflect a military burdened with wartime demands from Iraq and Afghanistan that have taken a greater toll than foreseen a decade ago. The military also is struggling with increased sexual assaults, alcohol abuse, domestic violence and other misbehavior.

Because suicides had leveled off in 2010 and 2011, this year's upswing has caught some officials by surprise.

The reasons for the increase are not fully understood. Among explanations, studies have pointed to combat exposure, post-traumatic stress, misuse of prescription medications and personal financial problems. Army data suggest soldiers with multiple combat tours are at greater risk of committing suicide, although a substantial proportion of Army suicides are committed by soldiers who never deployed.

(…)

The 2012 active-duty suicide total of 154 through June 3 compares to 130 in the same period last year, an 18 percent increase. And it's more than the 136.2 suicides that the Pentagon had projected for this period based on the trend from 2001-2011. This year's January-May total is up 25 percent from two years ago, and it is 16 percent ahead of the pace for 2009, which ended with the highest yearly total thus far.

Suicide totals have exceeded U.S. combat deaths in Afghanistan in earlier periods, including for the full years 2008 and 2009.

The suicide pattern varies over the course of a year, but in each of the past five years the trend through May was a reliable predictor for the full year, according to a chart based on figures provided by the Armed Forces Medical Examiner.
There's much more at the link, and none of it is pretty.
One of the prices of a military that has been at war for a decade, and which was being deployed in minor actions in the Balkans and Somalia for the decade before that, is not only that the military gets stretched at the material level, but that the men doing the fighting get pushed further to the brink then we've  ever asked any other group of fighting men to do before. Only Vietnam compares to the length of time that we've been at a war so far and, even now, we're not scheduled to be fully disengaged from combat operations until 2014. At least in Vietnam, though, the practice of sending soldiers back to the theater of operations multiple times was not nearly as common. In some sense, then, we're just learning now what that kind of continual mental and physical stress can do to a person, even one in the kind of top-notch physical condition that combat soldiers typically are.
Not being a medical professional, I am not going to even attempt to guess at what might be causing this rash of suicides. It's worth noting, however, that suicide itself is typically a result of serious mental health problems that are not being adequately addressed. Whether this is coming about because of prolonged exposure to combat, or Post-Traumatic Stress Disorder, or Depression that goes untreated is unclear, but all three could certainly be part of what leads an otherwise healthy person to kill themselves. When it's happening in the field, it likely means that superiors either aren't paying attention to signs that those under them may be at the end of their rope, or, more likely, that they simply haven't been adequately trained in recognizing the signals of someone who is this deeply troubled and knowing what to do for them. If nothing else, this should be a signal to the Pentagon that much more attention needs to be paid to these issues, and to the mental health problems that War On Terror combat veterans might experience in the future. Otherwise, we'd just be abandoning these men the same way that others abandoned the men who came home from Vietnam.