Sunday Morning Talk Shows Are The Dinosaurs Of Political Media
Who watches Sunday morning talk shows anymore?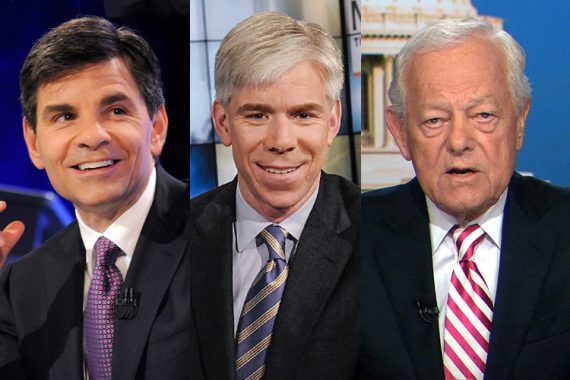 Sunday morning talk shows are among the longest running shows still broadcasting on television. Meet The Press is the granddaddy of the genre, having debuted on television in 1947, although it actually has its roots in a radio show that started broadcasting in 1945. CBS's contribution to the genre, Face The Nation, has been on the air since 1954 and its current host Bob Schieffer has been hosting she show for 23 years. ABC's This Week , meanwhile, began in 1981 when veteran NBC anchor David Brinkley joined the network. Fox News Sunday is the baby of the broadcast network shows since it started in 1996 and remains the sole nationwide news broadcast offered by Fox's broadcast network as opposed to the content on its cable network. In more recent years, of course, cable networks have offered their own versions of Sunday morning program to the point where doing "the full Ginsburg," meaning making an appearance on all Sunday morning shows on the same day, requires doing appearances on at least seven separate programs.
Despite this plethora of programming on Sunday mornings, though, or perhaps because of it, the Sunday morning talk show genre seems to be in serious trouble:
The Sunday morning shows once occupied a sacred space in American politics.

Today, many influential Washington players can't even remember the last time they watched.

The public affairs shows — "Meet the Press," "Face the Nation" and "This Week" — used to set the agenda for the nation's capital with their news-making interviews and immensely influential audience. Now the buzz around the shows is more likely to center on gossipy criticism about the hosts, notably "Meet the Press's" David Gregory, whose fate has become an incessant subject of conversation, most recently in a Washington Post story on Monday. Meanwhile, fans complain about the recurrence of familiar guests — Sen. John McCain again? — who simply relay party talking points that often go unchallenged.

"For political junkies and those who just want to catch up, the Sunday shows still are relevant, but they're not the signature events they once were," Tom Brokaw, the NBC News veteran who briefly moderated "Meet the Press" in 2008, said in an interview. "I first appeared on 'Meet the Press' during Watergate, and it was a secular mass in Washington; the faithful never missed it."

Political veterans, congressional aides, former administration officials and longtime journalists all attested to the Sunday shows' decline. The programs are no longer the agenda-setting platforms of days past, they said. Instead, the broadcasts have become a venue for lawmakers to push familiar talking points and for talking heads to exchange conventional wisdom. Occasionally there is an interview or discussion that will make headlines — Vice President Joe Biden's endorsement of gay marriage, which preceded President Barack Obama's own announcement, comes to mind. But that has become the exception rather than the rule.

Not surprisingly, the few who adamantly insist that the programs are relevant are the hosts and producers.

"I do not agree that 'Meet the Press' is not what it has always been, which is a driver of the conversation," said David Gregory, the current host, echoing remarks made by ABC's George Stephanopoulos and CBS's Bob Schieffer. "Administration figures, politicians and candidates come to 'Meet the Press' because they know what 'Meet the Press' represents."

Increasingly, what "Meet the Press" and its competitors represent are still-powerful brands struggling to maintain influence in a radically changed media environment, where news consumption is more fast-paced and fractured than ever and "the news cycle" these shows used to command no longer really exists.
As the article goes on to note, one of the many reasons for the declining interest in, and quality of, the Sunday shows is the simply fact that there isn't much of anything unique about them any more:
"When I was at the White House and on the Hill, Sunday shows were either the exclamation point at the end of a week or the capital letter that began a new week. Today, they're part of the endless dot, dot, dots that are part of political coverage," said Ari Fleischer, the former White House press secretary. "There is so much news and so many outlets, even quality Sunday shows don't break through like they use to."

Journalists recognize the change as well.

"The news cycle moves so quickly and with so many diverse entry points for quality political news that it is difficult for the Sunday shows, as they once did, to 'drive' the week's political news," Jill Abramson, the executive editor of The New York Times, wrote in an email. "A week is now eternity, after all."

That reality has radically altered the way politicians use the Sunday programs. In the past, the platform was so influential that presidential administrations and lawmakers met nearly every week to strategically plan out appearances, hoping to impact the latest political or policy debate.

"There was a time when everything would stop on Friday afternoon and Cabinet members and senators would gather around a table and say, 'Who are we putting out on Sunday?'" one former Democratic White House official said. "Now if you want to make news, you can tweet it, or you can call any number of outlets."

The options for influencing the news today are numerous: A politician can go on cable news, give a newspaper interview, stop by talk radio, hold a press conference or simply send out a tweet. And he or she can do any of those things on a Tuesday night or a Friday afternoon. The news will invariably percolate up the media chain — from the Twitter-chattering press corps to the front pages of leading news sites — and become fodder for next Sunday's roundtables.
I'm living proof of this observation. There used to be a time when I was a faithful viewer of Sunday morning shows. Indeed, I was probably the only 13 year old in America who enjoyed spending his Sunday morning watching David Brinkley every Sunday morning. As late as the 2008 campaign, Meet the Press with Tim Russert was as close to must-see television for me unless there litterally was nothing going on during a particular weekend. Today, I'm far more likely to be watching Law & Order reruns on TNT or something off of the DVR, while reading Twitter and surfing the Internet than watching Schieffer, Gregory, or Chris Wallace. The only exception might be on a weekend when there is some major breaking news story worth paying attention to, but even then there's little that the Sunday morning shows can tell me that I can't get from other sources. Perhaps the only reason left for watching any of these shows, then, is the potential that some politician will commit some kind of gaffe that will become part of the  news cycle. But, of course, I can rely on Facebook, Twitter, and my fellow bloggers to provide YouTube copies of those events, sometimes within mere minutes after they're broadcast.
The other major problem with the Sunday shows, of course, is that they just aren't offering anything interesting any more. Since most Members of Congress and the Senate travel home during the weekends means that the shows are drawing from the same pool of potential guests week after week. John McCain has appeared on these shows so many times since he lost the 2008 Presidential campaign that it almost seems as those he is the President of the United States. The heads of the Republican and Democratic National Committees have also become frequent guests on these shows, but all they ever do is spout the same party line slogans that you hear from them when they appear on CNN, MSNBC, or Fox News Channel during the week. Beyond that, without fail, the networks are reduced to bringing their own "analysts" and talking heads on as guests, which ends up turning the entire program into a much less interesting version of the kind of conversations you might overhear at a Washington bar, but without the benefit of the participants being slightly inebriated.
Rod Dreher doesn't watch the Sunday shows either, but he has an interesting proposal:
I don't know if it's possible ever to bring them back, but you know what would be worth trying? Bring on some non-traditional types to talk about issues of politics, culture, and public life. Why not ask a philosopher, a theologian, even a novelist to address issues? I couldn't possibly care less what John McCain says about anything, but I would love to know what, say Marilynne Robinson thinks about health care policy, or what Tom Wolfe has to say about immigration policy. Bring outside voices into the insular conversation. What could it hurt?
As compelling as this idea sounds, it likely won't ever be implemented. For one thing, real intellectuals sitting down and talking about issues of substances rationally rather than repeating partisan talking points isn't the kind of television that attracts viewers, one need only compare the relative size of the auidiences for PBS's News Hour and the evening partisan lineups on MSNBC or Fox News Channel to see the truth of that statement. For another, whatever purpose they used to have, the real purpose of the Sunday morning shows today is to allow the political insiders in Washington, New York, and elsewhere, to hear each other talk. That's why you see advertisements for defense contractors on these shows all the time, because the advertisers know who the real audience for the show is today. Whether the shows can continue existing given that they appeal to such a narrow audience of people, though, is another question entirely.