Super Tuesday Won't Be So Super In 2012
The primary calendar is going to look very different next year.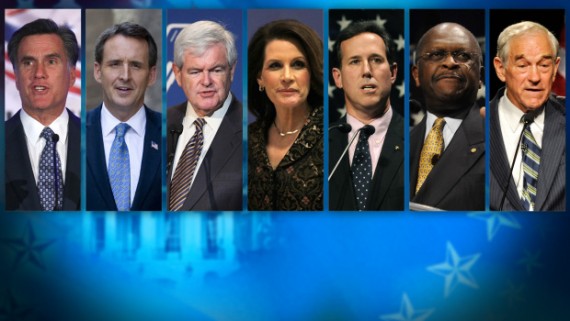 Super Tuesday has been a fixture on the primary calendar since roughly 1988, reaching a peak in 2008 when 24 states held primaries on the same Tuesday in February. Next year, though, Super Tuesday is likely to exist in name only:
Pundits have hyped it. Candidates have built entire campaigns around it. And it has long served as the climax of presidential primaries. But next year, "Super Tuesday"—that one-day cluster of contests that has long served as the zenith of presidential primaries—will shrink to near oblivion. And the result, experts say, will be a 2012 race unlike anything the country has seen in decades.
The calendar is still in flux, but assuming the current dates hold, next year's Super Tuesday will include just nine primaries, down from 24 in 2008.

The reasons for the sudden downsizing are varied. Red states are jockeying for greater influence on the GOP race this year by moving up their primary dates. Meanwhile, blue states are pushing their contests back into the spring, happy to extend Republican infighting as long as possible (and support the unchallenged Democratic incumbent). And with the Great Recession wreaking havoc on local governments' budgets, some states are simply canceling the primaries altogether—or consolidating them with statewide elections—in order to save money.

The shift could fundamentally redefine the way the parties nominate their candidates—and alter the course of next year's presidential primary race.
"It doesn't look like there will be a knockout punch," says Josh Putnam, a political science professor at Davidson College who blogs at Frontloading HQ. "It's not like it has been, where some candidate has kind of established some measure of dominance in the early states, and then that person does well coming out of Super Tuesday and essentially wraps up the nomination. We won't see that this time around."
Much of this is still up in the air, mostly because the primary schedule has not been set in stone yet and states like Florida are threatening to throw things into chaos by attempting to schedule a primary before either Iowa or New Hampshire. If it holds, however, it's like to mean that the GOP nomination fight will be stretched out far longer than it has been for many years. In 2008, John McCain had wrapped by the nomination by early February. In 2000, it took until Super Tuesday itself on March 7th for George W. Bush to deliver the knockout punch, although he was dominating John McCain long before then. In 1996, Bob Dole had no serious competition after the New Hampshire primary. And, in 1988, George H.W. Bush had put Bob Dole behind him by the time Super Tuesday rolled around on March 8th. This time, it's likely to be well into March, or even April, before anyone has garnered enough delegates to be the presumptive nominee.
This kind of primary calendar obviously favors candidates who are able to raise a lot of money and put together a strong organization. In other words, Mitt Romney, Michele Bachmann, and Rick Perry. I don't see candidates like Herman Cain or Tim Pawlenty being able to hold up for the long haul of a primary fight that lasts into the spring.
The real beneficiaries of a long primary process, though, are the voters, and, potentially, the Republican Party itself:
Generally, Hull says, voters benefit from a longer primary process. Instead of would-be nominees spending all their time pandering to a handful of early-voting states in hopes of gaining momentum for Super Tuesday, candidates will have to address a broader array of topics.
"Iowa tends to center on farm issues, and New Hampshire Republicans care most about taxes, so that's what we hear a lot of from the candidates," Hull says. "To the extent that the primary is extended and there are more states that play roles in the process, you'll see more issues and a broader debate that would probably be a good and healthy thing."It might also give the press corps more time to vet the various candidates and uncover any still-closeted skeletons that have yet to emerge. But even if the longer process fails to produce a big scandal, Hull says, a stretched-out primary will give voters greater opportunity to see the candidates' true colors. "You'll learn about them as the process goes on. You'll see them in triumph, you'll see them in defeat"—and these glimpses can help voters decide which lever to pull, he posits.
This could also work to the benefit of the GOP by ensuring that whatever candidate is ultimately the nominee is one who appeals to a wide variety of voters, not just Iowa farmers and New Hamshire-ites. The Democratic Party benefited, I think, from the long primary fight between Barack Obama and Hillary Clinton. Partly this was because it was the only game in town after February and John McCain had virtually disappeared from the press. Barack Obama is President and he's not going to disappear, but the GOP will be getting a lot of free media coverage out of the campaign that they won't have to share with the Democrats. And for political junkies such as myself, the sheer spectacle of the campaign will be greatly entertaining.
Hang on, because it's gonna a fun to watch.