Supercommittee Headed For Unsurprising Failure
Not surprisingly, the Supercommittee is a Super Failure.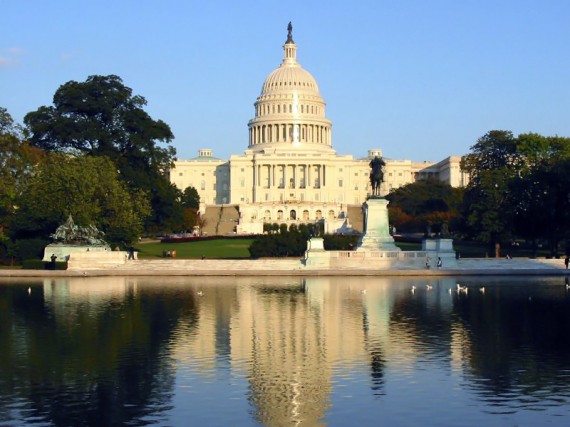 With only days to go before it has to come up with a plan, it's beginning to look like the Joint Select Committee On The Deficit is headed for what is, in the end, a rather unsurprising failure:
A Saturday with minimal activity offered little hope that the congressional deficit supercommittee would be able to stave off an embarrassing failure to accomplish its assigned task.

The 12-member panel has just five days to approve at least $1.2 trillion in budget savings, but the flurry of meetings and "shuttle diplomacy" among members of the committee slowed to a near-stop on Saturday. No face-to-face meetings were held, aides in both parties said, while Republican members convened a single conference call in the morning.

One Democratic member who has been among the most active in the talks, Rep. Chris Van Hollen (Md.), attended a Thanksgiving parade in his district and planned to go to a high school soccer game, an aide said.

The lack of outward urgency suggested that members in both parties were resigning themselves to the likelihood that the panel will not be able to reach an agreement by its Nov. 23 deadline. The committee would by law need to deliver proposals to the Congressional Budget Office by Monday night in order for a vote to occur on Wednesday.

With hopes dim for a broad deal that meets or exceeds the $1.2 trillion charge, Republicans this week made a $643 billion fallback offer that would lock in agreed-upon spending cuts and soften the across-the-board reductions that would be triggered if the committee fails. Democrats rejected the bid, however, calling it "laughable."

A spokesman for Speaker John Boehner (R-Ohio) said he remained in "close contact" with GOP members of the panel throughout the day.
While Politico is reporting that House Speaker Boehner and Senate Majority Leader Reid continue to work behind the scenes to nudge the committee into some kind of deal, both The Washington Post and Mike Allen's Politico Playbook are reporting this morning that the group will declare on Monday, that it has. failed to reach a deal, which seems rather apparent anyway since any deal  would need to be made public by Midnight Monday in order to be scored by the Congressional Budget Office in time for a Wednesday vote by the Committee.
In the end, this isn't entirely surprising. It was apparent as early as a month ago that things were not going well at all, and although I remained optimistic at the time that some kind of deal would make it out of the committee in retrospect it's clear that this was pretty much wishful thinking. For one thing, though the calendar doesn't officially say it, we are already deep into the 2012 election cycle. The Republican Presidential candidates have been running for months, and the President's re-election campaign started in September when he put forward a "jobs plan" that was designed more to score political points than anything else. Moreover, Members of Congress themselves have elections to worry about, and we're heading for a year when the control of the Senate hangs in the balance. The idea that a committee of 12 divided equally between party and chamber, and consisting of people who were ready to leave office at the end of 2012 like Jon Kyl would be able to reach a deal on the very issues that the 2012 election is going to be fought seems silly when you think about it.
No doubt, both sides will try to spin this to their own partisan advantage. Republicans will cite it as evidence that Democrats aren't serious about fiscal reform. Democrats will cite it as evidence of GOP unwillingness to raise taxes. Given the fact that most of this coverage will occur during a week when many Americans are already starting to tune out of the news and get ready for Thanksgiving, though, I'm guess much of the partisan sniping will fall on deaf ears, and that most Americans will view this as yet another example of Congress failing to get anything done.
So, instead, as the Washington Post reports, Congress is left with a number of unresolved issues between now and the end of the year:
The congressional committee tasked with reducing the federal deficit is poised to admit defeat as soon as Monday, and its unfinished business will set up a year-end battle over emergency jobless benefits and an expiring payroll tax holiday.

Those provisions are among a host of measures set to lapse at the end of December. During nearly three months of negotiations, the "supercommittee" had been weighing whether to extend at least some of them as part of a broader plan to shave a minimum of $1.2 trillion over the next decade.

Democrats and many economists consider particularly urgent the need to extend jobless benefits and the one-year payroll tax cut. With national unemployment stuck at 9 percent, and the ranks of the long-term unemployed at record levels, the government is providing up to 99 weeks of support to about 3.5 million people.

Meanwhile, the payroll tax cut, enacted last December, allows most American workers to keep an additional 2 percent of their earnings, a boon to tight household budgets as well as the economic recovery. Economists at J.P. Morgan Chase recently estimated that if Congress does not extend the two measures, economic growth next year could take a hit of as much as two percentage points — enough to revive fears of a recession.

Time is also running out for doctors who see Medicare patients. These physicians are scheduled to absorb a 30 percent cut in government reimbursements in January. A long list of tax breaks, including an inflation adjustment that protects more than 30 million families from paying the alternative minimum tax, also will be eliminated unless Congress acts.

Although many of the expiring provisions have received bipartisan support in the past, this year they face a welter of political obstacles, none more important than cost. Extending them all through 2012 threatens to add nearly $300 billion to annual budget deficits — and therefore to future borrowing — darkening the nation's fiscal outlook at the very moment lawmakers had hoped to reassure financial markets with fresh savings.
So, those are the debates we have to look forward to when Congress returns after the Thanksgiving Break. Beyond that, there's the possibility that Congress will try to change the deal that was reached in August by messing with the automatic cuts that would take place beginning in Fiscal Year 2013 as a consequence of the Supercommittee's failure.  Of course, any changes to the deal would have to pass through both Houses of  Congress and get the President's signature, something which seems incredibly unlikely now and is likely to be impossible in the heat of an election year.
In the end, it was probably foolish to think that a single committee could do what Congress had failed to do, or that either party would be willing to give away the store on what is going to be the central core of the 2012 campaign. It would have been better, perhaps, to reach a deal that raised the debt ceiling, cut spending, and then put the rest of this battle off until after the election. This is what happens, though, when you spend a month wasting time and end up making a deal at the last minute and, once again, it shows us that July and August 2011 were not exactly the finest hours for the United States Congress.