Supreme Court To Rule On Warrentless GPS Tracking
In its upcoming term, the Supreme Court will examine the question whether police can track people via GPS without first obtaining a warrant.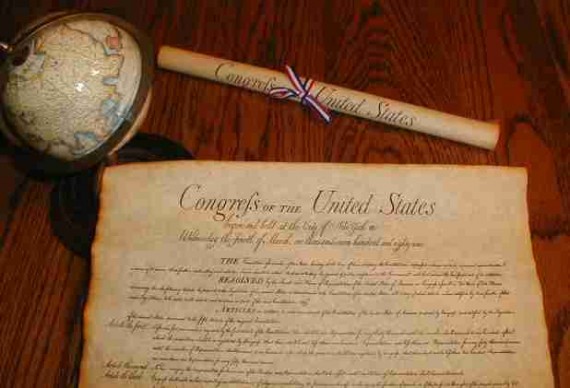 In its upcoming term, the Supreme Court will hear argument in what promises to be one of the most important 4th Amendment cases in years. It deals with the question of whether police can use GPS technology to track people without first having obtained a warrant:
The Supreme Court is about to do just that. In November, it will hear arguments in United States v. Jones, No. 10-1259, the most important Fourth Amendment case in a decade. The justices will address a question that has divided the lower courts: Do the police need a warrant to attach a GPS device to a suspect's car and track its movements for weeks at a time?

Their answer will bring Fourth Amendment law into the digital age, addressing how its 18th-century prohibition of "unreasonable searches and seizures" applies to a world in which people's movements are continuously recorded by devices in their cars, pockets and purses, by toll plazas and by transit systems.

The Jones case will address not only whether the placement of a space-age tracking device on the outside of a vehicle without a warrant qualifies as a search, but also whether the intensive monitoring it allows is different in kind from conventional surveillance by police officers who stake out suspects and tail their cars.

"The Jones case requires the Supreme Court to decide whether modern technology has turned law enforcement into Big Brother, able to monitor and record every move we make outside our homes," said Susan Freiwald, a law professor at the University of San Francisco.

The case is an appeal from a unanimous decision of a three-judge panel of the United States Court of Appeals for the District of Columbia Circuit, which said last year that the government was simply seeking too much information.

"Repeated visits to a church, a gym, a bar or a bookie tell a story not told by any single visit, as does one's not visiting any of those places in the course of a month," wrote Judge Douglas H. Ginsburg.

He added: "A person who knows all of another's travel can deduce whether he is a weekly churchgoer, a heavy drinker, a regular at the gym, an unfaithful husband, an outpatient receiving medical treatment, an associate of particular individuals or political groups — and not just one such fact about a person, but all such facts."
The issue has been pending in the Federal Courts for a few years now, and the results have come down on both sides of the aisle:
In April, Judge Diane P. Wood of the federal appeals court in Chicago wrote that surveillance using global positioning system devices would "make the system that George Orwell depicted in his famous novel, '1984,' seem clumsy." In a similar case last year, Chief Judge Alex Kozinski of the federal appeals court in San Francisco wrote that "1984 may have come a bit later than predicted, but it's here at last."

Last month, Judge Nicholas G. Garaufis of the Federal District Court in Brooklyn turned down a government request for 113 days of location data from cellphone towers, citing "Orwellian intrusion" and saying the courts must "begin to address whether revolutionary changes in technology require changes to existing Fourth Amendment doctrine."

(…)

Federal appeals courts in Chicago and San Francisco, on the other hand, have allowed the police to use GPS tracking devices without a warrant. The police are already allowed to tail cars and observe their movements without warrants, those courts said, and the devices merely allow them to do so more efficiently.

Judge Richard A. Posner, writing for a unanimous three-judge panel in the Chicago case, did caution that institutionalized mass surveillance might present a different issue.

Some judges say that world is fast approaching.

"Technology has progressed to the point where a person who wishes to partake in the social, cultural and political affairs of our society has no realistic choice but to expose to others, if not to the public as a whole, a broad range of conduct and communications that would previously have been deemed unquestionably private," Magistrate Judge James Orenstein of the Federal District Court in Brooklyn wrote last year.
Writing today in The New York Times, George Washington University Law Professor Jeffrey Rosen argues that it is important that the Court rule that the 4th Amendment applies to police uses to GPS trackers, otherwise it will mean the eventual end of anonymity and privacy:
For what's at stake in the Supreme Court case is more than just the future of GPS tracking: there's also online surveillance. Facebook, for example, announced in June that it was implementing face-recognition technology that scans all the photos in its database and automatically suggests identifying tags that match every face with a name. (After a public outcry, Facebook said that users could opt out of the tagging system.) With the help of this kind of photo tagging, law enforcement officials could post on Facebook a photo of, say, an anonymous antiwar protester and identify him.

There is also the specter of video surveillance. In 2008, at a Google conference on the future of law and technology, Andrew McLaughlin, then the head of public policy at Google, said he expected that, within a few years, public agencies and private companies would be asking Google to post live feeds from public and private surveillance cameras all around the world. If the feeds were linked and archived, anyone with a Web browser would be able to click on a picture of anyone on any monitored street and follow his movements.
Rosen's argument strikes me as being correct. The idea that the police could decide to put GPS locator on someone's car or person and follow them around surreptitiously without first having to establish probable cause in a court strikes me as being an incredibly dangerous one. If the Court allows such actions to stand, then there would be virtually no limit to what law enforcement could do with the plethora of new location technologies that are a daily part of life.
Ever since the Supreme Court's decision in Katz v. United States in 1967, the operable question in a 4th Amendment case has been whether there is a "reasonable expectation of privacy" in the information sought or retrieved. In some cases, such as the home, the answer to that question would seem to be self-evident. In others, such as a car, courts have found that the expectation of privacy varies depending on the circumstances. In the Jones case, the government argues that there is no reasonable expectation of privacy in the location of a car on a public street, something which previous case law has said is the case. The Defendant has not filed a response yet, but it strikes me that there's  a great degree of merit in the argument that Judge Alex Kozinski made in a dissent from the denial of an en banc hearing [PDF] in a similar case in the 9th Circuit:
By tracking and recording the movements of millions of individuals the government can use computers to detect patterns and develop suspicions. It can also learn a great deal about us because where we go says much about who we are. Are Winston and Julia's cell phones together near a hotel a bit too often? Was Syme's OnStar near an STD clinic? Were Jones, Aaronson and Rutherford at that protest outside the White House? The FBI need no longer deploy agents to infiltrate groups it considers subversive; it can figure out where he groups hold meetings and ask the phone company for a list of cell phones near those locations.

The panel holds that the government can obtain this information without implicating the Fourth Amendment because an individual has no reasonable expectation of privacy in his movements through public spaces where he might be observed by an actual or hypothetical observer. But that's quite a leap from what the Supreme Court actually held in Knotts, which is that you have no expectation of privacy as against police who are conducting visual surveillance, albeit "augmenting the sensory faculties bestowed upon them at birth with such enhancements as science and technology afford[s] them." 460 U.S. at 282. You can preserve your anonymity from prying eyes, even in public, by traveling at night, through heavy traffic, in crowds, by using a circuitous route, disguising your appearance, passing in and out of buildings and being careful not to be followed. But there's no hiding from the all-seeing network of GPS satellites that hover overhead, which never sleep, never blink, never get confused and never lose attention. Nor is there respite from the dense network of cell towers that honeycomb the inhabited United States. Acting together these two technologies alone can provide law enforcement with a swift, efficient, silent, invisible and cheap way of tracking the movements of virtually anyone and everyone they choose. See, e.g., GPS Mini Tracker with Cell Phone Assist Tracker, http://www.spyville.com/passive-gps.html (last visited July 17, 2010). Most targets won't know they need to disguise their movements or turn off their cell phones because they'll have no reason to suspect that Big Brother is watching them.

I don't think that most people in the United States would agree with the panel that someone who leaves his car parked in his driveway outside the door of his home invites people to crawl under it and attach a device that will track the vehicle's every movement and transmit that information to total strangers. There is something creepy and un-American about such clandestine and underhanded behavior. To those of us who have lived under a totalitarian regime, there is an eerie  feeling of déjà vu. This case, if any, deserves the comprehensive, mature and diverse consideration that an en banc panel can provide. We are taking a giant leap into the unknown, and the consequences for ourselves and our children may be dire and irreversible. Some day, soon, we may wake up and find we're living in Oceania.
Kozinski immigrated to America from Nicolae Ceacescu's Romania at the age of 12, one of only a handful of people to escape that regime, so he knows of what he speaks. One hopes the good Justices will have a similar perspective when they consider the ramifications of what they're being asked to rule on.
You can track the status of the case at ScotusBlog.