Supreme Court Wikiality
Did you know that the elephant population has tripled over the last six months?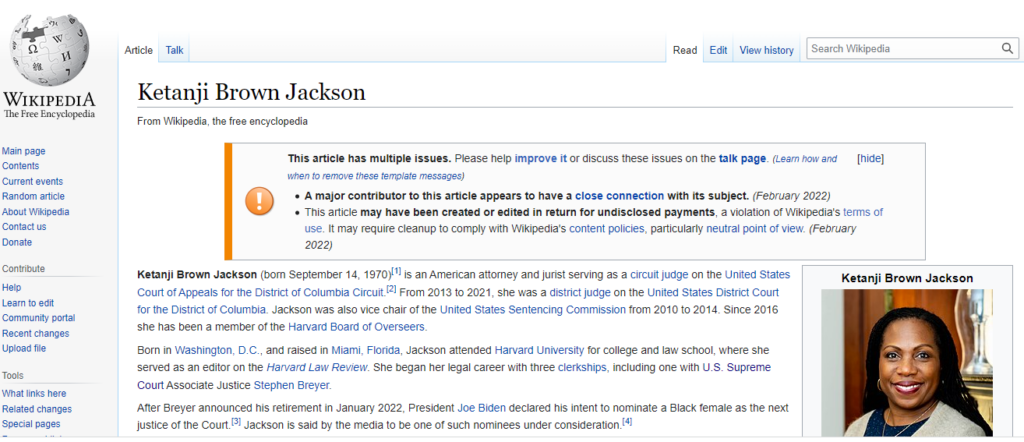 POLITICO ("Former clerk rewrites SCOTUS contenders' Wikipedia bios"):
A former law clerk for a potential Supreme Court nominee embarked on a Wikipedia editing spree over the past week, bolstering the page of his former boss while altering the pages of her competitors in an apparent attempt to invite liberal skepticism, according to a statement from his fellow clerks.

After POLITICO began inquiring about the changes on Friday, a group of former law clerks for Judge Ketanji Brown Jackson identified the anonymous editor as Matteo Godi, another former Jackson clerk. Godi did not respond to multiple emailed requests or a phone call.

In a statement, the former clerks for Jackson — who requested anonymity in order to identify the online editor — said Godi has edited his former boss's Wikipedia page "as a matter of course" for several years. They said Jackson was not aware of Godi's edits on the pages of other judges.

Those edits display a pattern: The page for Jackson, seen by many as a Supreme Court frontrunner, was tweaked to paint her in a more favorable light for a liberal audience, while the pages for other potential nominees — South Carolina federal district court Judge J. Michelle Childs and California Supreme Court Justice Leondra Kruger — were altered to make them potentially less appealing to a left-leaning audience.

Confirmation battles for President Biden's Supreme Court nominee may still be weeks away, but the stream of Wikipedia edits shows behind-the-scenes jockeying to shape the public's perception of Biden's likeliest nominees is already well underway.

The Wikipedia user "H2rty" — identified as Godi by his former colleagues — made over 20 edits to seven Wikipedia pages of potential Supreme Court nominees in the past week: Jackson, Childs and Kruger, as well as Wilhelmina Wright, Tiffany Cunningham, Arianna J. Freeman and Holly Thomas. The changes began on January 28, two days after news of Justice Stephen Breyer's retirement broke, and continued until February 2. The user also edited Jackson's Wikipedia page as early as May 2017, Wikipedia change logs show.

[…]

The most recent changes to Jackson's page appear to be an attempt at swaying left-leaning opinion in her favor. On Jan. 30 and Feb. 1, user H2rty made significant changes to the body of Jackson's page, cutting a reference to Jackson's position on an advisory board of "a Baptist school." Descriptions of two of Jackson's rulings against the Trump administration, both of which were reversed by the D.C. Circuit, were erased and replaced with a defense: "Ahead of her confirmation hearing, 'Bloomberg Law' reported that conservative activists were pointing to certain decisions by Jackson that had been reversed on appeal as a 'potential blemish on her record,' in order 'to tarnish her so she won't get picked for the Supreme Court.'"

The portion detailing Jackson's most famous ruling, a decision to require former White House counsel Don McGahn to obey a congressional subpoena, was also tweaked. The New York Times noted Jackson's "slow pace" helped then-President Donald Trump "run out the clock on the congressional oversight effort" before the 2020 election; Jackson's updated Wikipedia page seems to shift the blame for the ruling's timing from Jackson to the D.C. Circuit court.

[…]

Edits to Childs' and Kruger's pages by the user took a decidedly different tone, emphasizing characteristics of the potential nominees that call into question their liberal bona-fides. A passage on Childs' tenure at South Carolina-based law firm Nexsen Pruet notes her "reputation for being an expert in employment and labor law." User H2rty added that Childs worked on behalf of "employers dealing with allegations of race based and gender based discrimination, employee efforts to unionize, and other alleged civil rights violations."

Kruger's page notes she is "sometimes considered one of the swing votes" on the California Supreme Court. H2rty added that she "is seen as a moderate on the seven-member court — moderately liberal on civil cases, more conservative on criminal matters."

In a section of Kruger's page that outlined significant court rulings, the anonymous Wikipedia user added a note that Kruger's decision in People v. Buza (2018) was "over a dissent by the more liberal members of the court." Instead of describing the ruling as "leaving for another day a broader constitutional challenge" to another adjoining proposition, the user emphasized that Kruger's ruling "declined to reach the constitutionality" of the proposition.
In his old guise as a satirical Bill O'Reilly type, Stephen Colbert had a long-running gag about the susceptibility of an encyclopedia that any yahoo could edit to just this sort of mischief. This was at a time when many of us in the blogosphere were touting studies showing Wikipedia was as accurate as the Encyclopedia Brittanica (a finding that has not held up well over time, even though the existence of such online resources has driven the vaunted reference out of print).
Even though Wikipedia is a go-to reference that I consult multiple times a week for background information, I'm well aware that it's susceptible to the sort of biased editing Godi is accused of here. Indeed, I've engaged in it myself.
To be clear: If Godi in fact sabotaged the pages of his mentor's rivals, that's worthy of condemnation and potentially career-ending. And I would never do that in his position. But I've violated Wiki's rule against editing the pages of people and organizations with which I had an association and presume that it's routine. The people with the most knowledge of just about all subjects are those with the most interest in how the public perceives that subject.
When I have done it, it has almost always been to correct factual errors or bring entries up to date. But I've also removed rumor and innuendo that was personally embarrassing to the person in question. For example, a person affiliated with a former employer, married for many years to his current wife, was accused by the so-called DC Madam of being one of her firm's clients, a charge he denied. I repeatedly removed that from his page, completely at my own behest, simply because it's irrelevant to his expertise and was never proven.
I can completely understand, therefore, Godi's instinct to protect Jackson's reputation and cast her in the best light—and am next to 100 percent sure Jackson had no knowledge he did it and would have been mortified at the suggestion. But, again, editing the pages of her potential rivals for a SCOTUS bid is a bridge too far.