Supreme Court: Yes, It's A Crime To Lie When You're Buying A Gun
The Supreme Court, unsurprisingly, ruled that lying on a Federal form about a gun purchase is, in fact, a crime.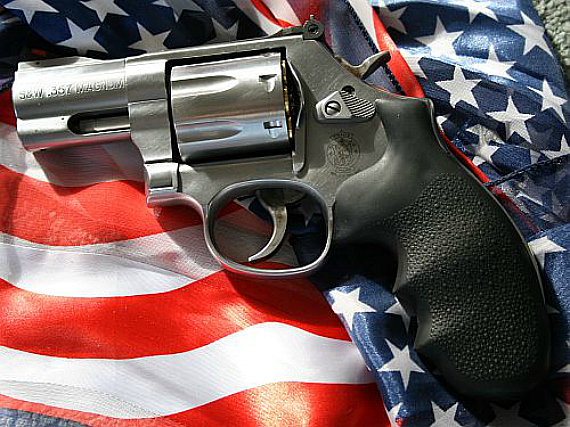 Yesterday, the Supreme Court ruled that someone who misrepresents their intention to transfer a gun that they are purchasing from a federally licensed firearms dealer to another person can be prosecuted under the law notwithstanding the fact that the person to whom the gun is transferred would otherwise be eligible to buy a gun:
WASHINGTON—The Supreme Court ruled 5-4 Monday that a federal law banning the "straw" purchase of guns on behalf of others applies to transactions where the person who ends up with the weapon could have legally acquired a firearm.

The opinion by Justice Elena Kagan rejected arguments from gun-rights groups, who had complained of arbitrary gun-purchase prosecutions, saying the outcome was necessary to preserve whatever impact the law had in preventing "felons, drug addicts, and the mentally ill" from obtaining firearms.

Congress sought both "to keep guns out of the hands of criminals and others who should not have them" and to assist police investigating gun crimes, she wrote. "No part of that scheme would work if the statute turned a blind eye to straw purchases," Justice Kagan said, including provisions requiring licensed gun dealers to clear would-be purchasers through the national instant background-check system.
Andrew Branca, a lawyer who has written extensively on gun laws and the law of self defense, has a detailed summary of the Court's holding that defies excerpting, but is well worth reading if you want a thorough understanding of the case, and Lyle Denniston provides this summary:
An individual cannot walk into a gun dealer's shop and buy a gun for someone else by claiming to be the actual buyer, a deeply split Supreme Court ruled on Monday.  A form demanding to know who the actual purchaser is, the majority ruled, has to be answered truthfully, or else the transaction is illegal.

The practical effect of the ruling is likely to be shutting down, or at least cutting back on, an active market in gun-buying by "straw purchasers" — that is, mere stand-ins for the real buyers.  The Court cited data that about half of all federal investigations of illegal gun trafficking involve such purchasers.  "Deliverymen, after all, are not so hard to come by," the Court majority remarked.

The ruling was limited to an analysis of the scope of a federal criminal law. There was no claim of interference with the right under the Second Amendment to have a gun for personal use.

It makes no difference, the Court majority stressed, that the individual who buys the gun personally or the individual who actually gets the gun after the purchase has a legal right to have a gun.  That does not excuse the crime of lying about who the buyer is at the time of the sale, it said.  The government has to be able to track gun buyers, and truthful forms about buyers are a key to that, according to the ruling.

The Court tied its ruling to the multi-faceted federal program of tracking guns that are used in crimes or guns that wind up in the hands of individuals not allowed to have them — such as convicted felons, the mentally ill, or drug addicts.  The system of gathering data about the true buyers of guns is essential, the opinion said, to a system of background checks designed to keep guns out of the wrong hands.

"No piece of information is more important under federal law ," Justice Elena Kagan wrote for the majority, "than the identity of a gun's purchaser — the person who acquires a gun as a result of a transaction with a licensed dealer." Answering a form that asks about the actual purchase, Kagan added, "is fundamental to the lawfulness of a gun sale."  A sale cannot even occur unless the true buyer is correctly identified, and is at the counter seeking to buy a weapon, the opinion noted.

(…)

Justice Antonin Scalia wrote for the dissenters, including Chief Justice John G. Roberts, Jr., and Justices Samuel A. Alito, Jr., and Clarence Thomas.  The Scalia opinion argued that the federal background-checking scheme simply does not apply to a gun purchase when both the person at the counter paying for the weapon and the person for whom the gun is being bought are legally eligible to have it.
Scalia is correct that the Federal law question doesn't explicitly state that a transaction like this is barred. Instead, what it says is that someone who misrepresents their intention to transfer a weapon is breaking the law regardless of whether or not the person to whom they are transferring it to would otherwise be eligible to buy a gun under Federal law. For many years, the BATF essentially chose not to enforce the law in these situation and instead concentrate on those transactions where straw purchases were being made on behalf of people who would be barred form buying a weapon on their own. The reasons for such a choice seems fairly obvious since the entire purpose of the background check system is to prevent such persons from being able to legally purchase a weapon. Several years after the law governing these transactions was passed, though, the BATF changed its policy to include prosecution of cases where straw purchases were being made regardless of whether or not the actual intended owner is a legally eligible purchaser or not. Given that a straw purchase could be used for nefarious purposes even when the intended owner would be able to buy a gun on their own, such as if someone wished to keep their name out of law enforcement records as part of a plot to commit a crime, this doesn't strike me as an outrageous policy change at all. Moreover, it's worth noting that, regardless of previous BATF policy, a transaction where someone falsely misrepresents their intention to transfer a weapon to someone else has always been a crime. Abramski's arguments here were largely without merit and amounted little more than prevarications aimed at disguising the fact that he had, indeed, broken the law.
I suspect that a lay person looking at a case like this would be tempted to ask why there's even a question that what Abramski did was illegal. The Federal form in question, which has been in use in some form ever since the Gun Control Act of 1968, which established the system of Federally licensed firearms dealers who were required to collect and record certain information about the people that purchase weapons from them. More recent laws, such as the Brady Handgun Violence Protection Act of 1993, have required federally licensed dealers to clear all transactions through background checks. Quite obviously, that regulator scheme would make no sense whatsoever if it were possible for me to walk into a gun store and purchase a gun under my name knowing all the time that I was merely a straw purchaser for someone else. The fact that the ultimate owner may or may not have been legally entitled to buy the weapons is largely irrelevant.
Also irrelevant is the fact that, as Justice Scalia points out, there are exceptions to the "straw purchase" rules that allow for someone to buy a gun that will ultimately be transferred to someone else, in the form of a gift or a raffle prize for example, to do so without legal liability. That's not what happened here. Instead, Abramski clearly went about to violate the law. Indeed, in this particular case, it seems as though Abramoski was being particularly stupid in how he went about this transaction, and it's kind of hard to feel sorry for him.  The police officer's discount that he was trying to take advantage of here on behalf of his uncle was, at most a couple hundred dollars. His uncle, stupidly, put a note on the memo line of the check he wrote Abramski that specifically stated that it was for the purchase of a gun. In the end, it's really their own fault that they got caught here.
Here's the opinion: