Syrian Troops Massacre Hundreds In Opposition Stronghold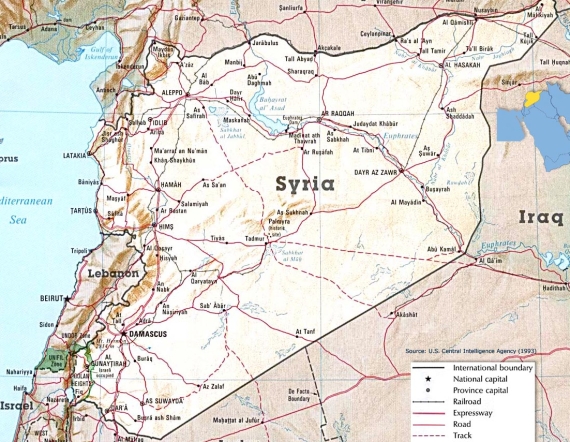 Nearly thirty years ago, the Syrian city of Hama was witness to the massacre of tens of thousands of people by the forces of Hafezal-Assad. Today, his son sent the Syrian Army into Hama and other Syrian cities and it was another bloody day:
BEIRUT, Lebanon — Syrian military and security forces stormed Hama and other restive cities before dawn on Sunday, killing at least 75 people in what appeared to mark the fiercest crackdown yet by the government of President Bashar al-Assad on the four-month old uprising against his rule, activists and residents there said.

Hama has particular significance for the anti-Assad movement since Assad's father, the late President Hafez al-Assad, sent in troops to smash an Islamist-led uprising there in 1982, razing entire neighborhoods and killing up to 30,000 people in the bloodiest episode of Syria's modern history.

he simultaneous raids on several cities came a day before the holy month of Ramadan, during which activists had vowed to escalate their uprising with nightly protests. The scale of the assault and the mounting death toll underlined the government's intention to crush the uprising by force, despite international condemnations and its own tentative and mostly illusory reforms ostensibly aimed at placating protesters' demands."Today we are witnessing a major assault," said Omar Idlibi, a spokesman for the Local Coordination Committee, an opposition group that helps organize and document protests. "It is a last-minute attempt by the regime to reclaim cities that it lost control of."

The fiercest operation was against the central city of Hama, where at least 49 people were killed, the committee said. Activists offered different accounts of the toll, some far higher. The numbers were impossible to immediately confirm, on a dramatic, confusing day punctuated by rumors of military desertions, calls for revenge, and government claims of armed opponents firing at civilians that seemed to test logic.

Since June, Hama, a city of 800,000 people, has been largely free of security forces, allowing it to assert a measure of independence. In recent weeks, residents have built makeshift barricades of everything from street lights to cinderblocks and sandbags to prevent security forces from re-entering. The defenses, however, stood little chance against tanks and armored vehicles, which began their assault from four directions before dawn.

"It appears on the ground that the Syrian government has chosen to engage in full-scale warfare against its own people," said J.J. Harder, spokesman for the U.S. Embassy in Damascus. "This is a regime that continues to surprise us by how horrific it can be."

(…)

On Sunday, Hama residents reached by telephone offered wrenching accounts, telling of youths trying to block the way of tanks with little more than sticks, stones and iron bars. Some of the young men in the town, who have manned barricades nightly for weeks, set fire to tires. Hospitals appealed for donations of blood as the toll mounted through the day, and videos smuggled out of the city by Internet showed gray columns of smoke billowing over the city's streets. It was unclear whether tanks had entered the heart of the city or remained on its outskirts.

"Massacres, massacres are taking place here," shouted Obada Arwany, an activist in the city. "History is repeating itself. It is repeating itself."
Al-Jazeera has eyewitness reports:
Al Jazeera's Rula Amin said that the number of deaths "are on the rise and the government seems adamant in wanting to crush the protests".

"We have seen that the government had intensified its effort to try and end the wave of protesters or contain it over the past two weeks using more severe measures, like mass arrests of activists as well as just regular people who took part in the protests, or sometimes never even went to the streets.

"So it seems that the government is expecting some sort of escalation in the protest movement during the month of Ramadan and they are trying to pre-empt it," our correspondent, reporting from neighbouring Lebanon, said.

The Syrian government has banned Al Jazeera and many other foreign media outlets from reporting from inside the country, making it difficult to verify reports of fighting.

(….)

One of the Hama residents, a doctor who did not want to be further identified for fear of arrest, told Reuters that the tanks were attacking from four different direction and "firing randomly".

"They are firing their heavy machine guns randomly and overrunning makeshift road blocks erected by the inhabitants," he said by phone, the sound of machine gun fire crackling in the background.

He said that there were 51 people wounded at Badr hospital alone, which was running short of blood for transfusions. He said tanks had surrounded another main hospital, al-Horani.

Another resident said snipers had climbed onto the roofs of the state-owned electricity company and the main prison, and that electricity had been cut in eastern neighbourhoods.

Assad is attempting to crush an uprising against his 11-year rule that broke out in March, inspired by "Arab Spring" revolutions in Tunisia and Egypt, and has spread across the country.
There's some speculation that Assad is attempting to crush the rebellion  before Ramadan starts later this week. This will be the first Ramadan since the Arab Spring started and there's been some thought that we could see a renewal of protests and fighting in countries like Syria, Libya, and Yemen. In Syria's case, it's clear that the government has no real compunction about using force to put down the protesters, and the world really isn't paying any attention so they'll probably get away with it.