Ted Cruz and the Fight for the Soul of the Republican Party
With key conservatives pushing for sanity, the grown-ups have a chance to take back the GOP.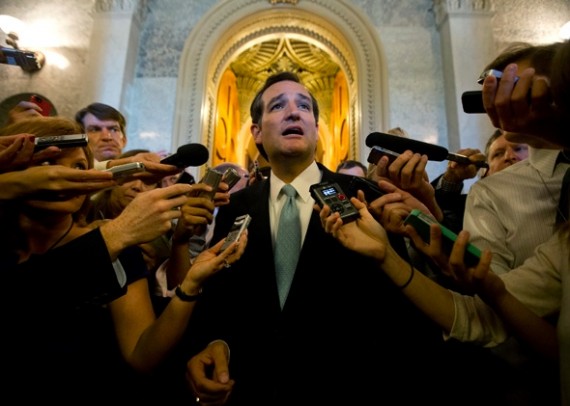 Jim Fallows is tired of the seemingly endless cycle of crisis in which every vote on spending and the debt ceiling generates a high stakes game of chicken. He's even more tired of his colleagues treating it as business as usual.
As a matter of substance, constant-shutdown, permanent-emergency governance is so destructive that no other serious country engages in or could tolerate it. The United States can afford it only because we are — still — so rich, with so much margin for waste and error. Details on this and other items below.*
As a matter of politics, this is different from anything we learned about in classrooms or expected until the past few years. We're used to thinking that the most important disagreements are between the major parties, not within one party; and that disagreements over policies, goals, tactics can be addressed by negotiation or compromise.This time, the fight that matters is within the Republican party, and that fight is over whether compromise itself is legitimate.** Outsiders to this struggle — the president and his administration, Democratic legislators as a group, voters or "opinion leaders" outside the generally safe districts that elected the new House majority — have essentially no leverage over the outcome. I can't recall any situation like this in my own experience, and the only even-approximate historic parallel (with obvious differences) is the inability of Northern/free-state opinion to affect the debate within the slave-state South from the 1840s onward. Nor is there a conceivable "compromise" the Democrats could offer that would placate the other side.
As a matter of journalism, any story that presents the disagreements as a "standoff," a "showdown," a "failure of leadership," a sign of "partisan gridlock," or any of the other usual terms for political disagreement,represents a failure of journalism*** and an inability to see or describe what is going on. For instance: the "dig in their heels" headline you see below, which is from a proprietary newsletter I read this morning, and about which I am leaving off the identifying details.This isn't "gridlock." It is a ferocious struggle within one party, between its traditionalists and its radical factions, with results that unfortunately can harm all the rest of us — and, should there be a debt default, could harm the rest of the world too.
That the Republican Party became more radicalized, in the form of the so-called TEA Party movement, in the wake of President Obama's inauguration is well established. After a wave in which the most moderate Republicans were defeated in back-to-back elections during the worst days of the Bush administration, a new wave of firebrands swept to power in 2010. For a variety of reasons, they've wielded outsized power since.
What's interesting in the current struggle is that we're seeing substantial pushback, not just from the senior leadership but even some of the stalwarts of the party's conservative wing like Oklahoma Senator Tom Coburn and Texas' senior Senator John Cornyn.
Freshman Texas Senator Ted Cruz, who has grandstanded his way into prominence in short order, finds himself the most hated man in Congress. Slate's John Dickerson recounts the reasons why. Among them:
He's fooled the grassroots: By suggesting that Obamacare could actually be defunded through his Senate action, he confused voters by setting expectations that could never be met. Furthermore, he was an enabler to interest groups who sold that "bill of goods," as Sen. Tom Coburn put it, so that they might raise more money from the grassroots.
Breaking Reagan's Commandment: Cruz says he has not attacked Republicans specifically, but in his alliance with Jim DeMint, the former South Carolina senator and now president of the Heritage Foundation, he has done something more powerful. He has helped raise money to run advertisements against incumbent Republican senators.

He wasted precious time: Republicans don't want to get the blame for a government shutdown. By soaking up valuable Senate time with no-win maneuvers, Cruz has left House leaders with less time to follow their legislative strategy—one that might have won limited concessions from White House. Or, with significantly more time, House Speaker Boehner might have been able to produce a funding bill that would have at least included a one-year delay of the Affordable Care Act. That would have put Democrats up for re-election in vulnerable states in a tough spot; at the very least, red state Democrats would have had to take an unpopular vote. Now the GOP looks fractured, time is short, and Boehner may only be able to pass the funding bill passed by the Senate Democrats—which he'll almost certainly have to do with Democratic votes, offering even more leverage to the enemy.

He made Obama's critique look accurate: For years, President Obama has said a minority faction of zealots controls the Republican Party. By hijacking the system for a cause that had no chance of success, Cruz confirmed Obama's cartoonish vision of a party controlled by a wing unconcerned about practical results.

He turned a tactical fight into a purity test: The majority of Republican senators agreed with Cruz on the importance of defunding Obamacare, but they disagreed with him on tactics. He characterized those with whom he had a tactical disagreement as ideological turncoats.
He blunted the GOP's best plan of attack on Obamacare: The Affordable Care Act was falling under its own weight as stories of rickety implementation, layoffs, and companies dropping coverage of their employees continued to be published. By linking the "defunding effort" to continued funding of the government, Cruz distracted the public from Obamacare's inherent problems. That distraction undermined Republican efforts to chip away at the legislation through smaller attacks, like a one-year delay that might have led to a full repeal if the GOP took back control of the Senate in 2014.
Of course, Cruz isn't endearing himself to his colleagues, either, by refusing to endorse Minority Leader Mitch McConnell and Cornyn for re-election. Or rallying his the Tea Party wing in the House to vote against their own Speaker's compromise bill.
We're at an inflection point. The grown-ups in the party understand that this constant cycle of crisis is not only bad for the country but bad for the GOP. And it's especially destructive to continue to pull this stunt in an effort to defund ObamaCare. As someone noted on Twitter the other day, it's rather hard to defund ObamaCare when a guy named Obama is sitting in the White House. It just ain't gonna happen. Even Ted Cruz understands that. But we're wasting billions of dollars and making the country look like a banana republic, anyway, for what seems to be the sole purpose of raising Cruz' profile ahead of the 2016 presidential primaries.