Ted Cruz Faces A Test In Texas
On Tuesday, Ted Cruz's campaign faces what amounts to a do-or-die battle in Texas.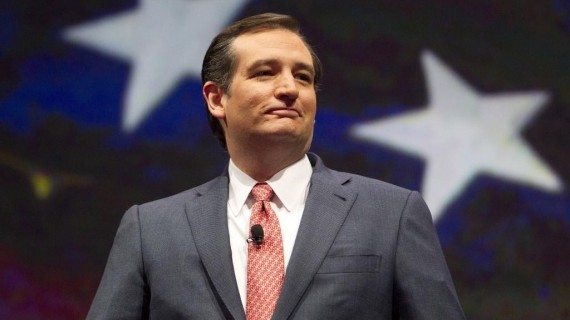 While Marco Rubio faces a threat in his home state primary on March 15th, Ted Cruz has a more immediate concern coming in just a few days, namely the question of whether he can hold on and win his own home state of Texas on Super Tuesday:
HOUSTON — Senator Ted Cruz cannot stop talking about the Alamo.

He is always eager to twang, delivering his best stump-speech impression of a West Texas farmer. He boasted recently that he knew how to "shoot me a bird."

"I cannot wait to get home," he told voters in Nevada, unsubtly, after a disappointing third-place finish in the caucuses there, "to the great state of Texas."

Since announcing his bid nearly a year ago, Mr. Cruz has placed next week's so-called Super Tuesday voting contests at the center of his plans: He would sweep through the heavily evangelical Southern primaries, advisers said, and run up the margin in his delegate-rich home state.

But as Donald J. Trump threatens to steamroll through the primary season, muscling Mr. Cruz and Senator Marco Rubio of Florida aside entering Thursday's debate, there has been a reckoning deep in the heart of Cruz campaign headquarters: Texas could, for all practical purposes, be Mr. Cruz's last stand.

On Wednesday, amid the machinery of a pipe and weld fittings manufacturing plant in Houston, Mr. Cruz reveled in a reception befitting a native son. Before a rollicking crowd that often mouthed his punch lines, Mr. Cruz received the endorsement of the state's governor, Greg Abbott, his former boss.

Mr. Cruz reminded Texans that they were "not a people who give away our freedom quietly." He recalled a slogan from the Texas Revolution ("Come and take it!") and read from his iPhone a letter by the mission's commander, William B. Travis, who died at the Battle of the Alamo.

"I am determined to sustain myself as long as possible and die like a soldier who never forgets what is due to his own honor and that of his country," Mr. Cruz recited. "Victory or death."

He added, "Like the Alamo in 1836, America is besieged."

A Monmouth University poll released on Thursday showed Mr. Cruz in the lead with 38 percent support among likely Republican primary voters, outpacing Mr. Trump (23 percent) and Mr. Rubio (21 percent). Other polls have suggested the race is tighter.

Candidates who had ties to the state, like Jeb Bush and Rick Perry, have faded. Mr. Perry, the former governor, endorsed Mr. Cruz.

But the state's delegate breakdown is proportional, and somewhat complicated, unless a candidate wins in a blowout. Of the 155 delegates, 108 are allocated across 36 congressional districts. If a candidate clears 50 percent in a district, he wins all three delegates for the district. Otherwise, a district winner receives two delegates and the runner-up gets one.

Separately, 44 statewide delegates are up for grabs. They are awarded in their entirety if a candidate wins more than half the vote over all. But candidates who clear 20 percent of the vote are eligible for delegates, meaning that both Mr. Trump and Mr. Rubio could eat into the total. (The remaining three delegates are unelected party leaders.)

While Mr. Trump is Mr. Cruz's chief threat, Mr. Rubio has made clear that he intends to compete, scheduling rallies this week in Houston and Dallas — the types of urban areas, in addition to Austin, where he is seen as more viable.

Mr. Cruz will be relying heavily on suburban and exurban areas, pollsters say, hoping to excel in regions with many large conservative churches. He spoke Wednesday night at a dinner for Republicans in Harris County, the largest county in the state, an event that another Republican rival, Ben Carson, also attended.

Strategists see Mr. Trump as a possible favorite in rural areas and parts of southeast Texas with heavy blue-collar populations. And given the delegate math, he could walk off with a sizable chunk even in defeat.

Though Mr. Cruz remains broadly popular in the state, there are some who view him warily, noting that figures like Mr. Perry and former President George W. Bush were superior in personifying Texas folksiness.

"He doesn't come across like Rick Perry does," said Jerry Patterson, a former Texas land commissioner who is supporting Mr. Rubio. "Rick Perry and Jerry Patterson went to Texas Agricultural and Mechanical. Ted went to Harvard."

Mr. Patterson added that he did not doubt Mr. Cruz's Texas bona fides — "He wears boots and he likes guns. We're pretty ecumenical about that," he said — but worried that the senator appeared "too clever by half" as a campaigner.
While the Monmouth University poll cited above suggests that Cruz has a comfortable lead in the Lone Star State, and may have a sufficient lead to claim the vast majority of the delegates the state will have at stake on Tuesday, there are other indications that the race may be tighter than that poll indicates. An Emerson College poll taken around the same time as the Monmouth poll puts Cruz's lead at only one point over Trump, 29% for Cruz and 28% for Trump with Rubio in third at 25% with Kasich and Carson both under 10%. Another poll from Dallas television station KTVT puts Cruz at 33%, eight points ahead of the second place Trump who stands at 25%, followed by Rubio at 15% and Kasich and Carson again under 10%. Finally, a recent Survey USA poll has Cruz and Trump tied at 32% followed by Rubio at 17%. On the other hand, two recent polls from the Austin American-Statesman and the University of Houston give Cruz the same double digit lead that that the Monmouth poll does. All of this leaves Cruz with an average of 34%, giving him a 7.2 point lead over Trump in the RealClearPolitics average over Trump (26.8%), followed by Rubio 18.2%.
In many respects, Ted Cruz has as much on the line in Texas as Marco Rubio does in Florida. If he were to somehow lose the state completely, which seems unlikely given the polls, or under perform significantly, then it would be a sign of weakness in his campaign that may cause many of his supporters to question whether or not its time to jump ship if only to make one last effort to fight off what could otherwise become an inevitable Trump victory in the nomination fight. Additionally, much like Rubio, Cruz now finds himself in a position where, at least according to the polls, there seem to be very few if any Super Tuesday states where he's likely to score a clear win, thus making Texas even more important. Finally, as I said with regard to Rubio, a candidate who can't win his home state decisively is going to have a hard time making the case that he's the candidate to carry the battle forward, whether its against Trump for the nomination or against Hillary Clinton in the General Election.
In the end, I expect that Cruz will "win" the Texas primary in the sense that he'll get the most votes, as was the case with the Texas fight between Hillary Clinton and Barack Obama eight years ago, though, the real question will become how the delegates get divided up. If Trump finishes a close enough second and does well in enough Congressional Districts, he could walk away with a fairly decent delegate haul all his own. That may not be enough to kill off Cruz's campaign, but if it's combined with Trump sweeping, or nearly sweeping, the other Super Tuesday states then Cruz is going to find himself a very distant second at best behind Trump headed into the portion of the race where the states become winner-take-all, which includes states where Trump likely stands to do better than Cruz overall. Given all of this, tonight's debate in Houston is perhaps the most important one to date since its the last chance Cruz and Rubio have to score any significant points against Trump headed into the most important part of the race for the Republican nomination.
So, stay tuned.