That U.S.-E.U. Trade War Truce Is Less Than Meets The Eye
President Trump and the President of the European Commission announced an agreement late yesterday on trade issues, but it's long on promises and short on results.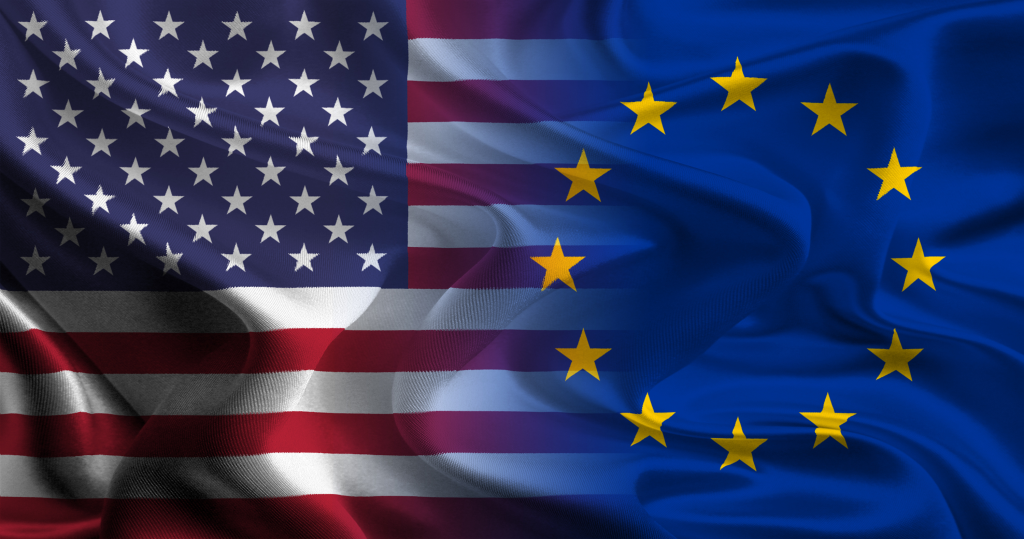 Late yesterday, in a surprise announcement in the White House Rose Garden. President Trump and Jean-Claude Juncker, the President of the European Commission, announced an agreement that both sides are hailing as a major step to avoid what seemed like it was about to develop into a trade war between two of the world's biggest economies:
WASHINGTON — The United States and the European Union stepped back from the brink of a trade war on Wednesday, after President Trump said the Europeans agreed to work toward lower tariffs and other trade barriers, and to buy billions of dollars of American soybeans and natural gas.

The surprise announcement, made by Mr. Trump and the president of the European Commission, Jean-Claude Juncker, defused, for the moment, a trade battle that began with Mr. Trump's tariffs on steel and aluminum exports and threatened to escalate to automobiles.

"We're starting the negotiation right now, but we know very much where it's going," Mr. Trump said, standing next to Mr. Juncker at a hastily scheduled appearance in the White House Rose Garden.

Mr. Juncker said, "I had the intention to make a deal today, and we have made a deal today."

The two sides, he said, had agreed to hold off on further tariffs, and work toward dropping the existing ones on steel and aluminum, while they tried to work out a deal to eliminate tariffs, nontariff barriers and subsidies on industrial goods, excluding autos.

It was hard to say, given Mr. Trump's bluster and unpredictable negotiating style, if the agreement was a genuine truce or merely a lull in a conflict that could flare up again. Twice, Mr. Trump's aides have negotiated potential deals with China, only to have him reject them and impose further tariffs. Cutting these trade barriers to zero would be an extraordinarily complex political challenge on both sides of the Atlantic.

And Mr. Trump stepped back from punitive tariff threats for some relatively minor European concessions: the purchase of soybeans to make up for a steep falloff of buying by China, and the promise to purchase liquefied natural gas once the United States builds more export terminals, which are far away. For weeks, the president has portrayed the European Union as fleecing America with unfair trade, but he put away his saber as farm state Republicans were begging for relief.

"I think it's helpful that they made some progress today with the European Union, and I think we really emphasized that we need to keep the momentum up and get the deals as soon as we can," said Senator John Hoeven, Republican of North Dakota, who was at the White House for the announcement.

Europe's pledge to buy more natural gas gives Mr. Trump a talking point with Russia, after he vowed to compete for orders in Europe, where Russia is the largest supplier. The lack of natural gas terminals, though, means that this windfall is years in the future.

Still, Mr. Trump called it "a new phase in the relationship between the United States and the European Union," a striking change in tone from his recent trip to Europe, when he referred to the European Union as a "foe" and criticized its most important member, Germany, for its dependence on Russian gas.

(…)

The Trump administration has already imposed billions of dollars of tariffs on the European Union for what it has labeled unfair trade practices, raising costs for companies and consumers and roiling a traditionally close alliance. Mr. Trump's threat to go after automobiles particularly rattled the Germans, who export millions of BMWs and Mercedes-Benzes to the United States but also produce millions at American factories.

Mr. Juncker was dispatched to Washington this week along with other European officials as part of a last-ditch effort to halt those tariffs. A former prime minister of Luxembourg known for his informal manner and occasional gaffes, Mr. Juncker has forged a good rapport with Mr. Trump, and the two men appeared at ease on Wednesday.

"Disaster avoided," said Bart Oosterveld, the director of the global business and economics program at the Atlantic Council. "Earlier today, our highest hopes were for a truce, and this is kind of like a truce."

Fred Bergsten, senior fellow and director emeritus of the Peterson Institute for International Economics, said an agreement with Europe would allow Mr. Trump to focus on China. But he said that the deal seemed to have an "eerie similarity" to one with China this year, shortly before Treasury Secretary Steven Mnuchin announced that the trade war was "on hold."

"We have seen something like this movie on the other major trade front only a couple of months ago, and I would just hope that it would not play out in the same way, which at the moment seems to be a stalemate with China," Mr. Bergsten said.
It's important to take a step back from yesterday's announcement and recognize what this announcement actually means in the real world. This agreement that Trump and Juncker reached, for example, will not lead to a lessening of tariffs or other trade restrictions imposed by the United States or the European Union. It also doesn't mean that either the tariffs that the President imposed on steel and aluminum from the European Union or the retaliatory tariffs that the E.U. placed on American products including denim, motorcycles, bourbon, and other products, will be lifted any time soon. It also doesn't mean that the other agreements that the two men alluded to in their announcement yesterday, such as the European commitment to buy more natural gas from the United States, will go into effect. So far at least, these are all goals rather than actual accomplishments. Instead, all we really have right now is an agreement by the parties to engage in further negotiations regarding these issues with the goal of coming up with some sort of comprehensive agreement that accomplishes these goals. In the meantime, the parties have agreed, at least for now, to hold off on additional tariffs while they try to negotiate a broader agreement. While this is a positive development, it's hardly the end of the process.
As the article quoted above notes, we've been here before as recently as this year. Twice already, President Trump's trade representatives have reached what they thought was an agreement with China to avert what could still devolve into a disastrous trade war between the world's two largest economies. Twice the President rejected the deal his own negotiators had reached and instead turned around and increased tariffs on Chinese goods, a move which of course has caused China to impose retaliatory tariffs that are already having an impact on areas such as American agriculture. As Steven Erlanger notes in The New York Times, this leaves open the question of whether Europe can trust this President going forward. Additionally, as Heather Long and Steven Mufson note in The Washington Post, it's way too soon to declare the U.S.-E.U. trade war over. At best, we've got a temporary truce with the possibility, or perhaps given the President we're dealing with her in the United States the probability, that the war could resume full-force at any moment