The Biggest Trump Indictment
The one we've all been waiting for.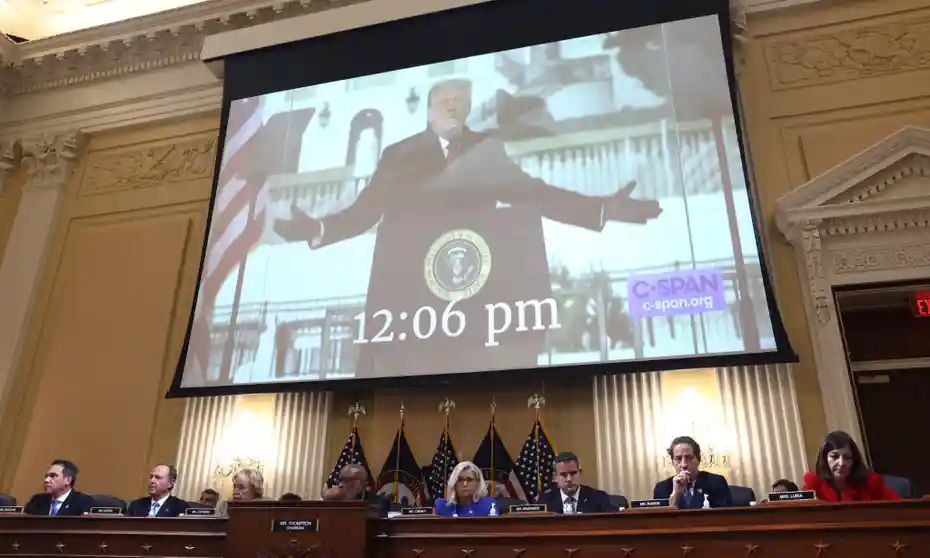 As Steven Taylor noted yesterday afternoon, former President Donald Trump has been indicted on multiple charges for his conspiracy to steal the 2020 election. While this has been long anticipated, it's almost certainly the most serious of the multiple criminal indictments he's under.
NYT chief White House correspondent Peter Baker argues "Trump's Case Has Broad Implications for American Democracy."
What makes the indictment against Donald J. Trump on Tuesday so breathtaking is not that it is the first time a president has been charged with a crime or even the second. Mr. Trump already holds those records. But as serious as hush money and classified documents may be, this third indictment in four months gets to the heart of the matter, the issue that will define the future of American democracy.

At the core of the United States of America v. Donald J. Trump is no less than the viability of the system constructed during that summer in Philadelphia. Can a sitting president spread lies about an election and try to employ the authority of the government to overturn the will of the voters without consequence? The question would have been unimaginable just a few years ago, but the Trump case raises the kind of specter more familiar in countries with histories of coups and juntas and dictators.

In effect, Jack Smith, the special counsel who brought the case, charged Mr. Trump with one of the most sensational frauds in the history of the United States, one "fueled by lies" and animated by the basest of motives, the thirst for power.

In a 45-page, four-count indictment, Mr. Smith dispensed with the notion that Mr. Trump believed his claims of election fraud. "The defendant knew that they were false," it said, and made them anyway to "create an intense national atmosphere of mistrust and anger and erode public faith in the administration of the election."

[…]

For all of the many, many allegations made against him on all sorts of subjects during his time on the public stage, everything else feels small by comparison. Unlike the indictment by New York State for allegedly covering up a payment to a porn actress and Mr. Smith's previous indictment for allegedly jeopardizing national secrets after leaving the White House, the new charges are the first to deal with actions taken by a president while in office.

While he failed to keep his grip on power, Mr. Trump has undermined the credibility of elections in the United States by persuading three in 10 Americans that the 2020 election was somehow stolen from him, even though it was not and many of his own advisers and family members know it was not.
The Atlantic's Tom Nichols, like myself a #NeverTrump guy from the beginning, says "This Is the Case."
Trump is accused of multiple conspiracies against the United States, all designed to keep him in power against the will of the voters and in violation of the Constitution. The former president—once our chief executive, the commander in chief, the leader we entrusted with the keys to nuclear hell—is accused of knowing that he lost a free and fair election, and, rather than transferring power to a duly elected successor, engaging in criminal plots against our democracy, all while firing up a mob that would later storm the Capitol.

[…]

The GOP base, controlled by Trump's cult of personality, will likely never admit its mistake: As my colleague Peter Wehner writes, Trump's record of "lawlessness and depravity" means nothing to Republicans. But other Republicans now, more than ever, face a moment of truth. They must decide if they are partisans or patriots. They can no longer claim to be both.

The rest of us, as a nation but also as individuals, can no longer indulge the pretense that Trump is just another Republican candidate, that supporting Donald Trump is just another political choice, and that agreeing with Trump's attacks on our democracy is just a difference of opinion. (Those of us who share our views in the media have a particular duty to cease discussing Trump as if he were a normal candidate—or even a normal person—especially after today's indictment.) I have long described Trump's candidacies as moral choices and tests of civic character, but I have also cautioned that Americans, for the sake of social comity, should resist too many arguments about politics among themselves. I can no longer defend this advice.

The indictment handed down today challenges every American to put a shoulder to the wheel and defend our republic in every peaceful, legal, and civilized way they can. According to the charges, not only did Trump try to overturn the election; he presided over a clutch of co-conspirators who intended to put down any further challenges to Trump's continued rule by force. 

[…]

This is why we can no longer merely roll our eyes when an annoying uncle rhapsodizes about stolen elections. We should not gently ask our parents if perhaps we might change the channel from Fox during dinner. We are not obligated to gingerly change the subject when an old friend goes on about "Demonrats" or the dire national-security implications around Hunter Biden's genitalia. Enough of all this; we can love our friends and our family and our neighbors without accepting their terms of debate. To support Trump is to support sedition and violence, and we must be willing to speak this truth not only to power but to our fellow citizens.

Trump and his media enablers, of course, will fume that any criticism of choices made by millions of voters is uncivil and condescending—even as they paint other American citizens as traitors who support pedophiles and perverts. Trump has made such accusations, and the implied threat of violence behind them, part of the everyday American political environment. This brutish bullying is aimed at stopping the rest of us from speaking our mind. But after today, every American citizen who cares about the Constitution should affirm, without hesitation, that any form of association with Trump is reprehensible, that each of us will draw moral conclusions about anyone who continues to support him, and that these conclusions will guide both our political and our personal choices.

This is painful advice to give and to follow. No one, including me, wants to lose friends or chill valued relationships over so small a man as Trump. But our democracy is about to go into legal and electoral battle for its own survival. If we don't speak up—to one another, as well as to the media and to our elected officials—and Trump defeats us all by regaining power and making a mockery of American democracy, then we'll all have lost a lot more than a few friendships. We face in Trump a dedicated enemy of our Constitution, and if he returns to office, his next "administration" will be a gang of felons, goons, and resentful mediocrities, all of whom will gladly serve Trump's sociopathic needs while greedily dividing the spoils of power.
NYT columnist David French, another #NeverTrumper, says this is "The Trial America Needs."
At last. The federal criminal justice system is going to legal war against one of the most dishonest, malicious and damaging conspiracies in the history of the United States. Tuesday's indictment of Donald Trump, brought by the special counsel Jack Smith's office, is the culmination of a comprehensive effort to bring justice to those who attempted to overthrow the results of an American presidential election.

[…]

The strong constitutional protection for efforts to influence or persuade the government makes the intent element inescapable, no matter the count in the indictment. While there are certainly nuances in the other counts regarding the precise form of proof necessary to establish criminal intent, the fact remains that the prosecution will have to utterly demolish the idea that Trump possessed a good-faith belief that he had won the election.

But that's precisely why this case is so important — more important than any previous Trump indictment. If the prosecution prevails, it will only be because it presented proof beyond a reasonable doubt that the election fraud claims that a substantial percentage of Americans still believe to be true were not only false but were also known to be false when they were made.

I am not naïve. I know that not even a guilty verdict will change the perceptions of many of Trump's most loyal supporters. As my Times colleague Nate Cohn wrote on Monday, "The MAGA base doesn't support Mr. Trump in spite of his flaws. It supports him because it doesn't seem to believe he has flaws." The perceptions of these supporters may never change. They may remain loyal to Trump as long as they live.

[…]

Millions of Americans believe today that Joe Biden stole the presidency. They believe a series of demonstrable, provable lies, and their belief in those lies is shaking their faith in our republic and, by extension, risking the very existence of our democracy. There is no sure way to shake their convictions, especially if they are convinced that Trump is the innocent victim of a dark and malign deep state. But the judicial system can expose his claims to exacting scrutiny, and that scrutiny has the potential to change those minds that are open to the truth.

Smith has brought a difficult case. But it's a necessary case. Foot soldiers of the Trump movement are in prison. Its allied militia leaders are facing justice. And now the architect of our national chaos will face his day in court. This is the trial America needs.
Like the others, I'm highly skeptical that the trial will break the cult of personality around Trump. But it is nonetheless necessary for this trial to proceed and his guilt established in a court of law.