The Cable TV Presidency
The Trump presidency is the latest step in treating commentators like policy experts. It is all a manifestation of how the modern GOP is a populist party.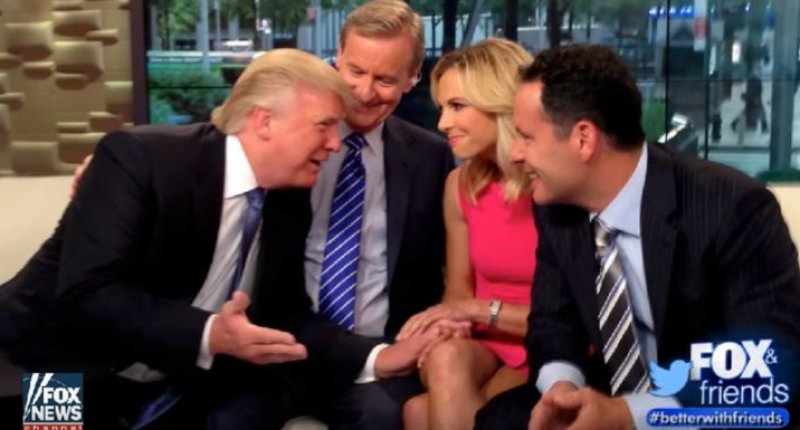 For some time now I have had the view that part of the problem with the Republican Party has been the merger of its infotainment wing and its governing wing. There was a time when it seemed that, for example, the GOP congressional delegation would try to govern without pretending like Rush Limbaugh or Sean Hannity were policy experts.  However, it has increasingly been the case that talk radio and Fox News personalities have been treated like they actually know what they are talking about by members of the government who have to make real policy decisions.  Now we have moved from politicians taking these individuals seriously, to a president who is now ready to give them major roles in government.
Via WaPo's PowerPost:  The Daily 202: Trump may hire multiple cable news personalities as part of shake-up
Trump has decided to remove H.R. McMaster as his national security adviser and is actively discussing Fox News contributor John Bolton as a potential successor.

A leading contender to replace Veterans Affairs Secretary David Shulkin is Pete Hegseth, the co-host of "Fox and Friends Weekend."

The president named CNBC analyst and former host Larry Kudlow to replace former Goldman Sachs president Gary Cohn as his chief economic adviser on Wednesday.

Heather Nauert, a former co-host of "Fox and Friends," got promoted on Monday from being a spokeswoman for the State Department to acting undersecretary of state for public diplomacy and public affairs.
And these are not the only examples:
Foreign policy pros were aghast when Trump named K.T. McFarland as his deputy national security adviser during the transition. She had appeared frequently on Fox as an analyst and anchored her own program called "DEFCON3." But the last time she'd worked in government was more than three decades earlier, as a junior Pentagon spokeswoman and speechwriter.

McFarland got marginalized after Michael Flynn went down. Then Trump nominated her to be ambassador to Singapore, but her nomination needed to be withdrawn when damning emails implicated her in the Russia scandal and imperiled her Senate confirmation.

Trump initially named another Fox talking head, Monica Crowley, as the senior director of strategic communications for the NSC. He stood by her for more than a week as news stories revealed egregious examples of plagiarism over several years, from a 2012 book to her PhD dissertation and op-eds. Just before the inauguration, under pressure, the president-elect dumped her.

Former Navy SEAL Carl Higbie, 34, was forced to resign two months ago as the chief of external affairs for the Corporation for National and Community Service after CNN uncovered bigoted statements he had made about African Americans, immigrants and gays as the host of an Internet radio show. He got the patronage because he had been a go-to Trump defender on Fox, CNN and MSNBC during the 2016 campaign.
When a country elects man who gets his political knowledge from "the shows" this is what it gets.
The thing is: anyone who knows anything about actually governing would understand that just because someone is on TV does not mean that they really are capable of being in government (or that they even know what they are talking about).  And yes, I know that Bolton served, briefly, in the G.W. Bush administration and Kudlow served in the Reagan administration, but let's face facts: a key (if not the main) reason that Trump is interested in these guys is because they say things that he likes to hear on television.
Even true experts are going to have to reduce their answers to more digestible bits when on television.  It is nature of the medium (and I have experienced this first hand–TV, or even radio has limited ability to deal with the complexities of real politics and policy).
The convergence of infotainment and governing is actually a manifestation of the increasing, deepening populism that is engulfing the Republican Party. Trump is, in many ways, the culmination of this process that started with conservative talk radio in the late 1980s, grew with Fox News in the 1990s, and had a clear electoral manifestation with the Tea Party in 2010.
Populists promise to be the leader who can both represent a specific, ignored portion of the population and be the personal solution to the problems that population faces.  Moreover, those solutions are simple and the only thing stopping the populist from implementing those solutions are some nefarious actors who are blocking common sense solutions (usually, "the elites" or, perhaps, "the swamp" or "Deep State").
Here is Trump, at the Republican National Convention, giving a series of textbook-perfect populist statements:
Really, if we just didn't have such awful trade deals, the forgotten people would all be flush with cash.  It is all so very simple.  So simple, in fact, that facts don't matter and you can make up whatever reality one likes when talking to a major ally.
Cable TV and talk radio are perfect incubators for this type of politics.  Everyone can be an expert in 5 minutes blocs without having to do more than assert obvious, simple answers to problems that clearly are easy to solve if only the entrenched elites would get out of the way.  North Korea?  Easy.  Iran?  Easy.  Global trade?  Easy.  It is all just so very, very easy and the only reason all these easy fixes haven't been implemented is because the Deep State or some other bogeyman is getting in the way.
None of this is to say that populistic tendencies can't be seen on the Democratic side of the ledger, as Bernie Sanders clearly illustrates.  But, for the Democrats there is a populist current that has not taken over the party, while on the Republican side populism is becoming dominant. Indeed, HRC ran as a technocrat–basically the opposite of a populist. Fox News and Rush Limbaugh have fostered this evolution for decades.  Bill O'Reilly used to refer to his audience as "the folks" and both he and Limbaugh would typically bloviate in such a way as to treat the audience as if they were all in the know, and the problem was that those boneheads in Washington who simply couldn't, or wouldn't see the obvious truth.
It should be noted that populism tends to end poorly.  First, it cannot deliver over the long-haul (and often can't the short term, either).  Second, it tends to leave damage in its wake because it further weakens social trust in government.  On that latter point consider:  the supporters of populism see the failure of the promises as more proof that the system is stacked against them, thus further eroding support and confidence of the institutions of governance.  This makes real change very difficult.  Keep in mind that it can be true that our system needs reform and that our institutions have problems while at the same time stating that Donald Trump and his allies have no clue how to fix them (or, really, are even interested in fixing them).
We, as a country, have been lucky to date insofar as the economy has been strong and global politics has been relatively stable.  However, history tells us that such stability runs out (especially when we consider that the trends in question have all be in a positive places for years).  We already have only a semi-staffed federal government and the president is seeking to further drain the place of expertise, turning to TV hucksters.  What could possibly go wrong?