The Choose Your Own Adventure Presidency
Trump's lack of fealty to truth and reality gives supporters an out (if they choose it).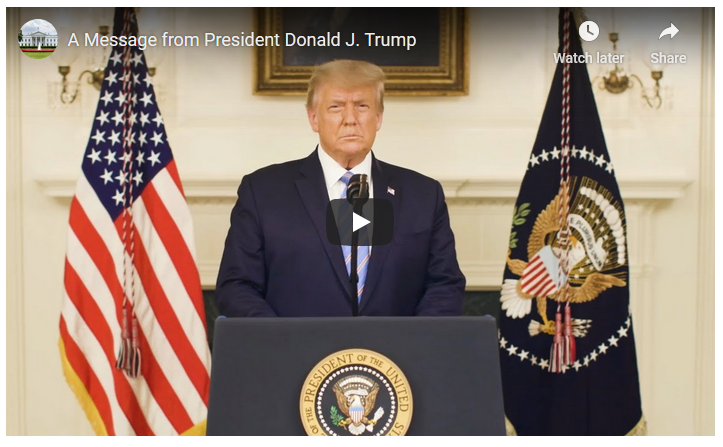 After watching Trump's "concession" speech (which felt more like a hostage video), it struck me that supporters in the media would use it to say, "see, he is doing the right thing!" Setting aside that he almost certainly made that video because he was told he would be removed by impeachment or the 25th Amendment if he didn't do something to step back from the precipice, this is just another example of Trump's utter disregard for truth and reality.
In the January 7th "concession" speech, he says:
I'd like to begin by addressing the heinous attack on the United States Capitol. Like all Americans, I am outraged by the violence, lawlessness and mayhem.
[Insert record scratch audio here]
Wait.
What?
Just yesterday, while the Capitol was being stormed by insurrectionists, Trump said the following (emphases mine):
I know your pain, I know you're hurt. We had an election that was stolen from us. It was a landslide election and everyone knows it, especially the other side. But you have to go home now. We have to have peace. We have to have law and order. We have to respect our great people in law and order. We don't want anybody hurt.

It's a very tough period of time. There's never been a time like this where such a thing happened where they could take it away from all of us — from me, from you, from our country. This was a fraudulent election, but we can't play into the hands of these people. We have to have peace. So go home. We love you. You're very special. You've seen what happens. You see the way others are treated that are so bad and so evil.

I know how you feel, but go home, and go home in peace.
These are utterly incompatible statements. His January 7th statement he had to read because he was facing a humiliating removal from power. But his January 6th statements clearly reflected his true feelings.
I would note, he waited well over an hour before taking to Twitter (not national television, mind you) to issue that calm message of "go home, but we love you."
During the occupation of the building he was tweeting the following:
He didn't tell them to leave. He did not suggest that what they were doing, which was storming the building and forcing the US Congress to suspend the reading of the electoral votes, was wrong. He certainly made no condemnation of "violence" and "mayhem."
Indeed, as sitting President of the United States, he sat in the White House watching television instead of addressing the nation while the US Capitol was overrun by seditious rioters.
But, late yesterday, he has the audacity to say:
The demonstrators who infiltrated the capitol have defiled the seat of American democracy. To those who engaged in the acts of violence and destruction, you do not represent our country.

And to those who broke the law, you will pay. We have just been through an intense election, and the emotions are high. But now tempers must be cooled and calm restored.
The "demonstrators who infiltrated the capitol" were invited to march on the capitol by Trump himself earlier in the day after telling the crowd that the election had been stolen (after weeks of hammering on that message).
As such, his words on January 7th are hollow at best.
But, of course, look to the his allies in right-wing media to point to the words from the 7th as proof that he was not in support of the violence and mayhem that he clearly encouraged.
The dishonesty is astounding, albeit it is a key feature of this administration and its supporters. When one has zero fealty to truth and reality, one can make life one big Choose Your Own Adventure novel wherein every moment is but a page turn away to another reality.
If you don't like the events on page January 6, just turn to page January 7 and it's all good, man!
Don't like the call on page January 3 to Georgia's Secretary of State where he said, "I just want to find 11,780 votes" and "there's nothing wrong with saying, you know, um, that you've recalculated"? Just turn back to page January 7 where he droned on thusly:
My only goal was to ensure the integrity of the vote. In so doing, I was fighting to defend American Democracy. I continue to strongly believe that we must reform our election laws to verify the identity and the eligibility of all voters and to ensure faith and confidence in all future elections. Now Congress has certified the results.
After all, now that he has said "a new administration will be inaugurated on January 20," we don't need to flip back to page December 19:
Or to earlier on page January 6 (at the rally outside the White House):
Our country has had enough. We will not take it anymore and that's what this is all about. To use a favorite term that all of you people really came up with, we will stop the steal.

[…]

So we're going to, we're going to walk down Pennsylvania Avenue, I love Pennsylvania Avenue, and we're going to the Capitol and we're going to try and give… The Democrats are hopeless. They're never voting for anything, not even one vote. But we're going to try and give our Republicans, the weak ones, because the strong ones don't need any of our help, we're going to try and give them the kind of pride and boldness that they need to take back our country.

So let's walk down Pennsylvania Avenue. I want to thank you all. God bless you and God bless America. Thank you all for being here, this is incredible. Thank you very much. Thank you.
Because, there is no way that a crowd, that has been primed for weeks (if not months) that the election is being stolen and that the they need to "take back" the country, would do anything untoward whilst visiting the Hill.
No, ignore that, and just choose to focus, again, on the happy words on page January 7:
It will require a renewed emphasis on the civic values of patriotism, faith, charity, community and family. We must revitalize the sacred bonds of love and loyalty that bind us together as one national family.
But, of course, reality is a culmination of events, and we cannot choose to only look at the one statement and anyone that tries to do that is retroactively complicit in what happened in DC on Wednesday, and to the general degradation of our democracy and truth itself.