The Corruption of Justice
The AG is Trump's lawyer, not ours.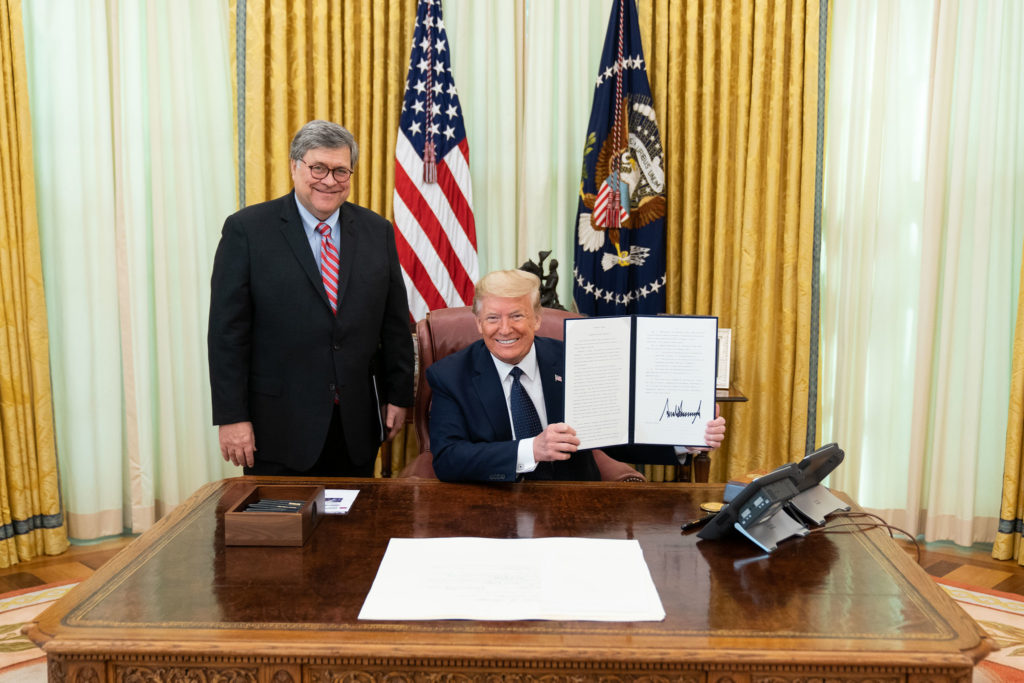 Jeff Sessions has reaped his rewards for being an early supporter of Donald Trump's bid for the presidency. He was elevated to Attorney General of the United States, was eventually publicly humiliated by Trump, resigned, and went on to lose his bid to regain his old Senate seat by losing pretty spectacularly to a political novice in the run-off last month.*
An added bonus to that reward was that his exit from the Senate caused a chain of events that led to a Democrat, Doug Jones, finishing out his term in office.
Sessions deserved his fate. When you dance with the Devil, you are going to get burned. Indeed, losing a job that he didn't need was hardly fitting justice for helping Donald J. Trump be elected president, but that is not the point of this post.
Sessions does deserve some credit for trying to behave in a normal fashion as AG. While one can argue that he was boxed into having to recuse himself (after all, he arguably perjured himself at his confirmation hearing), he did do the right thing and tried to behave the way a cabinet official should. It earned him public insults from Trump, and eventually a humiliating exit from office. Sessions' attempt at some level of ethical behavior helped reveal to all of us that Trump expected the AG to act as his lawyer, and kudos to Jeff Sessions for not doing so.
I am not absolving Sessions of his many sins in office, not the least of which being his role in the family separation policies on the border. But I will say that in comparison to others who have served/currently serve this administration Sessions at least seemed to understand the job he had and my criticisms of him were based on sincere policy disagreements, not the fact that he sought to destroy the department that he led or to subvert it to the will of Trump.
Enter Bill Barr, however, and all of that goes out the window. As inspired by his testimony before the House Judiciary Committee this week, Victoria Bassetti and Norman Eisen wrote an essay for Politico entitled: Barr Makes It Official—He's Trump's New "Fixer."
In slightly more than 500 days in office, Attorney General William Barr has pivoted from establishment D.C. attorney—sworn to protect and defend the Constitution of the United States—into Trump's family lawyer. The office of the attorney general is one of the oldest in our constitutional system, and the department is pledged "to ensure fair and impartial administration of justice for all Americans." But Barr, instead, displays a tendency to use all the department's levers—and with a $32 billion budget there are a lot of them—not to protect "all Americans" but to protect the president, personally and politically.
The piece notes Barr's answers on the electoral calendar and foreign interference. Let's look at the actual transcript (with links to the text and audio.video embedded below). The answers that Barr gives on Election Day, as well as vote-by-mail, are lawyerly answers designed to protect Trump's nakedly political positions on these topics.
For example, I will take Barr at his word in the strictest sense that he has not "looked into [the power of the president to move the election] under the Constitution" but to pretend like he really doesn't know the basic contour of the process is disingenuous to the point of deliberate falsehoods, even if it is technically true. It unnecessarily creates doubt about the electoral process. Likewise, his answer about vote-by-mail is designed to cast doubt (note that in that case, he did demur to "I haven't looked into it" but instead has a clear opinion about the risks without citing anything more than said opinion).
He can have an opinion on vote-by-mail, but not one about moving Election Day. And it just do happens that both opinions comport with Trump's needs to undermine confidence in US elections.
Richmond: (01:58:57)
Thank you, sir. Now, let's talk about the integrity of the election, which is also something Congressman Lewis fought for. Jared Kushner implied that the president could move the election day. Can a sitting US president move an election day?

Wiliam Barr: (01:59:15)
Actually, I haven't looked into that question under the Constitution.

Richmond: (01:59:18)
Well, to US code section seven says federal election day is the Tuesday after the first Monday in November. So if you take that as a correct statute, is there any executive action by a president-

Wiliam Barr: (01:59:31)
I've never been asked the question before. I've never looked into it.

Richmond: (01:59:35)
As Attorney General of the United States, do you believe that this 2020 presidential election will be rigged?

Wiliam Barr: (01:59:41)
I have no reason to think it will be.

Richmond: (01:59:46)
President Trump tweeted that the election will be rigged, but he also tweeted that when he was losing to Hillary Clinton and he tweeted that the day after it was Fox showed that he was losing to Trump, but I don't want to be too political. Do you believe, as the Attorney General of the United States, that mail-in voting will lead to massive voter fraud?

Wiliam Barr: (02:00:10)
I think there's a high risk that it will.

Richmond: (02:00:13)
Do you ever vote by mail-in ballot?

Wiliam Barr: (02:00:16)
Apparently I did once, at least.

Richmond: (02:00:18)
But you believe that other people voting by mail could lead to massive fraud?

Wiliam Barr: (02:00:23)
No. What I've talked about, made very clear, is that I'm not talking about accommodations to people who have to be out of the state or have some particular inability to go and vote. What I'm talking about is the wholesale conversion of election to mail-in voting.
On foreign involvement in elections, Barr first equivocates and then gives the answer he should ahve gien from the get-go:
Mr. Cicilline: (02:55:16)
Is it ever appropriate sir for the president to solicit or accept foreign assistance in an election?

Wiliam Barr: (02:55:24)
It depends what kind of assistance.

Mr. Cicilline: (02:55:26)
Is it ever appropriate for the president or presidential candidate to accept or solicit foreign assistance of any kind in his or her election?

Wiliam Barr: (02:55:38)
No, it's not appropriate.
Bassetti and Eisen note:
For decades, Trump found his family lawyers on the mean streets of New York and New Jersey, tapping the corrupt Roy Cohn and his successors, like Michael Cohen and Marc Kasowitz, to protect his interests. They quickly earned the title of "fixer" for a man whose personal and professional legal needs ultimately swelled to more than 4,000 lawsuits — bankruptcies, divorces, libel, unpaid debts, condo fees, wage disputes, and fraud, to name a few.

Above all, there was Cohn, who gave Trump his first taste of how an unscrupulous and savage lawyer could advance his cause. The two met in 1973 when Trump was looking for someone to help defend him and the family business from one of the nation's highest profile charges of housing discrimination at the time. That case established a symbiotic MO between Trump and his lawyers—abuse of the law, and then covering it up—that continues to this day. Trump's latter-day lawyers, Cohen and Kasowitz, both had their ethics problems: Cohen landed in prison for his role in covering up hush money payments in violation of campaign finance laws and for lying to Congress. Kasowitz faced allegations of violating legal ethics when he briefly represented Trump in D.C. but was best known for aggressive (some might say excessive) lawsuits against Trump's adversaries.
It has been obvious for some time that Barr sees his role as protecting Trump rather than acting as the Attorney General of the United States.
From his characterization of the Mueller report, which was clearly designed to undercut the report before it was released, to his willingness to use the word "spying" to characterize FBI investigations regarding the 2016 Trump campaign:
"Spying on a campaign is a big deal," Barr told a Senate panel Wednesday. "I think spying did occur. The question is whether it was adequately predicated."
That word was used deliberately to bolster Trump's views and to inflame public opinion. He was cating more in Trump's personal interest than that of the people of the United States.
There is, also, the clearly preferential treatment afforded to Trump cronies by the Barr DoJ, including Michael Flynn and Roger Stone. Further, the willingness of Barr to deploy federal law enforcement (such as clearing LaFayette Square) for political reasons ranks high on the list of corrupt actions by this AG. The list, in fact, is long and frightening in its totality.
That Trump has found such a person is the Attorney General of the United States is more than a little upsetting. The Department of Justice is supposed to be independent of the president's political ambitions, not tools of it, save in a broader policy sense. Backing up the president's rhetoric and trying to shape public perception is far more "fixer" than AG. And it is especially concerning when the fix is linked to exacerbating doubts about basic electoral processes in advance of an election.
---
*Former college football coach Tommy Tuberville beat Sessions 60.7% to 39.3% in what can only be labeled as a humiliation. It was Sessions' old seat, he kissed up to Trump despite Trump endorsing Tuberville, and Tuberville has not held previous political office.