The Death Penalty Has Resulted In The Death Of Innocent People
Innocent men have been put to death on the orders of the state.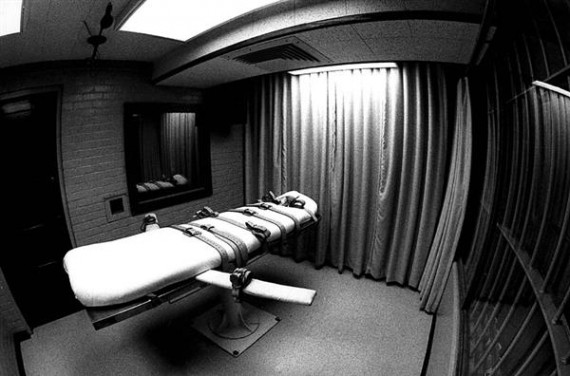 A new study concludes that 1 out of every 25 people on Death Row in the United States are most likely innocent:
WASHINGTON (AP) — Science and law have led to the exoneration of hundreds of criminal defendants in recent decades, but big questions remain: How many other innocent defendants are locked up? How many are wrongly executed?

About one in 25 people imprisoned under a death sentence is likely innocent, according to a new statistical study appearing in the Proceedings of the National Academy of Sciences. And that means it is all but certain that at least several of the 1,320 defendants executed since 1977 were innocent, the study says.

From 1973 to 2004, 1.6 percent of those sentenced to death in the U.S. — 138 prisoners — were exonerated and released because of innocence.

(…)

Gross and three other researchers, including a biostatistics expert, looked at the issue using a technique often used in medical studies called survival analysis. Yale University biostatistics expert Theodore Holford, who wasn't part of the study, said the work done by Gross "seems to be a reasonable way to look at these data."

Because of nvarious assumptions, it might be best to use the margin of error in the study and say the innocence rate is probably between 2.8 percent and 5.2 percent, said University of South Carolina statistics professor John Grego, who wasn't part of the study.

The study is the first to use solid and appropriate statistical methods to address questions of exoneration or false convictions, an important subject, said Columbia Law School professor Jeffrey Fagan, who also is a professor of epidemiology at the Mailman School of Public Health. The research combines data from three independent sources, a rigorous approach used by few studies on capital punishment, he said.

The research produced an estimate of the percentage of defendants who would be exonerated if they all remained indefinitely on death row, where their cases would be subject to intense scrutiny for innocence.

The study concluded that the number of innocent defendants who have been put to death is "comparatively low. … Our data and the experience of practitioners in the field both indicate that the criminal justice system goes to far greater lengths to avoid executing innocent defendants than to prevent them from remaining in prison indefinitely."
This isn't entirely surprising, of course. Thanks to the work of groups such as The Innocence Project we have come to know of many, many cases of people who were wrongfully convicted of crimes that landed them in prison, and in many cases on Death Row. In many cases, these exoneration happened because of DNA testing that was unavailable at the time of their trial. In far too many, however, there was also some sort of misconduct involved that tainted the trial such as witnesses who were obviously biased, improper testimony regarding forensic evidence such as in the Cory Maye case, or sometimes just pure racial bias against a young, African-American male Defendant.
Incompetent counsel is also a serious problem, especially in states that are very aggressive about pursuing the death penalty. Sometimes, it's simply the fact that the public defenders appointed in these cases are overworked, underpaid, and not exactly experienced in defending capital murder cases. Too often, though, there are cases of seemingly deliberate incompetence by attorneys, or attorneys who believe their clients are guilty and don't feel like wasting much time on the case. In one particularly egregious case, a man on trial in Texas for capital murder had an attorney who fell asleep during the trial. It took nineteen years of appeals until the Supreme Court finally upheld a lower court ruling that granted the man a new trial based on this rather obvious case of attorney misconduct and dereliction of duty, and that only happened because the defendant in question managed to get appellate attorneys who pursued his case as far as possible. Not everyone is that lucky, especially in a state such as Texas.
Because of these flaws, it is inevitable that innocent men have been executed in the United States, some of them disturbingly recently. Perhaps the most well known such case is that of Cameron Todd Willingham, a Texas man executed in 2004 for the 1991 deaths of his children due to a fire that prosecutors claimed that he deliberately set. During Willingham's trial, fire investigators working for the state testified that the fire had been deliberately started. Willingham's attorney did not present any alternative expert testimony at trial, most likely because Willlingham himself could not afford the cost of such an expert and because, at least at that time, the state generally did not fund expert fees as part of court-appointed defense. Five years after he was executed, though, the case was reviewed by an independent expert hired by the Texas Forensic Science Commission and this expert determined that the evidence simply did not support the conclusions reached by the state's experts and that, at the very least, it was equally if not more plausible based on this evidence that the fire that killed Willingham's children was started accidentally. These findings, as well as the circumstances surrounding Willingham's trial, are covered in detail in a 2009 New Yorker article by David Grann. In addition to the Willingham case, there is also substantial evidence that Texas executed another innocent man in early December 2000, only weeks before George W. Bush resigned as Governor after being elected President of the United States. There are just two examples that we happen to know of, but their very existence suggests that the 1 out of 25 number that this study's authors came up with may, if anything, be understated.
William Blackstone, the great British legal commentator whose work is still considered insightful and persuasive authority by lawyers and legal scholars today, is credited with the adage that 'it is better than ten guilty men go free, than that one innocent man goes to prison.'  This idea is supposed to be at the core of our criminal justice system and the protections that it offers for people accused of crimes. Sometimes, those protections mean that someone who actually committed a crime will go free, but that is a small price to pay if it also means that it helps to ensure that those who are innocent or unjustly accused are protected. Like any human institution, though, our criminal justice system is not perfect. Mistakes will be made, and sometimes wrongs will be committed. That's why we need attorneys and groups like The Innocence Project. Recognizing these flaws, though, and keeping in mind Blackstone's words, it strikes me that there is no rational or moral justification for allowing that imperfect system to have the power of life or death over human beings. The costs of making a mistake are far too high, and the alternative of keeping someone alive in prison for the rest of their life is far preferable. At least in that case, when we do discover that someone has been wrongfully convicted, there will be something we can do about it. In cases like that of Cameron Todd Willingham, it's far too late to do anything.