The Debt Deal "Super Committee": Unconstitutional, Undemocratic, Or Much About Nothing?
The "super committee" created by the debt ceiling deal is already the subject of criticism, most of it unwarranted.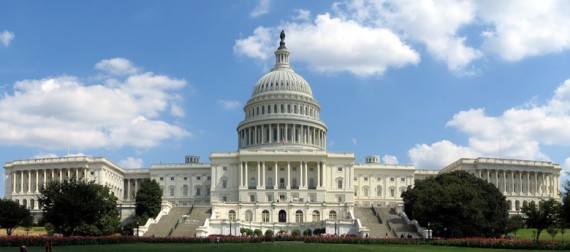 One aspect of the deal that brought an end to the debt ceiling crisis that seems to be garnering the most controversy is the creation of the Joint Select Congressional Committee that is charged with coming up with an additional $1.2 trillion in deficit reduction over the next ten years. The committee will be made up of twelve members, six each from each house with both parties in each house naming three members. The committee will be required to come up with its list of recommendations by Thanksgiving, and both the House and Senate must vote to approve the recommended cuts by a simple majority with an  If they fail to do so, or if the committee fails to come to an agreement on recommended cuts, then the across-the-board cuts agreed to in the debt ceiling deal will go into effect.
Not unexpectedly, the proposal itself has been bandied about the internet ever since it was first proposed over the weekend. Several commentators and elected officials have begun referring to it, inaccurately, I submit, as a "Super Congress" and asserting that it is either inconsistent with the democratic principles of the Republic, or outright unconstitutional. On the "undemocratic" side of the argument there are those such as Ohio Congressman Dennis Kucinich, who said the following:
A liberal Democrat on Tuesday called the "super committee" included in the debt-limit deal "anti-democratic."

Rep. Dennis Kucinich (D-Ohio) said the committee reduced the governing majority down to a seven-person agreement on a 12-member committee. "It's like 'Honey, I shrunk the Congress,'" he said on ABC'S "Topline."

The debt-limit agreement cuts federal deficits by nearly $1 trillion over 10 years while raising the debt ceiling at least $2.1 trillion through 2012. It also establishes a bipartisan, bicameral committee of 12 legislators charged with putting together an additional $1.5 trillion deficit-reduction package.
Ron Paul makes similar comments, and raises the question of the constitutionality of the whole idea:
The 76-year-old retired OB-GYN, who is seeking the GOP presidential nomination again, said he was appalled at the ad hoc 12-member bipartisan committee devised to find further federal spending cuts before Thanksgiving, what he calls "this super Congress."

According to this week's agreement, the committee, three members of each party from each chamber, must do the job Congress is supposed to do but hasn't or can't. And if it doesn't, then other automatic cuts occur by year's end. Not unlike legislative cruise control.

"Where in the world did that come from?" Paul demanded. "And where is that going to lead to? That is monstrous. I keep looking and I can't find any place in the Constitution where we have the authority to create such a creature as the super Congress."
Andrew Napolitano, a retired Judge who comments on legal matters for Fox News and hosts his own show on Fox News Channel fleshes out the Constitutional argument:
Frankly, I find these arguments entirely unpersuasive. First of all, the "democratic" argument is merely an argument about policy preferences, not the law. There are plenty of provisions in our Constitution that are arguably undemocratic, the United States Senate and Electoral College being the among most conspicuous examples, so the fact that the Budget Control Act sets up this Joint Select Committee is neither unusual nor necessarily objectionable. There may be valid policy arguments against giving this much authority to what is essentially an ad hoc committee, but those arguments have no legal import.
Second, asking where where in the Constitution the authority exists to create the Joint Select Committee is the wrong question. The more appropriate question is what provision of the Constitution could conceivably be said to prohibit Congress from using this method to determine where in the budget cuts can be made, make recommendations, and ask Congress to approve them. In fact, I think the Constitution explicitly permits Congress to use this method, or nearly any other, to come up with a proposed law, and that authority is found in Article I, Section 5:
Each House may determine the Rules of its Proceedings, punish its Members for disorderly Behavior, and, with the Concurrence of two-thirds, expel a Member.
Additionally, the manner in which a bill becomes a law is set forth in Article I, Section 7 and all that requires is that each house of Congress vote on a bill and pass it before it is sent to the President. If it is a bill related to taxation, it must originate in the House. Other than this, there are no other explicit requirements in Constitution setting forth how a Bill must originate, there is no requirement that either House hold hearings conducted by committees made up of selected members, there is no requirement as to the manner in which the vote must take place. All of that is left to the sole discretion of each house and the Courts have made it abundantly clear over the years that they will not rule on the appropriateness of the Legislative Branch's rules as long as those rules don't set up procedures that violate the Constitution itself.  In this case, Congress has decided it wants to streamline the process by not allowing for amendments or a Senate filibuster. Neither of these are required by the Constitution, and Congress always has the right to change its rules.
So, if Congress decides that it wants to establish a committee made up of Members of Congress, or even civilians, who will propose legislation that is then voted on by each House of Congress pursuant to pre-agreed rules that prohibit amendment or filibuster, then there is absolutely nothing in the Constitution that prohibits them from doing so. In fact, Congress has used this method before, most notably in the Base Realignment And Closure Commission, a quasi-0independent body that Congress established in the 1980s to remove the process of deciding which military bases from the political process. Under BRAC rules, the commission comes up with a list of bases to be closed or merged and Congress votes on the entire list without opportunity to change it. It has worked successfully and has been used five times since 1988, with a new commission set to start up in 2015. Many Members of Congress pointed to the success of BRAC when discussing the idea of this "Super Committee" in the run-up to the final resolution of the debt ceiling crisis.
The joint select committee isn't a "Super Congress," it isn't even necessarily undemocratic, and it certainly isn't new.
That doesn't mean that this is a good policy choice, of course, but the fact that something might be a bad idea doesn't necessarily mean its unconstitutional. Personally, I think the committee might actually be a good idea, though. If the past six weeks or so prove anything, they prove that Congress is utterly incapable of dealing with long-term budgetary matters without it turning into a partisan slug fest. Additionally, the political impulses are always stronger in favor of more spending than they are in favor of cutting spending. If we left this to Congress as a whole, it's unlikely we'd see anything happen. Forcing the situation in this matter and creating a committee that, like Simpson-Bowles, does some of Congresses hard work for it, may be the only way to come up with serious spending cuts.  Of course, the Committee could fail, but that's no reason not try because everything else we've tried has ended in failure.