The Demise of Local News and the Rise of National Partisanship
Scholars argue that the shifting media landscape is largely to blame for our political crisis.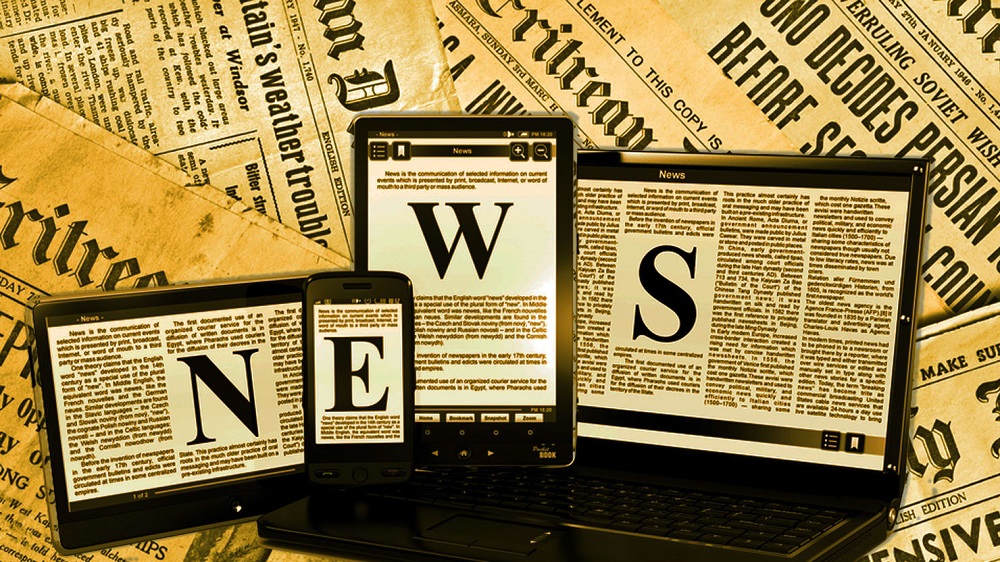 Apropos my previous post, communication scholars Matthew P. Hitt, Joshua Darr, and Johanna Dunaway have a fascinating essay in Scientific American titled "Why Losing Our Newspapers Is Breaking Our Politics."
The past few decades have been similarly tragic for American local media: longstanding newspapers, big and small, have closed in unprecedented numbers; Americans are turning away from local news sources and towards online and nationally televised programs to learn about politics; and even local television news is focusing on national partisanship and politics, as Sinclair Broadcasting acquires more affiliates.

At the same time, American voters and political elites are more polarized than ever. Republicans and Democrats occupy not only their own ideological camps, but also their own sets of basic facts, regardless of whether those facts rooted in reality. American politics is trapped in a feedback loop that reinforces polarization in the mass public: media coverage of polarization increases citizens' dislike of the opposite party, and new research shows that people go beyond relying on party cues as a cognitive shortcut: They consider partisanship a central part of their identity and put effort into expressing it. For example, evangelical Christians tend to identify as conservative Republicans, but recent work shows that partisans actually sort themselves into the religious affiliation that matches their politics.

There are no doubt many reasons for the rise of partisanship, but our research, using voting data from across the country over a four year period, recently uncovered an important one: the loss of local newspapers. As local newspapers disappear, citizens increasingly rely on national sources of political information, which emphasizes competition and conflict between the parties. Local newspapers, by contrast, serve as a central source of shared information, setting a common agenda. Readers of local newspapers feel more attached to their communities. Unless something is done, our politics will likely become ever more contentious and partisan as the media landscape consolidates and nationalizes.
Others have been making similar arguments for years. But the methodology of their study is particularly telling:
To measure the effect of newspaper closures, we focused on split-ticket voting: when voters cast their ballot in favor of, for example, a presidential candidate from one party and a senatorial candidate from another. In the 2016 election, not a single state elected a Senator from one party and cast its electoral college votes for the opposite-party presidential candidate. We wanted to know if communities that experienced a newspaper closure split their tickets less than others, showing that the loss of localized information contributes to polarized political behavior and outcomes.  We collected data on newspapers closures in the United States from 2009-2012, a time when 110 papers were shuttered.

We then measured the percentage of votes cast for the Democratic and Republican candidates for president and Senate in every American county, allowing us to compare the level of split-ticketing in newspaper closure counties to the level in areas that had not experienced a closure. We used a procedure called genetic matching to construct a set of 77 comparison counties. These counties were statistically indistinguishable from the counties that did experience a newspaper closure on a host of important variables: population, income, education, broadband penetration, racial demographics, and more. Counties with a closure split their tickets about 1.9 percent less than the comparison group. This difference is more than enough to swing an election outcome: in 2018, the U.S. House races in Minnesota's 1st district, Utah's 4th district and Illinois's 13th district were all decided by less than that margin.

An additional analysis increased our confidence in our findings. We measured split-ticket voting in the 2012 election for counties that lost a newspaper in 2013 and 2014 and compared these post-2012 closure counties to a comparison set of counties, using the same matching procedure. We found no differences this time, indicating that the loss of the paper itself likely caused the changes we observed in voting behavior.
Ticket-splitting certainly seems a reasonable proxy for partisan identity. While I must confess not to know much more about genetic matching than the link provides, it strikes me as a perfectly plausible technique for controlling for external factors.
One thing that doesn't seem to be considered is directionality. That is, it might be that the sort of communities that can't support a local newspaper are more likely to be partisan. Still, the fact that the communities exhibited less ticket-splitting in the next cycle is at least a strong suggestion as to which direction the effects flow.
More problematically, the study doesn't really seem to control for changes in the overall political ecosystem. Over times, our parties have simply become better sorted. That is, even twenty years ago, there were a significant number of Southern Democrats and Northeastern Republicans who were much more in tune with their constituencies than the presidential candidates put forth by their respective parties. In that environment, it was much easier to vote for "the man, not the party" and split the ticket. Nowadays, the number of Senators, in particular, who match that description can easily be counted on one hand. And, even then, it tends to take the nomination of a particularly egregious candidate by the "natural" party for the state (say, a pederast) to make ticket-splitting a viable option.
Regardless, even if thriving local newspapers and local television news programs could reverse the trend, it's not obvious what should be done about it. There have been attempts by angel investors to reinvigorate the local news market, thus far without much success. Despite the theory of our founding that most political power should reside at the local and state levels because citizens are likely to be more familiar with the politicians and issues closest to them, nation-level politics and politicians have dominated our interest as long as I can remember. Arguably, the shift happened during the presidency of Franklin Roosevelt, where the combination of national crises (the Great Depression and World War II), a charismatic leader, and the advent of national broadcasting made the President a daily figure in Americans' lives. While not all of his successors shared his talent for connecting with the public, they've all had the technical means of commanding their attention.