The End Of The Road For Rick Perry?
Rick Perry's campaign isn't dead by any means, but he needs to turn things around soon.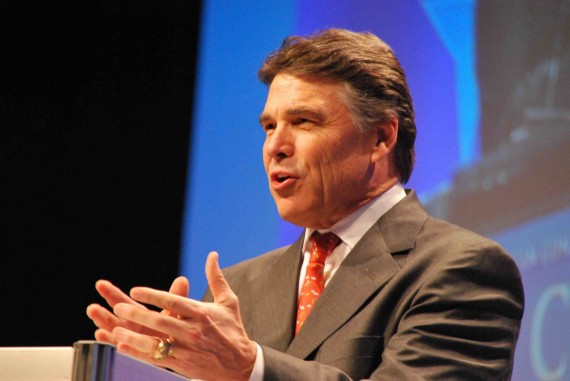 Not surprisingly, last night's mediocre at best debate performance, combined with his continued drop in the polls is leading some pundits to start asking if Rick Perry has fallen into a hole from which he won't be able to escape. On some level, it seems like a silly suggestion. Voting doesn't start in the GOP race for nearly three months, Perry raised $15 million in less than 50 days of campaigning, and there are still plenty of reasons why he might appeal to the conservative/Tea Party base of the Republican Party in states like Iowa and South Carolina. Nonetheless, the question is being asked, which means a meme is being developed that the Perry campaign is going to have stamp out pretty quickly before perception becomes reality.
Conn Carroll at The Examiner gets the ball rolling by suggesting that Perry should just give up on debating at this point:
Perry has performed poorly in all four of the GOP debates in which he has participated. Even the candidate himself seems to acknowledge that debates can only hurt his campaign. So why show up? The Perry campaign is telling every reporter who will listen that debates don't matter. OK. If they really believe that, then why have Perry show up at all? Why not just work crowds, raise money, and run TV and web ads? We know Perry can't debate, so let the headlines be about what he CAN do.
The problem with a strategy like this is that Perry's non-presence at any future debate would be the 800lb gorilla in the room and the story would become why he's avoiding his opponents. You could almost hear the line from Mitt Romney now "I would ask Governor Perry what he would do about the economy, but he's not here." Moreover, whether he chooses to debate his Republican opponents or not, if he wins the nomination he's going to be able to avoid participating in debates with President Obama. He could try to avoid them, I suppose, but again the story would become about what Perry is afraid of, and all of that would enure to the benefit of Obama and the Democrats. So, no, avoiding future debates isn't the answer.
Carroll's colleague Byron York goes further:
If Tuesday night's debate had really been a make-or-break test, then Rick Perry's candidacy would be broken.  Of course, Perry is still in the race, and he has time — though not a lot — to recover.  He also has a lot of money, about $15 million, to buy television advertising that could both bolster his image and tear down Romney's.  Carney says the campaign will air TV ads soon — he won't say precisely when — but vows most will be positive ads introducing Perry to voters.

Compounding the bad news for Perry was the fact that Romney had another strong night.  Talk to Republicans who don't like Romney, who would like to see a serious conservative emerge to challenge Romney, and they still concede that the former Massachusetts governor seems in full command of himself, his program, and his performance.  Romney has participated in six Republican debates this year, and despite his obvious weaknesses — the greatest being his Massachusetts universal health care plan — he has not suffered any serious setbacks. And on Tuesday night, in particular, he was riding high, having announced earlier in the day that he had received the endorsement of popular New Jersey Gov. Chris Christie.

(…)

David Carney, the top Perry aide, believes it still is.  "Ultimately, the battle for the nomination will be, I think, between Mitt Romney and someone else," David Carney said after the debate.  "Our goal is to make us that someone else."

The question after Tuesday night is whether Perry did anything at the debate to make progress toward that goal.  The answer — best expressed by Perry's own "not my strong suit" comment — appears to be no.
That $17 million raised, $15 million of which is still in the bank, will help Perry immensely, and can be used for near-saturation media buys in Iowa, South Carolina, and Florida, but Jennifer Rubin is correct to note that money alone isn't going to be enough to save Rick Perry:
The fallacy of politics, as the punditocracy too often portrays it, is that money is the end-all and be-all of campaigns. Like early polls, pundits fondle the FEC reports, as if they were political Ouija boards. In truth, all you need is "enough" money to win an election. A billion dollars isn't going to help Obama overcome 9 percent unemployment. Seventeen million can't obscure the fact that Perry is not ready or able to put together a first-rate presidential campaign. What matters is the quality of the candidate and the ideas he offers.
While I agree that debates are often given far more importance than they probably should, especially this early in the race, they do serve several useful purposes. First of all, they provide the candidates with the opportunity to introduce themselves to the voters. While Perry seemed to have done this well enough in his first debate, he drifted off course as September went along and has often seemed strangely unable to communicate his thoughts during the course of these debates. If nothing else, this is the kind of thing that causes potential voters to question their support for a candidate, at worst it's enough for some to write the candidate off completely. The second purpose the debates serve is to allow voters to judge the candidate's command of the issues, at least a partial indication of what kind of President they'd be. Perry hasn't done well here at all, most notably last night when he had little more than slogans to offer as part of the economic plan he will supposedly be unveiling on Friday. Finally, the debates give the candidates the opportunity to distinguish themselves from their opponents. Perry has distinguished himself alright, mostly by his own inadequacies. All of this, arguably, is what has led many voters to conclude that Perry isn't the quality candidate that they thought he was when he entered the race. Unless Perry can reverse those perceptions quickly, all that money in the bank isn't going to mean very much.
I wouldn't write Rick Perry off just yet, but time is ticking away and it's going to take a major turn around for him to get back into this thing.