The Equality Act
What was mere signaling under a Republican Senate and President could now become law.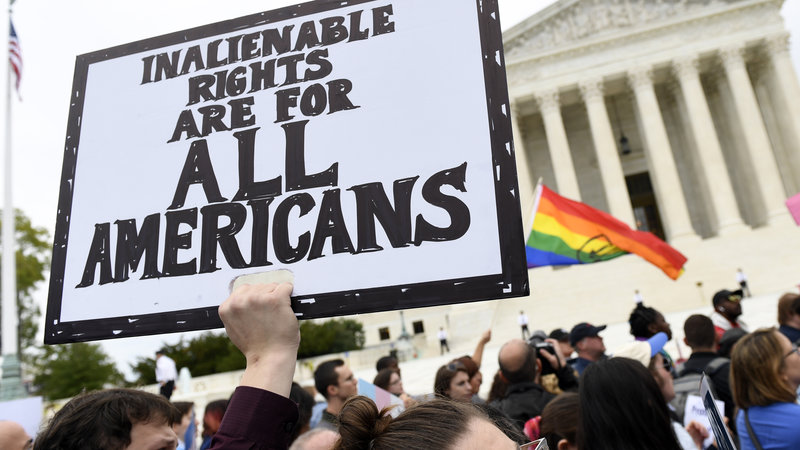 The Wall Street Journal has published a bizarre op-ed from Inez F. Stepman, a senior policy analyst at Independent Women's Forum, titled "The Equality Act Makes Women Unequal." The headline's provocative claim piqued my interest since I'm skeptical Nancy Pelosi would let such a bill make it to the House floor.
All people are created equal, but Congress is considering a bill that would make some people more equal than others.
Disturbing, if true.
H.R. 5, styled the Equality Act, would redefine "sex" under federal civil-rights laws to include "sexual orientation" and "gender identity," overriding basic biology along with millennia of tradition.
While an incredibly loaded way of describing what the law would do, it's technically true.
This isn't only a question of semantics. Nor is it merely an attempt to prohibit employment discrimination against sexual minorities. A 2020 ruling by the U.S. Supreme Court already does that.

The Equality Act would go much further by making it illegal to distinguish "identity" from biology and thereby prioritize transgender people over women. By erasing sex as a distinct legal category, the measure threatens to open up female-only spaces and opportunities designed to increase representation for girls to biological men, which can endanger the safety of women and girls.
So, despite the ridiculously charged language here, I'm actually sympathetic to some of the concerns around erasing distinctions between biological sex and sexual identity. (More on that in a bit.) But the charged language actually hurts the argument, in that it comes across as bigotry rather than pointing to areas where there are legitimate policy issues. And the claims about some people being made more equal than others are still not buttressed.
The Equality Act would threaten the existence of women's prisons, public-school girls' locker rooms, and women's and girls' sports teams.
Again, to the extent the Act does this, I think we need to tread carefully. There are real issues that we haven't figured out how to deal with yet. And there are almost certainly areas where professionals have more-or-less solved the problem and the general public (myself quite possibly included) simply need to be educated.
It would limit freedom of speech, freedom of association, accurate data collection, and scientific inquiry. It would threaten the rights of physicians who doubt the wisdom of performing life-changing, reproduction-limiting procedures, and parents who seek to protect their minor children from such treatment.
I'm skeptical of the broadness of these claims. And, indeed, I see nothing in the text of the bill (at least the 2019 version passed by the House) that does anything like these things. The words "parent" and "minor" are completely absent from the law and "child" and its variants are included only with regard to child welfare agencies, human trafficking, and the foster care system.
This isn't hyperbole. Similar state laws have already resulted in such harm. In California, Catholic hospitals have faced lawsuits for declining to perform life-altering "gender affirmation" surgery in September 2016. In Connecticut, two biologically male athletes won a combined 15 girls state championship races, allegedly taking opportunities for further competition and scholarships from female runners in June 2019. Alaska's Equal Rights Commission opened an investigation into a women's shelter after it turned away a biological male in September 2019. H.R. 5 would impose the most extreme form of these laws on the whole country.
It's not obvious that it would, actually. It's almost certainly true that women's shelters would have to take in women, including those who are anatomically male. But it's not clear that's not already the case, given recent Supreme Court rulings.
I can't imagine that all hospitals would be required to perform sexual reassignment surgery, given that specialization is an industry norm. But it is true that Catholic hospitals would lose any special protection since the law, as currently written, explicitly removes protections under the Religious Freedom Restoration Act in cases of the now-broadly-defined discrimination on the basis of sex.
The remainder of Stepman's article simply reiterates and reinforces concerns about athletic competition and prison segregation. Again, I'm actually sympathetic to those concerns—although I think the latter likely easier to solve.
NPR's explainer from yesterday morning, "House To Vote On Equality Act: Here's What The Law Would Do," is more balanced but doesn't really address the more inflammatory charges. The RFRA exclusion is seen as a likely sticking point in the Senate—especially if the filibuster remains in place and thus it requires 60 votes to pass into law.
Aside from being reluctant on practical grounds to require identical treatment for biological females and those with male anatomies who identify as female until we have more experience figuring out how to address the obvious problems, I am troubled on semantic grounds with the bill's routine insertion of "sex (including sexual orientation and gender identity)" into current law. It seems rather clear that those are three separate categories, each with their own set of issues and concerns, and should simply be listed as separate bases on which discrimination is prohibited absent compelling public interest.
Mostly, though, the law seems to simply codify what is already federal law in practice into statute, making enforcement more uniform across the land. For reasons I don't fully understand, the Equality Act modifies various pieces of existing legislation, most notably the 1964 Civil Rights Act, rather than serving as a standalone Act. But, like those laws, it will serve as the basis for lawsuits for decades to come. Which means that, whatever the people passing this law think it does, it could well have unintended consequences that won't be revealed until well after they're dead.