The Fundamental Dishonesty of the House GOP "Protest"
They know how Congress works, but are banking on the fact that many Americans don't.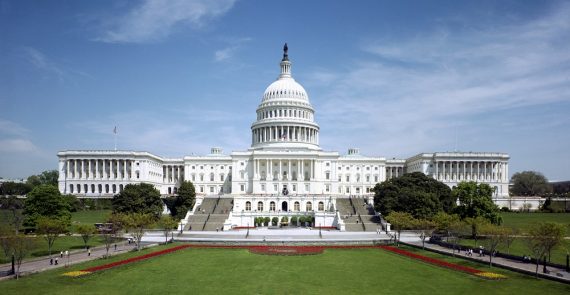 As Doug Mataconis noted in an earlier post, a group of Republican members of the House stormed the House Intelligence Committee's Sensitive Compartmented Information Facility (SCIF) on Wednesday of this week. According to the "protest" leader, Representative Matt Gaetz's (R-FL) website, 41 members were involved (although most reports suggest a slightly lower number). The stated goal was to disrupt scheduled testimony before the three House committees conducting the impeachment inquiry, although the real goal was press attention and to rally their political base.
I put the term "protest" in scare-quotes above because the stated goals of their actions are largely nonsensical.
For example, Gaetz states the following during the event:
"We're going to try to go in there, and we're going to try to figure out what's going on behalf of the millions of Americans that we represent that want to see this Congress working for them, and not obsessed with attacking a president who we believe has not done anything to deserve impeachment,"

Source: "Rep. Matt Gaetz leads GOP protest over Trump impeachment inquiry, halting hearing" Pensacola News Journal.
But, of course, they know full well what is going one. Indeed, as Axios noted, "13 Republicans involved in impeachment protest already have access to hearings." Further, there are a grand total of 47 Republicans members across the three committees who are conducting this stage of the impeachment inquiry (that's almost a quarter of the House GOP caucus). This includes Jim Jordan (R-OH) who has been a major critic of this process on television, as well as Devin Nunes (R-CA).
I fully understand the role played by stunts in politics, and this event definitely garnered significant press attention. Moreover, I am sure it has heartened many supporters of Trump who see their guys as doing something.
However, the problem is that it is a fundamentally dishonest display. Further, the entire display was predicated on the knowledge that most Americans don't know how Congress functions. This ultimately undercuts their defense of Trump because they know they cannot attack the evidence, so instead want to pretend like the process is the problem.
But, of course, Congress works in committees, which is what it is doing here. Importantly, those committees, as noted above, contain both majority and minority members. It is a lie to state that Republicans are being shut out of the process.
And, depositions are typically taken in private. This makes it harder for other witnesses to tailor their stories to avoid telling the truth or to coordinate testimony. This is standard practice, not to mention it happened in the Watergate investigation as well, so the notion that this is unusual or unprecedented is also a lie.
Indeed, one need not hearken back to Watergate to find examples of this, but rather one can simply recall hearings near and dear to the hearts of many Republicans still serving in Congress: the Benghazi investigations.
Note this contemporaneous report:
As Republicans and Democrats wage a political battle over the attacks in which four Americans were killed, U.S. Representative Darrell Issa issued a subpoena ordering retired Ambassador Thomas Pickering to appear for a taped deposition on Thursday to answer questions about the Accountability Review Board report he prepared on the incident.

Pickering and retired Admiral Michael Mullen, a former chairman of the Joint Chiefs of Staff, who led the Benghazi review board, on Thursday had offered to testify publicly before the House of Representatives Oversight Committee.

But Issa, the committee chairman, insisted that committee staff members be allowed to conduct private interviews first because the committee still has too many questions about the ARB report on Benghazi.

Source: "House panel demands deposition from Benghazi investigator," Chicago Tribune.
To cap it all off, we know that if this process continues forward, it will become increasingly more public. As The Hill reports, Schiff says committees will eventually make impeachment inquiry transcripts public:
House Intelligence Committee Chairman Adam Schiff (D-Calif.) said in a letter Wednesday that interview transcripts from closed-door impeachment inquiry depositions will be made public when they do not "jeopardize investigative equities."

The Dear Colleague letter is designed to counter arguments from Republicans in both the White House and Congress that Democrats are conducting an invalid investigation, since their witness interviews are being held behind closed doors, outside the eyes of the public and lawmakers who don't sit on the three committees leading the investigations.

"At a time that it will not jeopardize investigative equities, we will make the interview transcripts public, subject to any necessary redactions for classified or sensitive information," Schiff wrote.

"We also anticipate that at an appropriate point in the investigation, we will be taking witness testimony in public, so that the full Congress and the American people can hear their testimony firsthand," he added.
Indeed, the only way for the impeachment process to move forward is for there to be a public presentation of evidence and a public vote by the whole House. To suggest that anything other than that is going to be the case is a lie.
Indeed, the only way that such an outcome would fail to materialize is if the Democrats decided that they did not have enough evidence to move forward, which seems rather unlikely at this juncture.
So, yes, I expect Republicans to defend their leader. I expect politicians to spin events and outcomes, and to bend the truth. But, the display this week, as well as the overall narrative that the current process is somehow nefarious or unusual, is simply dishonest and it should be called such. This is especially problematic because the perpetrators of the lies in question know full well that their claims are false and, moreover, that they are relying on public ignorance to give life to their falsehoods.