The GOP Civil War Continues Apace
Republicans continue to fight over their party's future.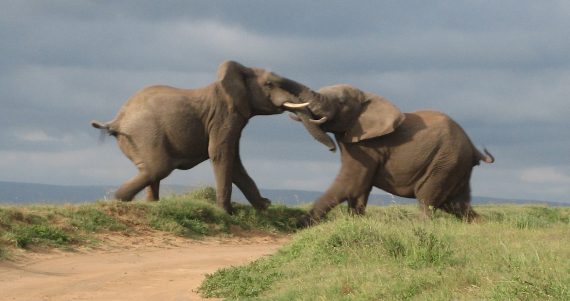 Ever since the 2012 elections ended, and indeed well before that, there has been a conversation going on among conservatives and Republicans regarding the future direction of the party and, specifically, what the 2012 election and the trends it made apparent means for the GOP's future. One of the most common topics of discussion, obviously, has been the rather shocking lack of success that Republicans have had among ethnic groups, including not just Latinos but also Asian-Americans both of whom voted heavily for Democratic candidates. The GOP also suffered losses among female and young voters to a far greater extent than they have in the past.
It's all led to a lot of soul searching on the right and everyone who has a dog in the fight has an opinion. Some people think that the party needs to do little more than change it's messenger, contending that the reason the party lost in 2008 and 2012 wasn't because of their ideas or their record, but because of who they nominated. These are the people who contend that all the Republican Party needs to do is nominate a "true conservative," or as it is often mockingly referred to on Twitter a "truuuuue conservative," and they will win election after election. The point to the election of Ronald Reagan as "proof" for their argument without realizing that Reagan was not the most conservative candidate in the 1980 Republican Primary field and that he didn't run as a hard-right conservative in the General Election that year. Others think that all the party needs to do is make a few cosmetic changes — like, say, nominating a Latino for President in 2016 — and everything will be fine. Obviously, most of these strategies are not going to work, and a few of them amount to nothing more than sticking one's head in the sand. However, there are some on the right who seem to be starting on pointing the party in the right direction.
Red State's Erick Erickson, for example, used Inauguration Day to call out what has become an increasingly vocal portion of the right:
We have too many outrage pimps on both sides of the aisle whipping the respective bases into a frenzy and fury against the other side. I don't have enough time or energy to be outraged about it all. There are things to be outraged by, but not everything, and certainly not with full energy dedicated to every perceived slight and grievance.

What I am finding is that among conservatives there is too much outrage, piss, and vinegar. It makes our ideas less effective. We have become humorless, angry opponents of the President instead of happy warriors selling better ideas. We are not even selling ideas.

Conservatives, frankly, have become purveyors of outrage instead of preachers for a cause. Instead of showing how increasing government harms people, how free markets help people, and how conservative policies benefit all Americans, we scream "Benghazi" and "Fast & Furious."

We're off key and off message. We've become professional victims dialed up to 10 on the outrage meter. Who the hell wants to listen to conservatives whining and moaning all the time about the outrage du jour? Seriously? Mitt Romney ran a campaign on just how bad things are, but he was rejected by a majority of Americans who felt like he really did not care about them and really had no plans to improve their lives.

Bitching about Benghazi doesn't do that either.

Be mad at me if you need to. Feel free to express your moral outrage and indignity at me. But then shut up and focus on convincing people not that the President of the United States duly elected by a majority of the American people is a traitor willfully trying to destroy the country, but that our policies will allow people to make the most of their lives and not be dependent on the rising and falling fortunes of Washington, D.C.
Jennifer Rubin makes a similar point:
Republicans are so used to talking to each other via blogs, radio talk shows, conservative conferences and right-leaning think tanks that they seem to have forgotten how to talk to people who aren't hard-core conservatives.

The people saying Republicans have to make the case for conservatism or need people to make the conservative message often want the speakers just to yell louder and be more dismissive of those who differ. In fact, they have to change the vocabulary of conservatism and the focus from abstract principles to real people.

It is good that Republicans are rethinking their message and their political operation. But if they only double down on what they are already doing, they will make matters worse, not better.
Erickson and Rubin are correct here to point out the messaging problems that the GOP has, as well as the fact that pandering to the most extreme elements of the conservative tends to make it impossible to get Independents and moderate voters to pay attention to your message. The problem that the party faces, it seems to me, isn't just one of messaging, though. Yes, it would certainly help the situation if there were fewer kooks like Louis Gohmert, Allen West, and Michele Bachmann out there grabbing attention and making it seem as though they speak for the rest of the Republican Party. However, that's only going to solve part of the problem. Republicans aren't in trouble because they're bad messengers, they are in trouble because the policy ideas they are proposing, and their refusal to recognize the fact that they do not control all of the levers of power in Washington, is putting them out of step with American voters most of whom are not nearly as ideological as the conservatives who would remake the party in their own image.
The suggestion to change messaging makes sense, of course, but more is going to be needed, and former Florida Congressman Joe Scarborough has a pretty good idea of what that's going to take:
The president has set a trap for Republicans on a wide range of social issues. Whether the subject is gay rights, global warming or immigration, Barack Obama knows that Republican resistance in a national debate will feed into the meme that conservatives are too reactionary, too out of touch and too white.

Republicans should swim past the bait and focus instead on America's debt. Let the Democratic Senate pass bills on divisive social issues if Harry Reid can get them through his chamber. House Republicans can focus instead on balancing the budget, simplifying the tax code and saving Medicare.

(…)

Conservatives should avoid chasing the Democrats' tails on social issues and instead focus on the key legislative challenge of our time – tackling America's crippling debt. The fact that this strategy feeds into conservative's core value of limiting the federal government's reach only makes that pathway more advantageous.
None of this is new advice, of course. Former Indiana Governor Mitch Daniels, who passed up a chance to run for President himself in 2012, said much the same thing some two years ago when he suggested that Republicans should move away from emphasizing divisive social issues in order to concentrate on the important issues surrounding the economy and the nation's fiscal situation. Republicans didn't listen to Daniels then, and I doubt they'll listen to Scarborough now. Indeed, the most vocal conservatives I see have been denouncing him as a "RINO" for doing nothing more than speaking the truth about the state of the Republican Party. That, I suspect is what will happen to Erikson and Rubin as well for making their well thought out suggestions for out the party can save it from the future that adhering to the message of the talk radio crowd is sending it toward.