Fiscal Cliff Talks Appear Stalled
With just about a month to go before we hit the "Fiscal Cliff." things don't look good at all.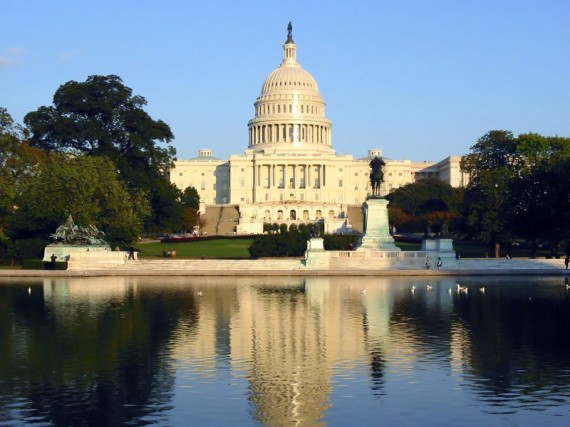 The discussions between the White House and House and Senate Republicans over a possible deal to avert the so-called fiscal cliff appear to have hit what is likely to be only the first of many impasses. The process appears to have started unraveling Wednesday evening, when Treasury Secretary Timothy Geithner, representing the White House, met with the leadership of the House and the Senate GOP Caucuses and presented what was apparently the White House's opening offer in the negotiations. To put it mildly, the Republicans present were less than impressed:
 Treasury Secretary Timothy Geithner presented a tentative offer from the administration to congressional leaders Thursday to avert the fiscal cliff — but the plan has so far received a chilly reception from Republicans.

The offer, the details of which were reported by The New York Times on Thursday, proposes $1.6 trillion in tax hikes over ten years, roughly $400 billion in cuts to entitlement programs such as Medicare, and would withdraw Congress' power to control increases to the federal debt limit.

Of the latter provision, Republican Sen. Orrin Hatch told BuzzFeed, "I don't think anybody will agree to that."

"We should come up with an alternative to the debt ceiling," he added, but declined to elaborate.

President Barack Obama has expressed his intent to sign legislation to avert the fiscal cliff only if Congress raises the debt ceiling as part of the package. That would prevent a possible reprise of last summer's infamous debt-limit fight when the nation needs to increase its debt limit again in February or March.

Sen. John Cornyn, the newly elected Republican whip, said raising the debt limit as part of an eventual fiscal cliff deal would "make sense."

But, he said, echoing earlier remarks from House Speaker John Boehner, the administration's offer as it stands is "totally inadequate."

"I don't think he's serious," Cornyn said. "I'm inclined to believe they likely want to run off the cliff, and I hope that's wrong. But I don't see the actions of a serious negotiator or a leader.
Today, Speaker John Boehner said that the talks had hit a stalemate:
WASHINGTON — House Speaker John Boehner said Friday that fiscal cliff negotiations have stalled and that a week of on-and-off talks and noisy political maneuverings by both sides have achieved no results.

"There's a stalemate," Boehner told reporters in a press conference after President Barack Obama's speech. "Let's not kid ourselves."

Later, House Minority Leader Nancy Pelosi said she hoped Boehner did not mean talks were indeed in a "stalemate." "Maybe that's a figure of speech," she suggested.

"We all know what is at stake here," Pelosi added. "So why are we stalling?… I don't know what the wait is for." The minority leader said she will try to push the middle class tax cut extension to the House floor for a vote next week, which would require a petition.

Since Treasury Secretary Timothy Geithner presented the administration's initial offer to congressional leaders Thursday, Republicans have panned the proposal, calling it "inadequate" and "not serious."

On Friday, Boehner insisted that those comments weren't simply political posturing, as some Democrats have charged. Boehner also indicated that Republicans remain open to further negotiation.
Ezra Klein agrees that the Administration's proposal isn't serious, but argues that this is entirely the point of the offer that was made earlier this week:
Previously, Obama's pattern had been to offer plans that roughly tracked where he thought the compromise should end up. The White House's belief was that by being solicitous in their policy proposals, they would win goodwill on the other side, and even if they didn't, the media would side with them, realizing they'd sought compromise and been rebuffed. They don't believe that anymore.

Perhaps the key lesson the White House took from the last couple of years is this: Don't negotiate with yourself. If Republicans want to cut Medicare, let them propose the cuts. If they want to raise revenue through tax reform, let them identify the deductions. If they want deeper cuts in discretionary spending, let them settle on a number. And, above all, if they don't like the White House's preferred policies, let them propose their own. That way, if the White House eventually does give in and agree to some of their demands, Republicans will feel like they got one over on the president. A compromise isn't measured by what you offer, it's measured by what the other side feels they made you concede.

The GOP is right: This isn't a serious proposal. But it's not evidence that Obama isn't serious. He's very serious about not negotiating with himself, and his opening bid proves it. Now that they've leaked his initial offer, the next question is obvious: What's their offer?
I get what Klein is saying here, but I've got to wonder about the logic of the Administration opening with an offer that has absolutely no chance of passing Congress and which really just amounts to a gigantic thumb in the eye to the GOP. For one thing, it's likely to reinforce the position of the hardliners in the GOP caucus and make it far more difficult for Speaker Boeher and Minority Leader McConnell to negotiate a deal of any kind that would keep their respective bases in line. To the extent that they do respond to this offer, it's likely to be with something that is equally unacceptable to Democrats and equally unlikely to make it through the Senate and past the President's desk. So, while I understand the brinkmanship argument that Klein is making here, I'm not sure that, if this is what the White House has in mind, it's really going to make any of the parties involved more likely to make a deal.
I still believe that the President has the superior bargaining position in these negotiations, and that it's the GOP that is likely to get the blame if we get to the end of the year without a deal of some kind. However, it strikes me that the Democrats are taking a risk here by starting out with a fundamentally ridiculous proposal because it tends to put into doubt the public's belief that they are the serious ones in these negotiations. If that continues, it could end up being the case that both sides will end up getting blamed for whatever goes wrong after December 31st.