How Obama Lost Control Of The Debt Negotiations
Barack Obama's biggest enemy in the debt negotiations has been himself.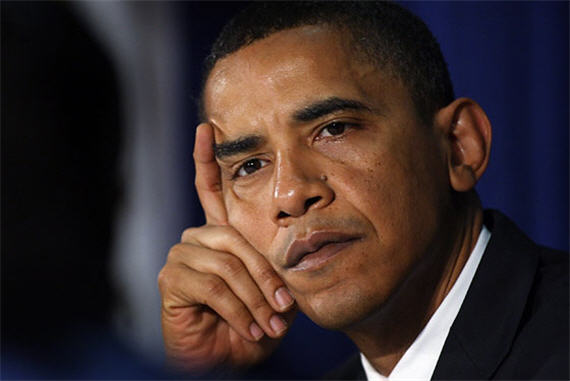 There's been much puzzlement expressed over how President Obama has been so unsuccessful in maintaining control over the negotiations to raise the debt ceiling. After all, to a large degree the public has been more supportive of the President's position on issues like raising taxes on the "rich," or the general idea that whatever deal is reached should be a balanced approach that includes both taxes and revenues. Despite this, he's been forced to retreat at every turn while House Republicans pursue their own plans, and House and Senate Democrats stay mostly on the sidelines, concerned as much with their own electoral fates as assisting the President. Time and again, the President has conceded ground to the GOP, only to find that it still wasn't enough to get them to make a deal.
David Frum contends that the entire episode is merely further evidence that the President is not a good negotiator:
In this round of debt negotiations, the president has drawn red lines. He has threatened to veto a small increase in the debt ceiling, one that would force him to return to the argument before the election in 2012. By contrast, he has not threatened to veto debt-ceiling measures that cut too deeply into social programs. His red lines are drawn for his political advantage — not to protect his core supporters' values and interests. His red lines are not theirs.

Whether it was health care or the deficit or now the debt ceiling, direct encounters between Obama and his Republican opposite numbers have always ended badly for the president. Yes, the president faces unusually extreme and intransigent opposition. But that's a description of the difficulty, not an excuse for failure. Presidents win negotiations when they can mobilize the public behind them. That was Ronald Reagan's secret weapon in 1981. It has never been Barack Obama's. And the results are as we all see.
Indeed, last night was the first time throughout this entire process that the President made a direct appeal to the American people, the first time he went over the heads of the Congress and the media and spoke to the American people as President and said I need your help. Those of us who were around in the 80s can remember Ronald Reagan doing it many times, Bill Clinton too. But then, if we've learned one thing over the past two and a half years it's that Barack Obama is no Ronald Reagan, no Bill Clinton. Whether it's because of the fact that he simply never had an Executive experience before becoming President, the fact that his primary political experiences was in a machine-dominated political system where the idea having to compete for support with an opposition barely existed, or because such assertiveness just isn't in his nature, the fact remains that Obama has never had the Executive swagger of a Reagan or a Clinton, and his opponents have known it. That, I think, is why he seems to do so poorly, every time he takes Congress on in one of these debates.
Jonathan Chait diagnosis the problem as more severe and suggests that, because of his history of backing down and letting Congress take control of the agenda, he lacks credibility now in dealing with Congressional Republicans:
President Obama has a credibility problem. He has compromised so often that Republicans simply don't believe that he'll sustain his opposition to anything.

(…)

Obama clearly faces a perception problem. Republicans may complain that he's walked away from deals, but they really think he's a pushover who will cede more and more ground the harder and longer they push. That's a dangerous position to be in on the verge of a high stakes game of chicken. It encourages the Republicans to push the envelope farther and farther — even to walk away from a deal they regard as a win in search of an even better win.

And, of course, if Obama did somehow agree to the Boehner bill, the problem would get vastly worse. Republicans would simply treat the next debt ceiling hostage fight as a chance to increase their demands more. Indeed, if Obama capitulated to Boehner this time, can you imagine the negotiating dynamics that would occur when the next debt ceiling vote comes in 2012? It's almost impossible to imagine the upper bound of the Republican demands by then.
Some pundits would likely call it the end of Obama's Presidency, and they probably wouldn't be far off. Obama's problem is that he's got nobody to blame but himself. The debt ceiling debate began with the Obama Administration asking for an up-and-down vote on a debt ceiling increase, just like nearly every other increase in the debt ceiling since 1917. When Congress rejected that, the negotiations began. The Administration started out wanting a balanced approach that included spending cuts and revenue increases, but which didn't touch entitlements. When the House GOP rejected any talk of revenue increases, the President and Speaker Boehner began talk of a grand bargain that included entitlement reforms, a development that nearly caused a revolt among Congressional Democrats. When Boehner walked away from the Grand Bargain, negotiations began anew on a deal that cut spending far more than it raised revenues, but even that wasn't good enough., Now, the President's surrogates in the Senate have come up with a plan that takes taxes completely off the table, meaning that there's virtually no change they'd come back as part of any future negotiation. At each sign of resistance from the opposition, the President's response has been to back away rather than fight. Is it any wonder that they'd take that as a sign that he's willing to give up on more?
At any point throughout this process, the President could've called his opponents' bluff. He coud've gone to the American public like he tried to last night and made the case for the kind of deficit reform or, as Andrew Sprung argues, he could've gone even further:
What would have felt like leadership from a Democratic president in 2011? Outline a deficit reduction/tax reform plan that included new stimulus at the outset, backloaded spending cuts and at least $2 trillion in new revenue over ten years.  Refuse definitively, early and often to tie deficit reduction talks to the debt ceiling; insist early, loud and often that the debt ceiling must be raised unconditionally, and threaten to use the Constitutional option if it weren't.  Say to the GOP: I'm ready and willing to negotiate – call me when you're ready to consider revenue increases.  Eschew high-drama deadlines, and make it clear that the Bush tax cut expiration date is the endgame.
Of course, that would have required a history as a strong Executive and a tough negotiator. By January of this year, it was fairly clear that Barack Obama is neither o f these things. His governing style seems more suited to that of a Majority Leader in a legislative body than a President and Chief Executive. As I said above, I don't know why it is that Obama has governed in this manner, but it has not served him or the country well and, 2 1/2 years in, it seems unlikely that he can just turn things around on a dime and, to borrow a phrase from The West Wing, "Let Obama be Obama." Actually, it's entirely likely that we're seeing the real Obama, and the best he can do, and that's his biggest problem.