Tea Party Crowd Launching Another Phony "Challenge" To John Boehner
Several Tea Party backed Members of Congress claim to be challenging John Boehner in tomorrow's vote for Speaker. They are, of course, delusional.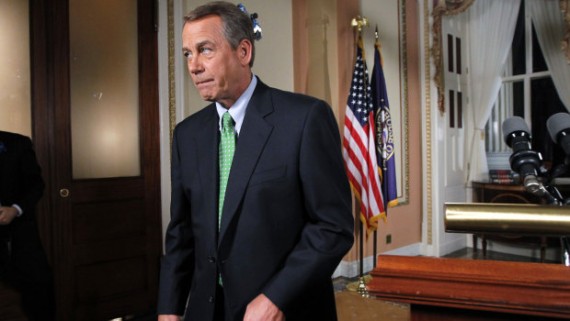 Tomorrow at Noon, the new 114th Congress will convene for its first official day of business. As a matter of law, of course, the new Congress came into existence at Noon on January 3rd, but since that was a Saturday and the law permits the House and Senate to delay the opening session when the statutory day for Congress to delay the start of business as deemed necessary. The Senate will be the big news of the day, of course, as new members are sworn in and the new Senate leadership vote officially places the Republicans in control of the Senate for the first time since the 2006 elections. In the House, though, there will once again be some news as the largest House Republican majority since 1928 convenes. In that chamber, the first order of business will be the election for Speaker and, if some House conservatives have their way, there will be at least some drama associated with the vote yet again:as a small group of conservatives mounts a purported challenge to Boehner that is likely to go nowhere:
Boehner had been cruising toward a drama-free re-election this Tuesday after successfully winning re-election among his Republican colleagues in November. But over the weekend, a handful of conservative members of the House announced they would not support Boehner, and Reps. Ted Yoho, R-Florida, and Louie Gohmert, R-Texas, have said they might make a run to unseat Boehner.

The lame-duck session of Congress didn't sit well with several members who objected to the $1.1 trillion spending bill (also known as the "CRomnibus") that squeaked through Congress during December, averting a potential government shutdown.

"Republicans gave away the best tool available to rein in our liberal activist President: the power of the purse," said Rep. Jim Bridenstine, R-Oklahoma, last Friday, the first member to announce he would not be voting to re-elect Boehner. Bridenstine called the measure a failure because it did not defund President Obama's Affordable Care Act or try to block him from deferring deportation for millions of illegal immigrants.

Reps. Thomas Massie, R-Kentucky, and Ted Yoho, R-Florida, followed with their own announcements that Boehner had lost their votes for speaker. Massie also pointed to the spending bill, which he said the GOP leadersip introduced at the last minute as a way to coerce members to vote for it. Yoho wrote on Facebook Saturday night that there needed to be a change in leadership, though he was otherwise less critical of Boehner. In a follow up statement, Yoho said that "if needed" he would be willing to run to give members another option for leadership.

"This is not a personal attack against Mr. Boehner, however, the people desire and deserve a choice. In November, they resoundingly rejected the status quo," he said.

But it was Gohmert who said he would definitely challenge Boehner, first saying on "Fox and Friends" Sunday that "a lot of Republicans" had told him they would vote for a Boehner alternative. Later, he released a statement announcing his own candidacy.
This isn't the first time that Boehner has faced a supposed threat from the right, of course. As the 112th Congress was winding down in December 2012, there was much discontent over how Boehner was handling the negotiations over the so-called "fiscal cliff" which led some members, as well as Tea Party groups outside Congress, to mount purported efforts to deny Boehner a victory, or at least deny him a victory on the first ballot, which would be rather unprecedented in the modern era. In the end, Boehner was re-elected easily, with only nine votes either being cast by Republicans for other candidates. In the end, that is exactly what will happen tomorrow. In all likelihood, Boehner will end up with more actual votes this time around than he got in 2013 in no small part because the new larger Republican majority is made up of Republicans who will not be eager to do anything to annoy leadership this early in their tenure. We'll likely see some dissenting votes like we did the last time around, but the idea that there is a serious challenge to Boehner's leadership is, as Virginia blogger Brian Schoeneman puts it, quite absurd:
[W]hat most people don't realize or understand is that these elections are all pro-forma. The real decisions, with real races and multiple candidates (in some cases), took place months earlier.  These Conference elections were done in private, no outsiders, and the ballots were all secret.  John Boehner, Kevin McCarthy and Steve Scalise were all reelected without opposition.

Each year, the House Republican Conference adopts rules for the Conference to abide by. These include the methods by which the leadership positions will be filled. Here's a link to the proposed rules for the 114th Congress that were adopted on November 14, 2014.  The elections for the House Republican Leadership were held on November 13 in the Conference and there were no surprises. The Conference meeting included all of the new members, who were in town for orientation and these meetings.  The new members chose their Freshman Class representative, Congresswoman-elect Mimi Walters (R-CA), as well.

Here's the press conference they held after the leadership elections.

Keep in mind what I already wrote: nobody ran against Boehner.

Fast forward to this weekend, where we've already seen a number of people announce that they're either "running for Speaker" or they intend to vote for someone other than the Speaker.  First were Thomas Massie (R-KY) and Jim Bridenstein (R-OK), who announced they wouldn't vote for Boehner.  Then Ted Yoho (R-FL) and Louis Gohmert (R-TX) both announce over the weekend that they're going to throw their names out there as alternatives to Boehner for Speaker.

This is a joke.  These guys aren't actually running against Boehner, and they know they aren't doing that.  If they wanted to do that, they should have done it in November, when they could have put their names in contention, forced secret ballot elections in the Republican Conference, and actually had a chance of showing their colleagues that they were tired of Speaker Boehner and wanted new leadership.  Did any of them do that?

No.

(…)

They're pandering at best. In reality, they're simply cowards who couldn't put together an alternate candidacy to the Speaker when the real election was held, and they have nothing to lose. Gohmert is the most senior of these guys, but he's destined to follow in the foot steps of another Texas Republican who never rose above chairing a subcommittee in the House. The other guys are freshmen and sophomores with no seniority, who don't expect to last in the House long enough to get any.
Additionally, as Ed Morrissey notes, if there were a serious challenge to Boehner it would not come from a wingnut like Louie Gohmert:
If this insurrection had a prayer of success, one would see people lining up to challenge Boehner. Instead, obvious choices like Trey Gowdy and Paul Ryan are repudiating the effort. Even if the rebels found a substantive challenger, the fundamentals of the Republican position won't change anyway. Obama still has to sign their legislation, including budgets, and the Speaker still has to work with Mitch McConnell in the Senate, who will be even more likely to call all the shots if Boehner gets toppled in a caucus fight. That's probably one good reason that the rebels can't find a substantive leader around which to rally — all of those who'd qualify wouldn't do anything much different than Boehner himself in the next 22 months, and none of them would trust the rebels to deliver the votes, especially after 2013-s abortive effort.
That last point is made somewhat ironic by the fact that, when you actually look at the way that Boehner has run the House over the past four years it's really quite obvious that he has done as much as he can to bend over backwards to appease the Tea Party crowd while at the same time actually trying to accomplish something. In each confrontation with the President and the Democratic Senate, Boehner took the hardest line position possible in negotiations to the point where the nation was brought to the brink of fiscal crisis numerous times over a very short period of time. In the most extreme case, he ended up following a course of action that led to a government shutdown that nobody in leadership thought was a good idea. It's true that, in the end, a deal was struck that didn't give the Tea Party everything it wanted, but that was something that anyone who understands how politics works would recognize as inevitable. Most importantly, though, on none of those occasions could the dissenters point to anything that they would have done differently that would have led to a different result. This time, the cause of discontent is supposedly the budget deal that was made during the 113th Congress's lame duck session, but, again, that deal was about the best the GOP was going to get and was necessary to clear the Fiscal Year 2015 budget from the agenda so that the new Congress would have the time to craft a budget for Fiscal Year 2016, a process that will have to begin no later than February if it is to be concluded in time for the end of the Fiscal Year in September. Given all of this, it seems rather apparent that the complaints about Boehner and the rest of the House Leadership are basically nonsense, and that this challenge will go about as well as the one two years ago did.