The GOP's Debt Ceiling Gamble
By choosing to go it alone on a debt ceiling plan, the GOP is taking a big risk.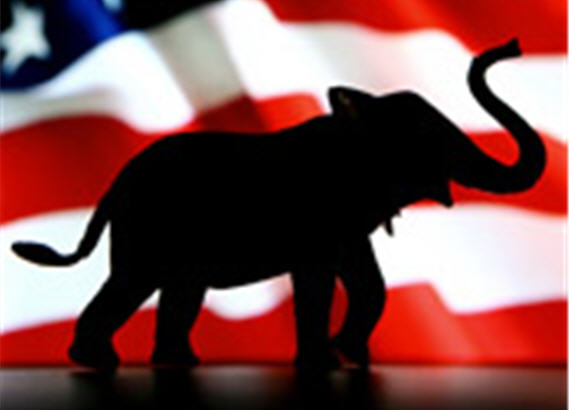 As MSNBC's First Read noted this morning, the House GOP is taking something of a risk in trying to go it alone on a debt ceiling deal, essentially daring the Senate and President Obama to call their bluff:
The interesting gamble Boehner is making with his two-step plan is this: He's counting on passing this in the House with Republicans only. For months, however, the House GOP leadership has quietly argued they need Democratic votes to a get plan passed in the House. But the purpose of the conference call yesterday with the House Republican conference was Boehner trying to talk as many of the rank-and-file to sign on with his plan as possible. The House GOP leadership knows if they can't pass Boehner's plan WITHOUT Democratic votes, the lose a lot of leverage. How big is the unofficial Bachmann caucus inside the GOP conference? Remember, she's against any debt ceiling raise. And this plan will not have a balanced budget amendment attached to it. Don't assume Boehner has the 217 Republican votes for his plan. If he does, it gives his plan a better chance.
Nate Silver makes a similar point:
In addition to Republicans who might defect for ideological reasons, some others might do so for electoral ones. Polling on the debt limit, which at earlier points had appeared to show a clear plurality of Americans against any increase, has now become highly ambiguous, with widely varying results depending on question wording. But both the debt limit increase and the spending cuts attached to it are likely to inspire mixed feelings in voters, and the roughly 75 Republicans serving in swing districts would need to consider the contours of the proposal carefully.

(…)

If the vote on Mr. Boehner's proposal fails, the risks to him are clear. It would presumably rattle markets, while making him look ineffectual. Most importantly, it would demonstrate that Republicans could not pass a bill, even through the House, without Democratic support, which would substantially reduce their leverage, as Mr. Boehner explicitly acknowledged in the conference call.

(…)

Meanwhile, although calling Mr. Obama's bluff on his stated refusal to accept a short-term increase might qualify as a tactical victory for Republicans, its longer-term implications are ambiguous. Polls show that the public has a lukewarm view, at best, of how Mr. Obama has handled the negotiations. But the ratings for Republicans are much worse, calling into question whether they would benefit from another round of negotiations next winter under the heat lamp of the presidential primaries. There are increasing suggestions in the polling that the public could tell both Mr. Obama and the Republican Congress to find a new line of work.
Ezra Klein, meanwhile, wonders if Republicans will be willing to take yes for an answer:
Late last week, pollster Mark Blumenthal summarized the "consistent findings" from the polling on the debt ceiling. First, he said, "Americans prefer a deal featuring a mix of tax hikes and spending cuts to a deal featuring just spending cuts." Second, "most of the surveys find strong sentiment in favor of compromise, especially among Democrats and independents." Finally, "the surveys all show Americans expressing significantly more confidence and trust in President Obama's handling of the issue than of either the Republican or Democratic leadership in Congress."

Republicans have leverage because the debt ceiling needs to be raised and it can't be raised without their support. But they don't have popular support behind their position or their leadership. They can push this up to the brink and win, because Democrats really, really, really don't want a debt-ceiling crisis that could set back the economy. But if they push it over the brink, they're likely to lose, as the public really, really doesn't want Congress to create an economic crisis that will set back the economy, and they're primed to blame the GOP if one does in fact come to pass.
I've got to say that I find myself baffled at the GOP's current strategy, and that of the Democrats for that matter. Putting together rival plans when you have no idea if the other side is going to be at all solicitous toward them strikes me as an incredible waste of time, and we don't really have all that much time left. For example, it's being reported that the GOP plan would essentially be a new version of "Cut, Cap and Balance" and include a future vote on the House's Balanced Budget Amendment.  Meanwhile, Harry Reid's plan reportedly includes $ 2.7 trillion in spending cuts, but at least $1 trillion of that is actually projected future savings from ending the war in Afghanistana and the American deployment in Iraq, exactly the kind of accounting gimmick that fiscal conservatives have rightfully condemned in the past.
Does anyone really see either of those plans getting real bipartisan support? I don't. Instead, what we're likely to see is a Mexican standoff with Reid and the Democrats and their plan on one side and Boehner and the Republicans and their plan on the other. At some point, they, and the President, are going to have to sit down and resume negotiations and coming up with something, perhaps a hybrid of the two plans, that can get through both houses of Congress. It won't be pretty, and it nobody will entirely like it, but that's the short definition of compromise.
As for the Republicans, yes I think they do have the most to lose if there's no  deal in the end and the government is forced to figure out how to pay bills that it cannot possibly cover with the receipts that are coming in. The public has said repeatedly that they want compromise in Washington, not just on this issue, but on a whole host of others that the parties regularly fight over. So far at least, the GOP is losing the PR war here and they're starting to look like the party that's refusing to compromise.
Friday's decision by John Boehner to cut off negotiations with the White House reminded me of the breakdown in negotiations between Newt Gingrich and the Clinton Administration back in 1995-96, and we all know who got blamed for that. Boehner was around back then, so I'm sure he's aware of the risks that he's taking. The problem is, as so many others have noted, that he doesn't have the same control over his caucus that Newt Gingrich had over the Class of 1994. To the extent there's a sense of loyalty among the Freshman GOP House members, its to the Tea Party, or maybe to Eric Cantor, but is certainly isn't to John Boehner, and he knows it. Boehner has been backed into a corner here, and he's been forced to make choices that could end up hurting the GOP in the end.