The House GOP Can't Even Agree On A Resolution Honoring Pope Francis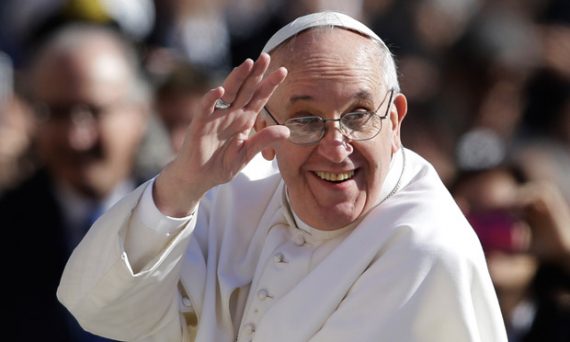 House Republicans can't even muster the votes to pass a banal resolution honoring Pope Francis:
How partisan and unproductive is the current Congress?

The epitome of its dysfunction may have arrived with last week's wrap-up before a five-week summer recess, as House Republicans failed to pass their own scaled-back bill on the border children crisis on Thursday. Realizing how bad that looked, lawmakers returned Friday to pass an even more severe bill that had no chance of going anywhere.

But a better gauge of the problem may be the fact that despite the almost universal popularity of Pope Francis, the House of Representatives was unable to muster enough bipartisan support to pass a resolution lauding Francis' election — nearly 18 months ago.

The bill, H.Res. 440, seems straightforward, as it aims to congratulate Francis on his March 2013 election and recognize "his inspirational statements and actions."

The main obstacle, however, is that Francis may be viewed as "too liberal" by many political conservatives, a belief that has also unsettled many Catholic conservatives.

An unnamed Republican backer of the legislation told The Hill newspaper last week that the pope is "sounding like [President Barack] Obama" because he "talks about equality" and he has blasted "trickle-down economics," a favorite theory of many conservatives and "politically charged," as the GOP official said.

Even though the bill has New York Rep. Peter King, a reliably conservative Republican, as a chief co-sponsor (along with Democrat John Larson of Connecticut, also a Catholic), it has failed to catch on with the GOP. The resolution has 223 co-sponsors altogether, but just 20 are Republicans.

The resolution was introduced in December but has been stuck in the House Foreign Affairs Committee. Larson urged Speaker John Boehner, a Republican and a Catholic who earlier this year issued a formal invitation to Francis to address a joint session of Congress when the pope is expected to visit the U.S. next year, to bring the resolution to the floor before Friday's adjournment, but it didn't happen.
Quite honestly, it wouldn't surprise me at all that  Republican resistance to a resolution like this is rooted in what has been reported about Francis's statements on economics and income inequality. The fact that everything that's he's said is perfectly in line with long-standing Catholic positions on these issues, and that they have also been said by his predecessors including Pope Emeritus Benedict XVI and St. Pope John Paul II doesn't seem to matter either to these Republicans, or to the conservatives such as Rush Limbaugh who have criticized the Pope when these comments have become public.
The other side of the coin, of course, is that Congress has become so divided thanks to Republican intransigence that they can't even agree on a essentially meaningless resolution saying that the new Pope is a nice guy.
H/T: Andrew Sullivan