The Insurrection May Not Be Over
There are multiple ongoing plots and reasonable fear of infiltration of security forces.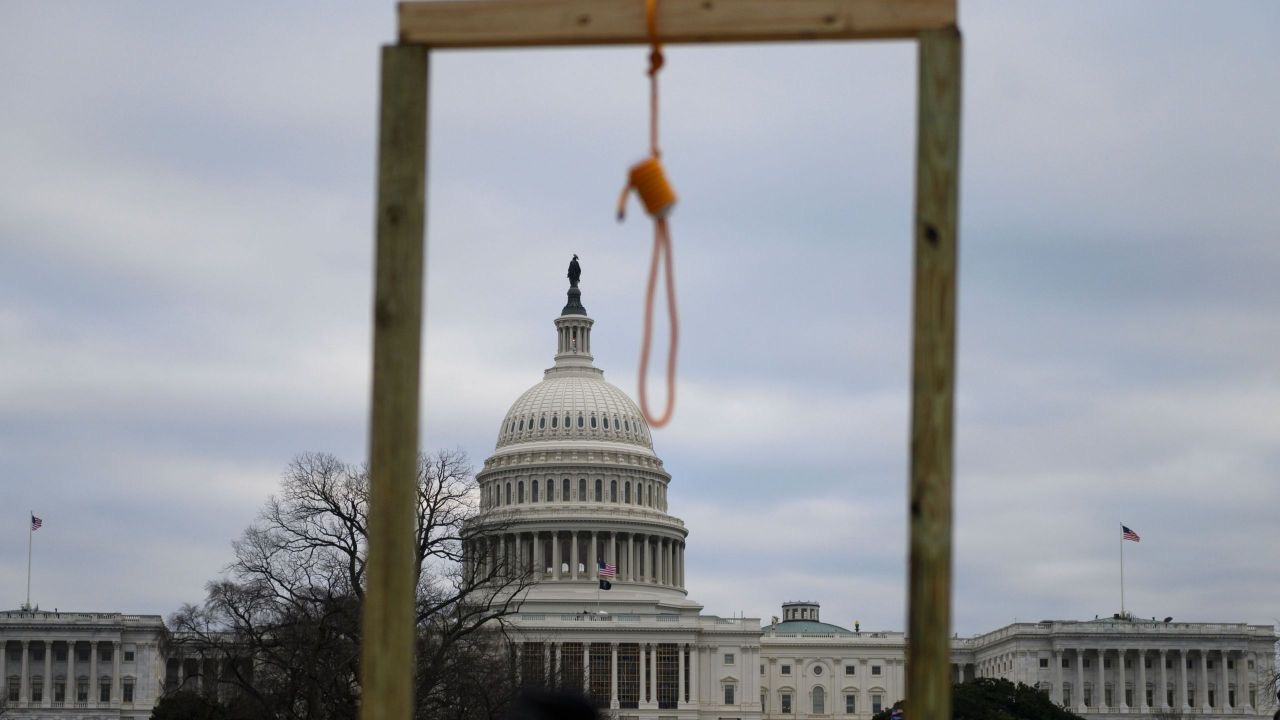 Less than a week ago, hundreds of people stormed the US Capitol, killing a police officer and four others. Had security not gotten Members to safety or had pipe bombs some brought with them been successfully deployed, it could have been far worse. There are signs, however, that this is the first act in a larger assault on American democracy.
HuffPo's Matt Fuller ("House Democrats Briefed On 3 Terrifying Plots To Overthrow Government"):
Capitol Police briefed Democrats on Monday night about three more potentially gruesome demonstrations planned in the coming days, with one plot to encircle the U.S. Capitol and assassinate Democrats and some Republicans.

On a private call Monday night, new leaders of the Capitol Police told House Democrats they were closely monitoring three separate plans that could pose serious threats to members of Congress as Washington prepares for Democrat Joe Biden's presidential inauguration on Jan. 20.

The first is a demonstration billed as the "largest armed protest ever to take place on American soil."

Another is a protest in honor of Ashli Babbitt, the woman killed while trying to climb into the Speaker's Lobby during Wednesday's pro-Trump siege of the Capitol.

And another demonstration, which three members said was by far the most concerning plot, would involve insurrectionists forming a perimeter around the Capitol, the White House and the Supreme Court, and then blocking Democrats from entering the Capitol ― perhaps even killing them ― so that Republicans could take control of the government.

The members of Congress whom HuffPost spoke to Monday night were extremely concerned by the call.
No kidding. This is in addition to previously-reported plans to conduct "armed protests" at all 50 state capitols.
Ironically, we're not supposed to know this but Congress is not great at keeping secrets:
Officials on the call warned lawmakers about sharing too much information with the media, saying that divulging specific dates, times and countermeasures could aid the organizers of the plots. HuffPost is not disclosing certain information, such as who appears to be organizing these plots and when they are to take place.

One member was explicit that these groups were trying to get journalists to report on their demonstrations.

"Some of their main communications to organize these have been cut off, so they're purposely trying to get the media to report on this as a way to further disseminate information and to attract additional support for their attacks," this member said.
The good news is that, unlike last week, we seem prepared.
Democrats were told that the Capitol Police and the National Guard were preparing for potentially tens of thousands of armed protesters coming to Washington and were establishing rules of engagement for warfare. In general, the military and police don't plan to shoot anyone until one of the rioters fires, but there could be exceptions.

Lawmakers were told that the plot to encircle the Capitol also included plans to surround the White House ― so that no one could harm Trump ― and the Supreme Court, simply to shut down the courts. The plan to surround the Capitol includes assassinating Democrats as well as Republicans who didn't support Trump's effort to overturn the election ― and allowing other Republicans to enter the building and control government.
Alas, there's reason to fear that not all of the security forces are on our side.
Alexi McCammond for Axios ("Some members of Congress fear the Capitol mob attack was an inside job"):
An information gap following the Capitol assault has fueled fears among members of Congress that it was an inside job involving the Capitol Police.

Why it matters: The mass resignations by the Capitol Police chief and Senate and House sergeant-at-arms, coupled with few briefings by federal officials like the FBI, have left important questions unanswered and a lone Democratic congressman from Ohio trying to fill in the gaps.

Rep. Tim Ryan, chairman of a House Appropriations subcommittee overseeing the Capitol Police, has held three virtual briefings to update reporters.

On Monday, he shared the shocking news that two Capitol Police officers had been suspended and 10-15 were under investigation for their behavior during the riot.

"One was the selfie officer, and another was an officer who put a MAGA hat on and started directing people around," Ryan said.

There hasn't been an official briefing or press conference from the Capitol Police since the attack.

A House Democratic aide told Axios that among other things discussed on their weekly caucus call this afternoon, members expressed "lots of anger and frustration about national security failures."

Rep. Jim Clyburn (D-S.C.) said Friday that something "untoward" had occurred after rioters seemingly went looking for him at an unmarked office separate from his main location in Statuary Hall emblazoned with his name.
And, of course, there's a near certainty that the National Guard has more than its fair share of Trump supporters, QAnon cultists, and white supremacists. One would like to presume that they'll follow their oath but there's no guarantee all of them will.
More chilling still, there's fear that some Members are also insurrectionists. Not in the rhetorical sense of going along with the "stolen election" nonsense and thus fanning the flames but in the aiding and abetting sense. Fuller again:
One topic of discussion was the need to put every member of Congress through a metal detector before the inauguration. A member on the call told HuffPost that there was an "eyes-wide-open realization" that Capitol Police needed to take precautions against "all these members who were in league with the insurrectionists who love to carry their guns."

"You can't just let them bypass security and walk right up to [Joe] Biden and [Kamala] Harris at inauguration," this lawmaker told HuffPost.
Reporting for the Washington Post ("Several Capitol police officers suspended, more than a dozen under investigation over actions related to rally, riot"), Aaron C. Davis, Rebecca Tan, and Beth Reinhard add:
Several U.S. Capitol Police officers have been suspended and more than a dozen others are under investigation for suspected involvement with or inappropriate support for the demonstration last week that turned into a deadly riot at the Capitol, according to members of Congress, police officials and staff members briefed on the developments.

Eight separate investigations have been launched into the actions of Capitol officers, according to one congressional aide who spoke on the condition of anonymity to describe the status of the internal review.

In one of the cases, officers had posted what Capitol Police investigators found to be messages showing support for the rally on Wednesday that preceded the attack on the complex, including touting President Trump's baseless contention that the election had been stolen through voter fraud, the aide said.

Investigators in another instance found that a Capitol officer had posted "inappropriate" images of President-elect Joe Biden on a social media account. The aide declined to describe the photographs.

The scrutiny of the Capitol Police comes amid intensifying recriminations over why the complex was insufficiently protected when thousands of Trump supporters converged on Washington to protest the congressional action to certify Biden's win.

On Sunday, former Capitol police chief Steven Sund, who resigned after the attack, told The Washington Post in an interview that congressional security officials rebuffed his efforts to put the D.C. National Guard on standby before the joint session.
We need to be careful in lumping support for Trump or even support for the stolen election conspiracy with violence. People, even law enforcement officers and military personnel, have a right to hold strange beliefs. Still, these people should be thoroughly investigated to ensure they're trustworthy.
The bottom line, though, is that as shocking as Wednesday's rioting was it may well be the tip of the iceberg rather than the culmination of years of rabble rousing and conspiracy mongering.