The Leaderless GOP
The Republican Party is not really a thing.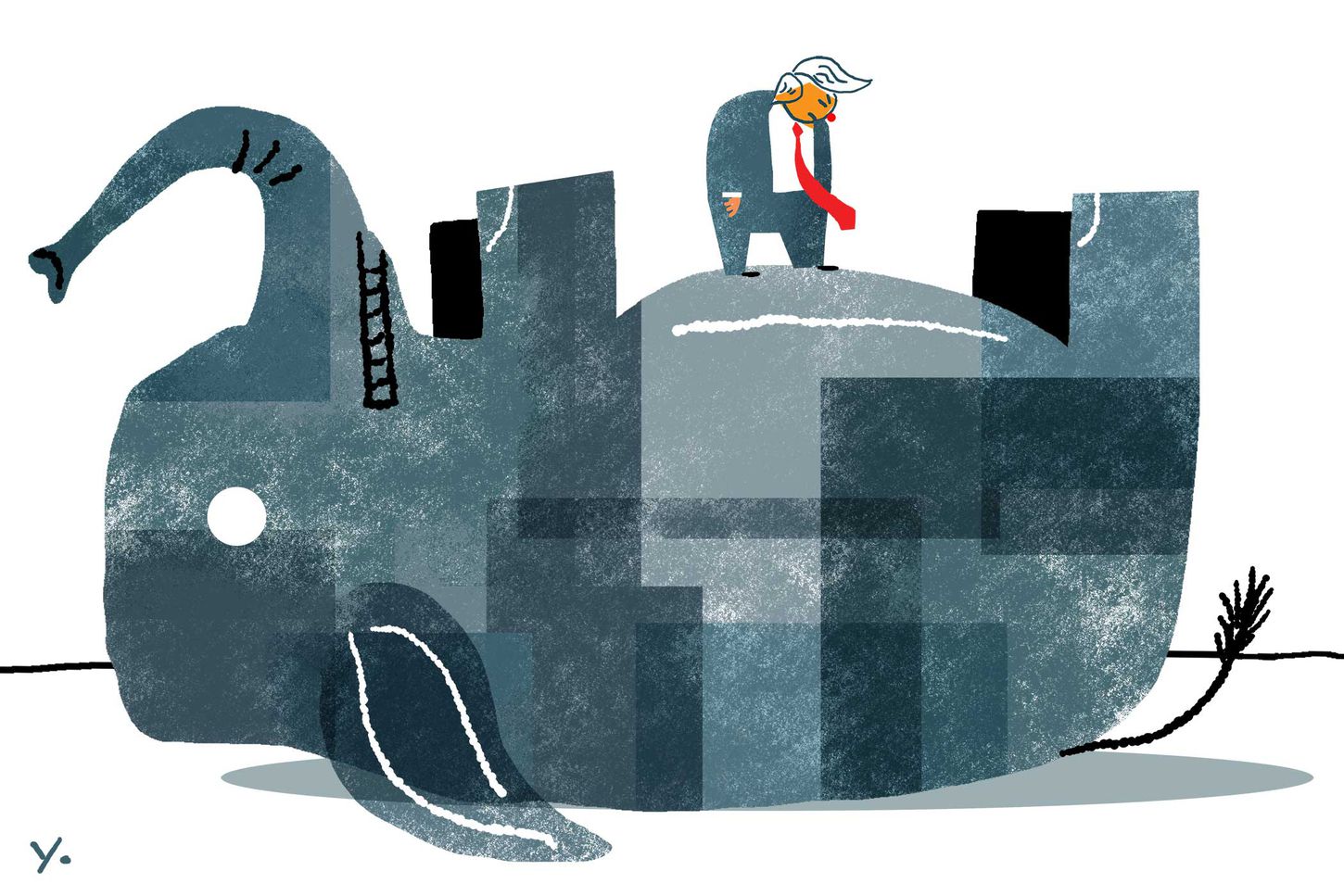 Two stories highlighted today at YahooNews exemplify a point that Steven Taylor and I have both been stressing about the nature of American political parties.
The first, from Tim Reid of Reuters ("Exclusive: Dozens of former Bush officials leave Republican Party, calling it 'Trump cult'"):
Dozens of Republicans in former President George W. Bush's administration are leaving the party, dismayed by a failure of many elected Republicans to disown Donald Trump after his false claims of election fraud sparked a deadly storming of the U.S. Capitol last month.

These officials, some who served in the highest echelons of the Bush administration, said they had hoped that a Trump defeat would lead party leaders to move on from the former president and denounce his baseless claims that the November presidential election was stolen.

But with most Republican lawmakers sticking to Trump, these officials say they no longer recognize the party they served. Some have ended their membership, others are letting it lapse while a few are newly registered as independents, according to a dozen former Bush officials who spoke with Reuters.

"The Republican Party as I knew it no longer exists. I'd call it the cult of Trump," said Jimmy Gurulé, who was Undersecretary of the Treasury for Terrorism and Financial Intelligence in the Bush administration.

Kristopher Purcell, who worked in the Bush White House's communications office for six years, said roughly 60 to 70 former Bush officials have decided to leave the party or are cutting ties with it, from conversations he has been having. "The number is growing every day," Purcell said.

Their defection from the Republican Party after a lifetime of service for many is another clear sign of how a growing intraparty conflict over Trump and his legacy is fracturing it.

The party is currently caught between disaffected moderate Republicans and independents disgusted by the hold Trump still has over elected officials, and Trump's fervently loyal base. Without the enthusiastic support of both groups, the party will struggle to win national elections, according to polling, Republican officials and strategists.
The second, from Annie Karni and Mike Baker at the NYT ("An Emboldened Extremist Wing Flexes Its Power in a Leaderless GOP") starts off amplifying the first story:
Knute Buehler, who led Oregon's Republican ticket as the candidate for governor in 2018, watched with growing alarm in recent weeks as Republicans around the nation challenged the reliability of the presidential election results.

Then he watched the Jan. 6 siege at the U.S. Capitol in horror. And then, to his astonishment, Republican Party officials in his own state embraced the conspiracy theory that the attack was actually a left-wing "false flag" plot to frame Trump supporters.

The night after his party's leadership passed a formal resolution promoting the false flag theory, Buehler cracked open a local microbrew and filed to change his registration from Republican to independent.
But, as the headline suggests, there's a major plot twist:
His unhappy exit highlighted one facet of the upheaval now underway in the GOP: It has become a leaderless party, with veterans like Buehler stepping away, luminaries like Sen. Rob Portman of Ohio retiring, far-right extremists like Rep. Marjorie Taylor Greene of Georgia building a brand on a web of dangerous conspiracy theories, and pro-Trump Republicans at war with other conservatives who want to look beyond the former president to the future.

With no dominant leader other than the deplatformed one-term president, a radical right movement that became emboldened under former President Donald Trump has been maneuvering for more power, and ascending in different states and congressional districts. More moderate Republicans feel increasingly under attack, but so far have made little progress in galvanizing voters, donors or new recruits for office to push back against extremism.

Instead, in Arizona, the state Republican Party has brazenly punished dissent, formally censuring three of its own: Gov. Doug Ducey, former Sen. Jeff Flake and Cindy McCain, the widow of former Sen. John McCain. The party cited their criticisms of Trump and their defenses of the state's election process.

In Wyoming, Rep. Matt Gaetz, R-Fla., headlined a rally Thursday to denounce Rep. Liz Cheney for her vote to impeach Trump. Joining Gaetz by phone hookup was Donald Trump Jr., the former president's son, who has been working to unseat Cheney and replace her with someone he believes better represents the views of her constituents — in other words, fealty to his father.

In Kentucky, grassroots Republicans tried to push the state party to pass a resolution urging Sen. Mitch McConnell, the minority leader, to fully support Trump in next month's impeachment trial. The effort failed.

And in Michigan, Meshawn Maddock, a Trump supporter who pushed false claims about voter fraud and organized buses of Republicans from the state to attend the Jan. 6 rally in Washington, is running unopposed to become the new co-chair of the state party. While marching from the Ellipse to the Capitol on Jan. 6, Maddock praised the "most incredible crowd and sea of people I've ever worked with."
The common theme is that the Republican Party is currently being dominated by what were formerly fringe elements and the Old Guard isn't happy about it. But, really, the story is that "the Republican Party" isn't really a thing. Or, at least, it's not one thing.
As I observed on Twitter this morning in instant reaction to the first of these reports, "It's not clear what this means in practice. Have they joined the Democratic Party, the only other viable political party in our system? Are they forming an alternative party? The report doesn't say."
I don't mean that as criticism. It's just that "leaving the Republican Party" really has no meaning in and of itself.
Using myself as an example, while I have lived in more than my fair share of states, I've never been in one that had party registration. Still, I identified with and regularly voted for Republican candidates for most of my political life.
I was increasingly disenchanted with the GOP well before the rise of the Tea Party, or even before Sarah Palin was selected as John McCain's running mate. But, for all intents and purposes, I remained a Republican, voting for the party's nominees.
While I voted in the 2016 Republican primaries to signal my displeasure for the seemingly inevitable nomination of Donald Trump, I was for all intents and purposes an ex-Republican that cycle, in that I was sure that I wouldn't vote for Trump. Because of a deep-seated enmity for the Democratic nominee, it took a long time for me to decide to vote for her but, ultimately, I did.
I don't think of myself as a Democrat, for both tribal and ideological reasons, but I'm for all intent and purposes a Democrat these days, having voted for their presidential nominee for two straight cycles and exclusively for their nominees for Congressional and gubernatorial races as well.
The former Bush officials had more stature in the GOP than I do but their "membership" is equally meaningless. If they're, to coin a phrase, Former Republicans in Name Only—that is, continuing to donate to and vote for Republicans while bitching about it—they're, for all intents and purposes, still Republicans. If they start organizing for and voting Democrats while refusing to wear that mantle they, like me, are for all intents and purposes Democrats. And if they sit on the sidelines and pout about how things used to be when Reagan was still alive, they're simply non-factors.
Now, it's possible that they'll try to start up an alternative party. For reasons we've beat to death here over the years, that's all but doomed to be Quixotic.
Conversely, though, the censures and condemnations of the Old Guard Republicans who have dared to speak out against their beloved cult leader by New Establishment Trumpists are similarly meaningless.
Liz Cheney was just re-elected to another two-year House term. Unless she's defeated in the 2022 primaries, she'll be the Republican nominee in another two years whether the Wyoming Republican establishment likes it or not. And, so long as those in the Congressional Republican Caucus allow it, she'll retain her leadership role.
The same applies in spades to Mitch McConnell. He's just secured another six-year term. It's possible that his caucus will take away his leadership position. But he's been around long enough and is shrewd enough a politician that he'll almost certainly push no further than he can get away with.
There's no theoretical reason that a more moderate faction with a more optimistic and broader appeal couldn't emerge and take the party-in-government back over. Certainly, it would be able to attract elite donor support. It's just not at all clear what message would animate such a movement.
Because of that, the Trump/Tea Party/Freedom Caucus/populist wing of the party is likely to remain ascendant for awhile. They have managed to animate the base of primary voters, who have voted out or scared into acquiescence most of the Old Guard.
The Establishment has some influence over who it promotes and funds but, ultimately, no control over which candidates get nominated. The bottom line is that "the Republican Party" is largely whatever people who show up to Republican primaries make it.