The SEC's Dominance of College Sports
How dominant is the Southeastern Conference? It's won more titles in the big sports since 2005 than all other conferences combined.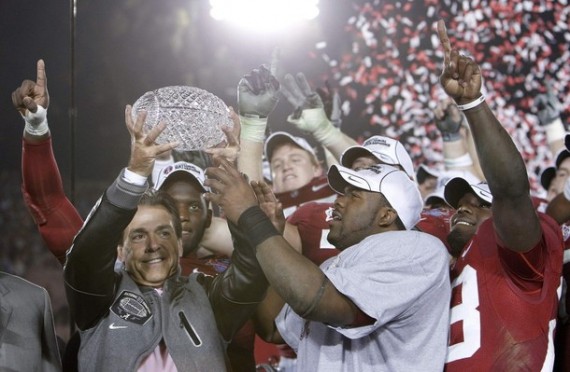 How dominant is the Southeastern Conference? Two columns written yesterday on the eve of the College World Series championship game, in which South Carolina was poised to win its third straight title (it didn't; it lost last night in the championship game to Arizona of the PAC-12) look at the tape.
Birmingham News columnist Don Kausler ("The land of SECond chances is thriving") summarizes the SEC's big year:
It's been a banner year for banners in the Southeastern Conference.

The powerful league can tie its record of 10 national championships in a single academic year if South Carolina bounces back to win the College World Series for the third consecutive year. The record was set in 1998-99.

If you lost track after Alabama defeated LSU in an All-SEC national championship football game, here are the other national champs from the SEC this year: Alabama in gymnastics, women's golf and softball; Kentucky in men's basketball; Florida in women's tennis, men's indoor track and field and men's outdoor track and field; and LSU in women's outdoor track and field. Five of those titles have come in the past month.

Another baseball title would give the SEC championships in half of the 20 sports in which it sponsors championships.
It's not just this year. His colleague Jon Solomon ("SEC dominance keeps redefining what's a dynasty") notes that it's been a pretty good streak.
College athletics has never witnessed a run like this by one conference in the most prestigious sports.

If South Carolina wins its third straight College World Series, the SEC would have 13 of 21 national titles in baseball, football and men's basketball since 2005-06. The scoreboard in those sports would read: SEC 13, Big 12 2, ACC 2, Pac-12 2, Big East 1, WAC 1, Big Ten 0.

The SEC could have a clean sweep of 2011-12 trophies in football, men's basketball and baseball. The last time that happened was the Pac-8 in 1972-73, with USC winning in football and baseball and UCLA dominating in basketball. Throw in women's basketball and, if South Carolina wins in baseball, the SEC would have 15 of 28 championships in the so-called Big Four sports since 2005-06.

Seven of 12 SEC members have won a national championship in football, men's basketball, women's basketball or baseball since 2005-06. Think about that.

The Big Ten hasn't won one in any of those sports since 2002-03. Yet in the SEC, only Ole Miss, Mississippi State, Georgia, Arkansas and Vanderbilt are without a Big Four national title in the past seven years. Even newcomer Texas A&M won the women's basketball championship in 2011.
Kausler notes an interesting quirk that makes this year's run even more impressive:
More than half of the national champions from the SEC failed to win the league championship.

Alabama, of course, didn't even win its division in football. The Crimson Tide finished second behind Florida in gymnastics. In women's golf, Alabama finished behind Auburn and Arkansas. And Arkansas was the SEC indoor and outdoor track champion. Don't forget: In men's basketball, Kentucky won the regular-season title but lost to Vanderbilt in the SEC tournament championship game.

And in baseball, South Carolina was neither the regular-season champion nor the tournament champion. LSU won the regular-season title; Mississippi State won the tournament.
So, what's going on? How does one conference, consisting until this year's expansion of schools from small (except Florida), poor states, manage to so dominate the competition? Solomon follows the money:
Believe it or not, there used to be balance.

From 1999-2000 to 2004-05, the SEC won two national titles in the Big Four sports, both by LSU (football and baseball). The Big East won eight in that period, followed by four each from the ACC and Big 12, and two apiece from the Big Ten, Pac-10 and SEC.

The SEC's culture was perfectly conditioned for the changing climate in the past decade that saw football drive revenue and major decisions. More money gives schools more comfort to invest into other sports.

When this SEC dynasty started in 2005-06, only two SEC schools ranked in the top 10 nationally in athletic revenue: No. 5 Florida ($82.4 million) and No. 6 Georgia ($79.2 million). By 2010-11, the SEC made up half of the top 10: No. 3 Alabama ($124.5 million), No. 4 Florida ($123.5 million), No. 7 LSU ($107.3 million), No. 8 Tennessee ($104.4 million) and No. 10 Auburn (104 million). Nine SEC schools generated more money in '10-11 than the ACC's No. 1 revenue-producer, Florida State.

The gap between the haves and have-nots will only accelerate thanks to football playoff money and TV deals. By avoiding crippling NCAA sanctions and adapting to the changing college landscape, the SEC will make or break itself. Its advantages aren't disappearing.
There's no doubt that the SEC is a football conference. Professional sports is relatively new to the southeast and many of the SEC football powers are in states with no NFL franchise. So, Alabama, with only 4.3 million people, can support two schools, Alabama and Auburn, that contend on an annual basis for the college football championship. And, yes, the SEC is the top conference in terms of revenue, if only barely:
Total Revenue By Conference
SEC: $1,066,935,731
Big Ten: $966,799,125
Big 12: $890,308,681
ACC: $753,069,826
Pac-10: $648,928,528

Average Team Revenue By Conference
SEC: $88,911,311
Big Ten: $87,890,830
Big 12: $74,192,390
Pac-10: $64,892,853
ACC: $62,755,819
But, surely, the gap between the SEC, Big Ten, and Big 12 isn't so wide as to guarantee SEC dominance? Further, teams compete, not conferences. The University of Texas (Big 12) is far and away #1 in terms of revenue, followed by Ohio State (Big Ten). Michigan and Penn State (both Big Ten) are #5 and #6 and Oklahoma (Big 12) is #8. The money matters but it doesn't tell the whole story.