The Shameful Treatment Of Bradley Manning
Pfc. Bradley Manning is being treated worse than a Prisoner Of War, and he hasn't been convicted of a crime yet.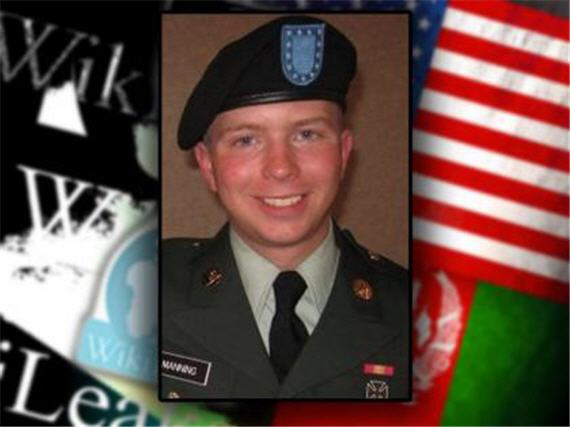 As James Joyner noted yesterday, Pfc. Bradley Manning, currently being held in the brig on the Marine base at Quantico, Virginia, was forced to spend most of two nights this week naked in his cell for reasons that were never made clear. Today,  The New York Times reports that that this will be a permanent condition for Manning for the foreseeable future:
WASHINGTON — Pfc. Bradley E. Manning, the Army intelligence analyst accused of leaking government files to WikiLeaks, will be stripped of his clothing every night as a "precautionary measure" to prevent him from injuring himself, an official at the Marine brig at Quantico, Va., said on Friday.

Private Manning will also be required to stand outside his cell naked during a morning inspection, after which his clothing will be returned to him, said a Marine spokesman, First Lt. Brian Villiard.

"Because of recent circumstances, the underwear was taken away from him as a precaution to ensure that he did not injure himself," Lieutenant Villiard said. "The brig commander has a duty and responsibility to ensure the safety and well-being of the detainees and to make sure that they are able to stand trial."

Private Manning is a maximum-security detainee under "prevention of injury watch," a special set of restrictions — a step his supporters, who contend that he is not suicidal, have said is unjustified. He has not been elevated to the more restrictive "suicide watch" conditions.

Lieutenant Villiard said the new rule on clothing, which would continue indefinitely, had been imposed by the brig commander, Chief Warrant Officer Denise Barnes. He said that he was not allowed to explain what prompted it "because to discuss the details would be a violation of Manning's privacy."
David Coombs, Manning's chief defense lawyer rejected the "mental health" justification outright:
There can be no conceivable justification for requiring a soldier to surrender all his clothing, remain naked in his cell for seven hours, and then stand at attention the subsequent morning.  This treatment is even more degrading considering that PFC Manning is being monitored — both by direct observation and by video — at all times. The defense was informed by Brig officials that the decision to strip PFC Manning of all his clothing was made without consulting any of the Brig's mental health providers.
As Coombs went on to say in a phone interview with the Times that if brig officials truly beleived that Manning's mental health was an issue, then the appropriate response is to get him treatment, not to force him to be naked seven hours a day.
As Glenn Greenwald notes, there really only seems to be one purpose behind what Manning is being subjected to:
Let's review Manning's detention over the last nine straight months: 23-hour/day solitary confinement; barred even from exercising in his cell; one hour total outside his cell per day where he's allowed to walk around in circles in a room alone while shackled, and is returned to his cell the minute he stops walking; forced to respond to guards' inquiries literally every 5 minutes, all day, everyday; and awakened at night each time he is curled up in the corner of his bed or otherwise outside the guards' full view.  Is there anyone who doubts that these measures — and especially this prolonged forced nudity — are punitive and designed to further erode his mental health, physical health and will?  As The Guardian reported last year, forced nudity is almost certainly a breach of the Geneva Conventions; the Conventions do not technically apply to Manning, as he is not a prisoner of war, but they certainly establish the minimal protections to which all detainees — let alone citizens convicted of nothing — are entitled.
Moreover, Greenwald points out, correctly I think, the media seems to be giving the Obama Administration a pass here:
I'll say this again:  just fathom the contrived, shrieking uproar from opportunistic Democratic politicians and their loyalists if it had been George Bush and Dick Cheney — on U.S. soil — subjecting a whistle-blowing member of the U.S. military to these repressive conditions without being convicted of anything, charging him with a capital offense that statutorily carries the death penalty, and then forcing him to remain nude every night and stand naked for inspection outside his cell.  Feigning concern over detainee abuse for partisan gain is only slightly less repellent than the treatment to which Manning is being subjected.
Indeed. It's understandable, to be honest, why the right wouldn't care all that much about how Private Manning is being treated. If this were happening under a Republican, though, the left would be united in outrage. Now, their silence is telling
Make no mistake about it. I do not consider Bradley Manning a hero in any sense of the word. Even if it were the case that much of the material that Manning stole from military computers should not have been classified, or really wasn't all that important (and much of it wasn't in the end), that isn't a decision that a Private in the Army has a right to make. If the charges against him are true, he violated orders, accessed systems he had no right to access, and stole information that he had no right to take off base. If he's convicted of these charges, he deserves to be punished to the fullest extent of the law. While he's awaiting trial, though, and even after he's convicted, he still must be treated humanely and, at present, Manning is receiving worse treatment than a Prisoner Of War would, and the only purpose behind it seems to be to break him psychologically. That's simply unacceptable.