The Trump Administration and the G20
More stepping back from free trade and the established global economic order.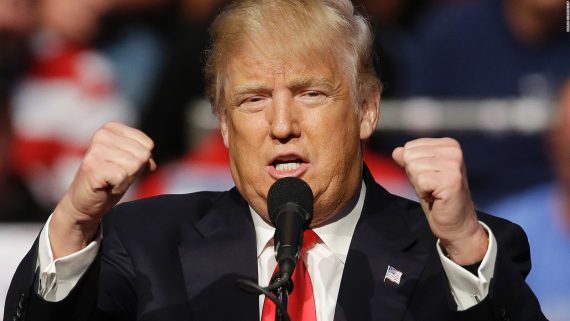 Via WaPo :  New rifts emerge as Trump administration rejects free trade statement at G-20 meeting
The Trump administration on Saturday rejected a statement from other leading economies that warned against the perils of trade protectionism, the latest sign of how the administration's more combative approach to diplomacy could create rifts with U.S. allies and leave traditional partners in the dark about the direction of U.S. policy.

Treasury Secretary Steven Mnuchin, appearing at a gathering of economic ministers and central bankers from the 20 largest economies, rebuffed multiple entreaties from German officials to include in the meeting's joint statement language emphasizing the importance of free trade and that it should be conducted in a "rules based" manner, following existing standards and agreements.

By rejecting language that would have said the United States is opposed to protectionism, the White House sent a clear signal that it would not accept existing trade norms and could pursue a more antagonistic approach with trading partners around the world. Such language has been considered ordinary and non-controversial in recent meetings of the Group of 20.
So, we are now working publicly at a major international forum to undermine the prevailing global economic order.  For whatever criticisms that one could level, and all systems have flaws and problems, it is a system that has maintained peace at the global level since World War II (the Cold War was, mercifully, cold) and has seen the growth of market based economies across the world.
Meanwhile, it would appear that "making American great again" means retreating from global leadership and insulting key allies:
For many years, the United States has been the country rallying other nations to the cause of free trade and common language in the communiqués that follow meetings of economic ministers and central banks. Several European officials and one former U.S. official who had attended past G-20 meetings said it was the first time the United States had blocked such an effort.

The move follows new strains in the U.S. relationship with Britain and Germany, traditionally two of the country's most steadfast allies.
This has not been a good week for the US in terms of international relations (see, also, a strange appearance with the the Irish PM, making up stories about the British and a very weird visit with the German Chancellor), and it continues to underscore the amateur nature of this administration.  Supporters can gleefully note that Trump is acting as a disruptive force to the status quo (you know, as conservatives as so known to do…) but I would counter by noting that disruption without a strategy or understanding of the implications of those disruptions is dangerous, not clever (and "getting better deals" is not a strategy).
Gary Schmitt, co-director of the Center for Security Studies at the American Enterprise Institute, said Trump could be sending a signal to other leaders that this is a negotiation, and the actions by Mnuchin at the meeting are an opening bid.

"You make people come to you by laying out a strident position," Schmitt said, summing up the approach Trump has used for years in real estate and business. "But over the long term, it's much harder to hold to that. These are people who lead countries and have other trade agreements. The U.S. is going to learn it's not as in-the-driver-seat as they think."
This isn't a real estate deal, a licensing agreement for use of a trademark, nor a reality TV show contract.  This is global economics and international diplomacy.
The White House has said it thinks existing U.S. trade deals are unfair to American workers because the deals allow countries to lure away American jobs and send their goods to the United States at unfairly low prices. In addition to scrapping the Asian trade deal, Trump also has said he will renegotiate — or dump — the North American Free Trade Agreement.

Critics of this approach have said it could isolate the U.S. economy, make goods more expensive for Americans and hurt American companies that rely on exporting their goods around the world.

The angst about Trump's approach quickly became the backdrop at the Baden-Baden meeting, and many foreign officials came seeking additional clarity from Mnuchin, whom most had never met. Mnuchin had spent his career in part at Goldman Sachs, starting a hedge fund and working as a Hollywood producer. They wanted to know whether he would veer from Trump on some of the economic nationalism they had heard coming from the White House.

He wouldn't, they quickly learned.

[…]

"My primary focus is on economic growth in the United States," Mnuchin said after meeting with Schäuble in Berlin. "I think that economic growth in the United States is good for us and good for the other major economies in the world."
This is ultimately true, but to approach the subject from the position that all the deals are bad and have disadvantaged the US is hardly a productive way to deal with long-standing allies.
Some positives from the piece:
Still, Mnuchin agreed to numerous meetings as he said he wanted to develop relationships with his foreign counterparts. He met with top officials from France, South Korea, Japan, China, Saudi Arabia, the European Central Bank, Britain, Germany and Argentina, among others. His first international trip was a blizzard of bilateral discussions, with everyone trying to size up the new treasury secretary.

Despite the reservations about a variety of Trump's positions, numerous officials said they were impressed with Mnuchin's presentation and command of issues. So far, he is one of the only members of Trump's Cabinet who has sought to develop relationships with other foreign leaders. They still don't know whether they will be able to influence his thinking, but they feel he has a willingness to listen, several G-20 attendees said.

"To a person, they have said they have been pleased with the way he is coming at issues," Morneau said. "He is very constructive and talking about good relationships with all of his international counterparts."
Although, "So far, he is one of the only members of Trump's Cabinet who has sought to develop relationships with other foreign leaders" is a bit of a serious critique of the rest of the cabinet.