The TV Doctors and the Problem of Cable "News"
Cable news "experts" frequently aren't.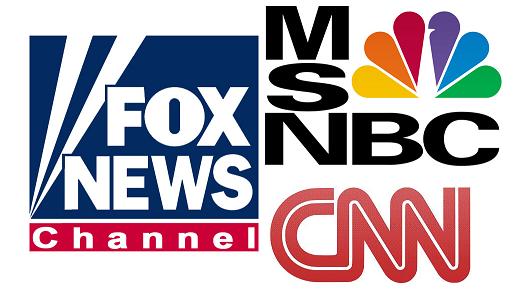 WaPo asks a really good question: Dr. Phil and Dr. Oz aren't coronavirus experts. So why are they talking about it on TV news? This was after Laura Ingraham has Phil McGraw (Dr. Phil) on to discuss opening up the country and Mehmet Oz (Dr. Oz) was on Sean Hannity talking about the need to "our mojo back" and specifically about schools being "a very appetizing opportunity" (which is one of the creepier phrases I have heard in a while).
Of course, McGraw (a psychologist who is no longer licensed to practice) and Oz (a heart surgeon by training) are both media personalities made popular on the Oprah Winfrey Show some years ago and who have had syndicated afternoon talk shows for years.
Neither is an epidemiologist nor expert in infectious diseases or public health. Oz does have an MD.
The article also notes that early (March 3) in this process, Drew Pinksy (Dr. Drew) was dismissing the threat of Covid-19 on Fox News Channel (he has later apologized).
I am surprised Dr. Laura hasn't made an appearance.
(If I ever start calling myself "Dr. Steve" please get me the help I obviously need).
The WaPo piece answers its own question pretty effectively:
Television rewards the ability to speak in sound bites, and to opine confidently and comfortably on camera, regardless of expertise. Even before television, the practice of elevating the famous to presumed expert status was a long and checkered practice; advertisements have traded on famous names for hundreds of years, whether or not the celebrity had any special knowledge or experience. More recently, cable TV networks have employed pundits, including journalists, with thin credentials to opine about the news of the day, usually about political topics.
All of this underscores a major problem with cable news/talking heads-type programming and is one of many reasons I stopped being a regular consumer of such programming quite some time ago.
Part of my shift was my own experience with being invited on television and radio myself. Blogging as much as I have means that web-searches often lead producers to things I have written on very specific topics. And I am also listed on my university's database of "experts" willing to talk to the local press.
As a result, I have been called by media outlets near and far over the years. The most bizarre was some journalist in Kurdistan who called me several times for a radio program to ask me about political parties. I talked to some Canadian outlet about immigration several years ago. I was invited to discuss the FARC on a Caribbean radio station (our schedules didn't sync, which was the same as it pertains to an invite to be on the BBC World Service's "World Have Your Say") and so forth.
I was a semi-regular guest for a while on Birmingham (AL) radio program (I think because for a while I was writing columns for the local paper fairly frequently) and also on a Florida program, etc. I have been on statewide PBS and several local TV stations.
My more high-profile was appear on BBC TV to discuss the Doug Jones/Roy Moore election.
Here's proof (as I foreshadowed a life spent on video meetings–plus it was around 11pm at night and I was wearing sweatpants with my jacket and tie. And I actually wasn't in Troy, AL, proving you can't trust everything you see on TV):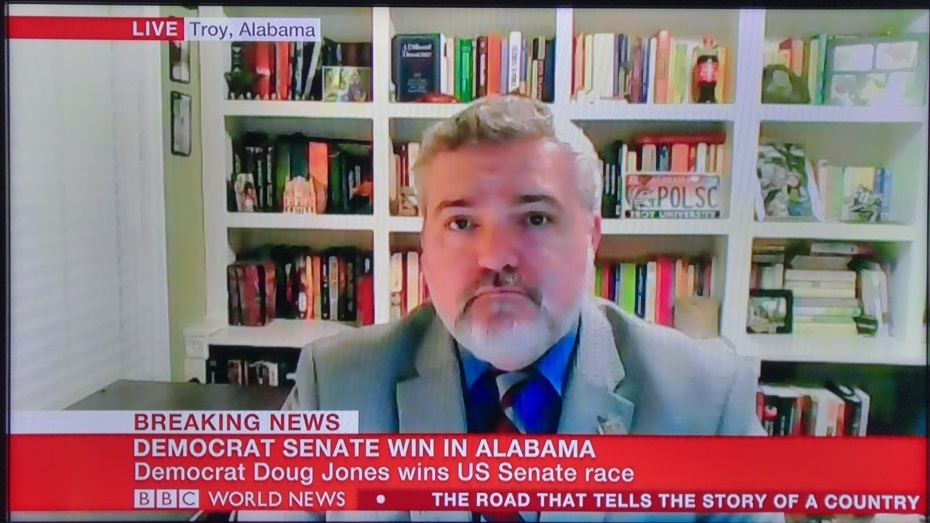 I bring all of this up to point out two lessons I have learned about these kinds of media appearances regardless of whether one is talking about the local 6 o'clock news or the BBC.
First, they only vaguely know or understand (let alone care about) the details of your actual expertise. They will not check to make sure that you are qualified as long as you have some general marker they can go with (e.g., you are a Professor of Political Science).
Second, the most important qualifying characteristic is availability.
Once they have identified you (either because of a Google search that found something you wrote or because they saw you quoted in written media, also probably because of googling) the question is: can you be ready at X time for Y minutes (and how flexible can you be about waiting, cancelations and rescheduling, etc.)?
It was also my experience the more willing you were to be flexible–especially if you were able to drop everything on short notice to be on TV or the radio, the more likely they were to call back soon. And, after all, you are working for free and they have air to fill, often on short notice in response to the news of the day.
They are producing a show. Even the more serious news providers like the BBC are still producing a show. And sure, I knew it then and we all know it now, but seeing it up close and personal made it all the harder to take seriously the vast majority of people on cable news who seemed willing and able to pontificate about whatever the host wanted to discuss (see, e.g., Alan Derschowitz as a prime example).
There is an illusion that too many people buy into that watching an hour of TV which features a bunch of "experts" in boxes on the screen.
The is also a third issue, which the article notes, that producers for these show often look for "experts" who will fit a given narrative:
The pandemic has exacerbated a more general problem of confirmation bias, or seeking evidence to validate a preconceived notion, on TV, said Dr. Henry I. Miller, a senior fellow at the Pacific Research Institute in San Francisco and a philosopher on scientific and technological issues.

"The cable networks, in particular, troll for pseudo-experts — some credentialed, some not — who express viewpoints that reflect the biases of the network and/or interviewer" who have booked them, he said in an email. Among the most egregious examples, Miller said, are the talking heads who've endorsed drugs such as hydroxychloroquine as a treatment for covid-19 in the absence of reliable clinical trials demonstrating its safety and effectiveness.
This isn't to say that everyone on TV in this context doesn't know what they are talking about. I knew what I was talking about when I went on the BBC to talk about Alabama's US Senate special election. I have a colleague who is an expert on Russian politics and Eastern European relations who was a frequent guest on the BBC and he knows what he is talking about. But I also know that the amount of real research done in the expertise of guests, even at the BBC, is not deep. And it is even more shallow on infotainment shows like Laura Ingraham and Sean Hannity.
The format needed to use TV to actually allow real experts to provide actual information to the public isn't the one used by most TV outlets. Of course, cable news is not about education, it is about entertainment. Sadly, most people who watch cable TV don't understand this. And so they end up getting pandemic advice from Dr. Phil as a result.
(BTW, I am pretty sure my co-blogger, Dr. Jim, has had similar media appearance experiences).