The Two Sides of Fox News
Last night amplifies a long pattern.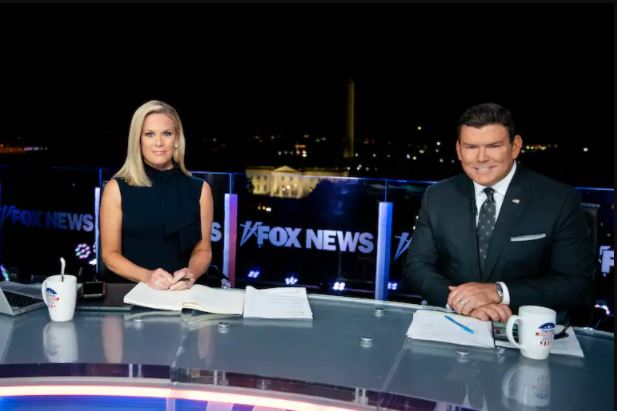 I noted earlier that Fox News was not only pushing back on President Trump's absurd claims of victory but actually led the way in calling Arizona for Biden. While commentators were surprised by that, the news desk has always strived to be taken seriously as journalists; it's the opinion side of the house that gives them a reputation as partisan hacks.
A story in today's Washington Post ("Trump campaign was livid when Fox News called Arizona for Biden — and tensions boiled over on-air") dives deeper into the phenomenon:
Fox anchor Bill Hemmer was gearing up to do another review for viewers of a map of the United States that at 11:20 p.m. was looking surprisingly positive for President Trump when he did a double take in the lower left-hand quadrant.

"Have we called Arizona?" he asked, sounding stunned.

Indeed, with only 73 percent of its vote reported, the analysts on the cable giant's stridently independent decision desk had already bestowed a yellow check mark on the Grand Canyon State — putting it in Joe Biden's column long before any other network was making that call.

It was one of several times throughout the night that the president's favorite network declared results long before its competitors — and not necessarily in the president's favor. Trump campaign officials were livid, and the tensions boiled over onto the broadcast, where former White House press secretary Sarah Sanders insisted it was a "premature call," and anchor Bret Baier called upon decision-desk director Arnon Mishkin to explain himself on camera, because "we're getting a lot of incoming here."

"I'm sorry," Mishkin said, "the president is not going to be able to take over and win enough votes to eliminate that seven-point lead that the former vice president has." Told the White House was convinced otherwise, he stood his ground: "I'm sorry we're not wrong in this particular case." ("You don't have to apologize," Baier told Mishkin.)

Mishkin, a registered Democrat who works for Fox as a contractor, would go on to apologize several times throughout the course of the night — not for being wrong, but for daringly delivering calls that were so early they initially looked suspect. His calls added pressure on other news outlets reporting on a highly competitive race in a country that was uniquely divided and anxious about its result. And they helped ramp up the tension on a night when Trump was brazenly urging the vote count to be stopped before all early and absentee ballots were counted.
Now, as a general rule, I would prefer news outlets not lean forward in calling races where there is a mathematical chance of a comeback. But, regardless, Mishkin and the news desk acted as they should have: trying to get it right and do so ahead of the competition. That's journalism.
The two sides of Fox — strongly pro-Trump pundits and the more measured anchors — were on display Tuesday night almost immediately after the polls closed. Just after 7 p.m., Fox called Virginia for Biden — even though Trump appeared far ahead in the official vote count before the heavily Democratic suburbs came in — and the network's politics editor, Chris Stirewalt, came on-air to defend the projection. "Our call will hold, we feel very confident," he said.

But when Trump unexpectedly racked up an impressive lead in Florida, which he quickly won, Fox brought out its most popular prime-time host, Tucker Carlson, who attacked the mainstream media for once again underestimating Trump's popularity.
Interestingly, Fox was way ahead of the competition here, too. I spent most of the night watching CNN—trying to avoid partisan spin—and they were mostly terrible. (John King is excellent but Wolf Blitzer really harms the telecast.) They were well behind the game in making calls. Which, again, I don't mind per se—I'd prefer that than the debacle that was the 2000 coverage—but the compounded it by pretending that Trump was winning states that he was clearly not going to win.
Stirewalt, whose show I used to go on with some frequency when I still worked in DC, is also excellent. He is (or at least was) a partisan Republican but he's first and foremost an analyst; he's not going to embarrass himself by making false claims only to be proven wrong hours later.
Alas, the infotainment hosts are almost universally hacks:
"I think it's interesting that the emphasis of the leaders of the Democratic Party has been on race and racism. . . . It's remarkable that this president, denounced every day as a racist," did so well among Latino voters, Carlson said. "The Black Lives Matter message is very appealing to White suburban voters, but it's unappealing to some non-White voters. Who expected that?"

Opinion host Laura Ingraham, meanwhile, did a quick segment from the South Lawn, having slipped out of Trump's election night party at the White House. Sean Hannity, the Fox host who is closest to Trump and speaks to him nearly every day, did not make an on-air appearance Tuesday night.

The mood among some inside Fox at that early part of the evening was giddy that the night was not a blowout for Biden, something that would have driven viewers off the air early, according to Fox staffers who spoke on the condition of anonymity to talk about their employers.
But, again, the news hosts tried to get it right:
Fox's decision desk didn't rush to all of its calls. Long after it seemed that Florida would go for Trump, Fox waited to call it. Baier wondered out loud why the network could not call Florida earlier. Wallace declared that "the story of this night hasn't been told yet" and likened the race up to that point to a tennis match, where both Biden and Trump had held serve.

When some on set questioned why the network couldn't make that call given how clear the result seemed, Baier joked about Fox's premature call of Florida in the contested 2000 election. But as soon as Fox called Arizona for Biden, that kind of banter came to a halt on Fox News — and all anyone could do was start to count the different paths to 270 electoral college votes.
Which is why people tune in to TV coverage rather than just wait for the results to be published.