The US Nomination Process: Candidate over Party
In the US, the candidate defines the party, not the other way around.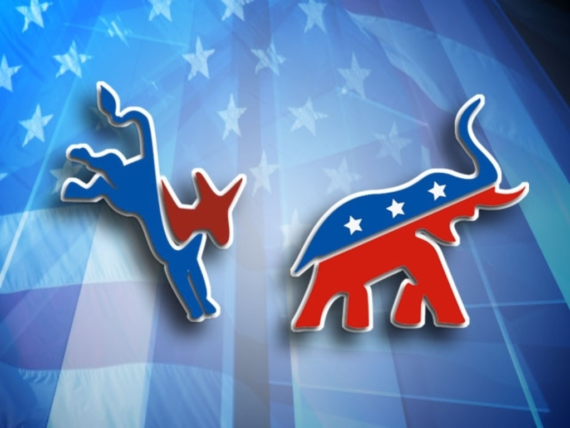 One of the key purposes of a political party is that it provides an identifiable label (Republican, Democrat, Green, etc.) which points voters to a general ideological and policy preference point of view. However, the American party system suffers from the fact that candidates drive this process more than do the parties themselves, and this is especially true of presidential politics.
Sure, there is a vague sense that each of the two major parties stand for some very general set of policy preferences on taxes, social spending, immigration, and abortion (to name four big areas) but we actually can't know what the parties actually stand for until as such a time as the party has a leader, i.e., the party's nominee for the presidency.
I really only need two words to illustrate my point: Donald Trump. The party of free trade is now the party of tariffs and trade wars not because of a substantial internal debate within the party, nor because voters en masse drove candidates to adopt such a position. No, the party likes trade wars now because Trump likes them. Republicans are now far more pro-Russia than in the past because of Trump. Social conservative Republicans are more willing to forgive infidelity because Trump is the leader of their party, and so forth. The line of causality is from the leader to those who identify with the party, not the other way around.
I have noted before the influence the president has over party, mostly in the context of separation of powers in previous posts, such as
The dynamic noted in those posts are about partisan behavior after a president is elected. What is striking me at the moment, for obvious reasons, is the way in which candidates are selected in the first place.
The US has a truly unique nomination process. While some parties in some countries use a version of what we would think of a primary election (usually a national election to select a candidate) no country consistently uses such a process cycle after cycle for all major parties. Further, even systems in which a nominating election is fairly common, although not universal (such as Colombia), there are no sub-national competition like our state-by-state delegate hunt.
If you are looking for real American exceptionalism, this is one that fits the bill.
Now, regardless of the candidate selection process, a presidential candidate is going to influence the party in such a system, but the US process amplifies this fact.
Consider: the Democratic Party is a vague set of notions (as noted above) without much form. Sure, the Democrats tend to favor universal health care, but we won't know what the party really believes until a candidate is nominated. If Warren is the nominee it will mean one thing, if Biden is nomination, it will mean yet another. (And the nomination, and especially the election, of a given person will influence existing co-partisan office-holders' positions on these matter).
This is true of any policy are you can think of. And note that the official party platform really doesn't matter. Rather, what matters will be the policy positions put forward by the candidate once selected (and especially if elected).
The party doesn't define itself–not in any formal way. A collection of candidates come forth each year and those people define the debate in that cycle and then through a labyrinth process, a candidate emerges who becomes the definer of the party for a set time.
Now, yes, the process requires appeals to a certain sub-section of voters, but in ways that does not actually promote an outcome that is necessarily representative of the party as a whole. To wit: candidates must prove themselves immediately in Iowa and New Hampshire, which are 85% and 90% white respectively (not to mention unrepresentative of the parties as a whole, let alone the county, in a myriad of ways).
Consider: to become the Democratic Party's nominee, a party of urban and sub-urban voters, and for whom a key constituency is African-Americans, one has to play well in Iowa and New Hampshire–overwhelmingly white states that lack major urban centers.
This system has a veneer of democracy to it, but not only is it not especially representative in terms of the calendar, but the number of voters in the selectorate is low relative to the population. It also drives candidates to appeal to base voters during the nomination phase and then having to reconstitute their message for the general election campaign.
Beyond that, the US system does not require the parties to coherently define themselves and therefore to present to the voters clear policy visions. Instead, we get the vague notions defined and redefined based on candidates.
I would argue it is healthier for democracy for parties to be able to provide a clear message to voters and for the campaigns, and ultimately the election, to be about those messages.
Consider Bernie Sanders. Sanders is an independent in the Senate. He is not a Democrat. Yet, for two electoral cycles now, he has pursued the Democratic nomination because it is his only vehicle for a legitimate chance to win the presidency. He is free to enter the nomination process due to the weak control parties have over the process. He then has the ability to shape the debate of a party he is not a member of. This creates the need for others who are in the party to respond to him, and perhaps adapt to his positions in a way that might be ultimately detrimental to the party as a whole in the general election.
However, if the system of nomination was not so porous, Sanders would be forced to form his own party to run for president. Under different parameters we would have a more left-leaning party with Sanders as the nominee and a more centrist Democratic Party, for example. (And yes, the Electoral College would make such a fragmentation of voters unwise, but that is a different issue).
Of course, the porousness of the nomination process in 2016 resulted in Donald Trump being nominated. The GOP was not, going into 2016, a nationalist, populist party (although it had such a faction). An open process allowed Trump, who had not even been active in Republican Party politics prior to 2016, to capture the nomination with a plurality of support in the party (and to go on to win the presidency with less than a plurality of the national vote–have i ever mentioned that institutions matter?).
A short version of this discussion goes like this: if American parties were stronger institutions which had some real internal control over their nominations, then Bernie Sanders would not be allowed to participate as a non-member of the party. Ditto Donald Trump.
We have very weak parties.
Ultimately, it is striking the degree to which we, as voters, won't know what the Democratic Party really and fully stands for until it nominates its candidate (as was true of both parties in 2016). Party doesn't drive candidate, candidate drives party.
All of this matters, I would argue, as part of the broader representation problem we have in the US. The more ill-defined parties are, the less they can be vehicles of true representation. It is also problematic that in the US the rules largely channel our effective electoral choice into a binary one.
And, of course, as I have argued, the primaries (as linked to institutional features like single seat districts and the Electoral College, to name but two) are what keep us locked into this binary structure.
As such, instead of a robust debate among numerous positions, we end up a two-way debate defined by candidates, not by well-defined party positions.
The pathway shapes the debate more than does an actual debate.
A less open process for candidate nominations (dare I say, ye olde smoke filled rooms) could produce more coherent parties. Such a process would also force dissidents, whether they be someone like Sanders or someone like Trump, to seek new parties as vehicles for electoral competition and possible office-holding.