There Literally Is A Trump Tweet For Everything
For every Trump tweet, there is literally something that says exactly the opposite.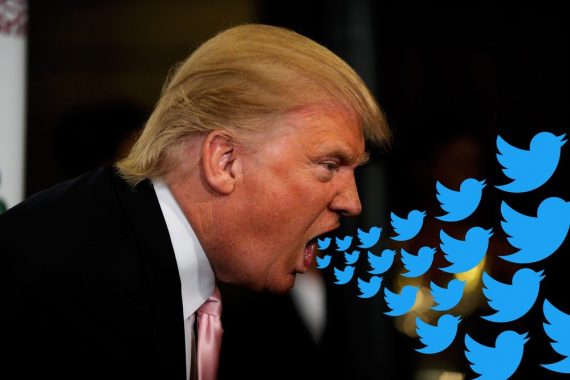 As I noted yesterday, President Trump responded on Twitter to the latest news of a chemical weapons attack with at least one post that was harshly critical of President Obama's decision to refrain from attacking Syria in the late summer of 2013 after a particularly devastating chemical weapons attack:
If President Obama had crossed his stated Red Line In The Sand, the Syrian disaster would have ended long ago! Animal Assad would have been history!

— Donald J. Trump (@realDonaldTrump) April 8, 2018
Trump is referring, of course, to the events of August and September of 2013. Several months earlier, President Obama had stated that the use of chemical weapons by the Syrian regime would constitute a "red line" that the Assad regime should not cross as it would bring American retaliation. When such an attack did occur in August 2013, attention quickly shifted to Washington and what the Obama Administration would do. At first, the President seemed to be determined to strike, but when it became apparent that there was significant opposition to such a unilateral move by the President without Congressional authorization, the President decided that he would ask for such authorization. It quickly became apparent, though, that such authorization would be difficult to obtain, at least in the House of Representatives, and this caused the Administration to further delay any action and even to begin floating the idea of not going forward with military action at all. In the end, the matter was allegedly resolved through an agreement between the United States, Russia, and Syria that was intended to result in the removal of Syria's stockpile of chemical weapons under Russian supervision.
In any case, it now appears to be the case that this plan either was never completely followed through or, more likely, that the Syrians were able to begin rebuilding a stockpile of chemical weapons such as Sarin gas after giving up its existing stockpile. This resulted in the attacks we saw a year ago and in the past several days.
Now, with the Assad regime apparently once again crossing that "red line," Trump is obviously making the argument that this wouldn't be happening if Obama had gone forward with his threatened military action in 2013 after the Syrians were confirmed to have used chemical weapons. While it's utterly unclear that this would have been the case, it's interesting to contrast this position with what Donald Trump was saying at the time about President Obama and his "red line":
The only reason President Obama wants to attack Syria is to save face over his very dumb RED LINE statement. Do NOT attack Syria,fix U.S.A.

— Donald J. Trump (@realDonaldTrump) September 5, 2013
AGAIN, TO OUR VERY FOOLISH LEADER, DO NOT ATTACK SYRIA – IF YOU DO MANY VERY BAD THINGS WILL HAPPEN & FROM THAT FIGHT THE U.S. GETS NOTHING!

— Donald J. Trump (@realDonaldTrump) September 5, 2013
In addition to being an excellent example of Trump's hyperpartisan hypocrisy, this is another example of a meme that has been going around the Internet since before Trump became President. Specifically, the idea is that there is a Trump tweet for every occasion, meaning that for everything that Trump has said about himself or his policies since becoming a candidate and, later, President, one can find a Tweet that he sent during the Obama Administration saying basically the exact opposite. It's a relatively easy game to play since all you really need is to use Twitter's Advanced Search tool to search Trump's feed for almost any given subject and it's virtually guaranteed that you'll find something contradictory out there. I'm not sure if Trump realizes this and just doesn't care, or if he's too oblivious to recognize his own incoherence and inconsistency. Whichever it is, it's likely to continue well into the future.
H/T: Jake Tapper