Tillerson out at State
Next up: Pompeo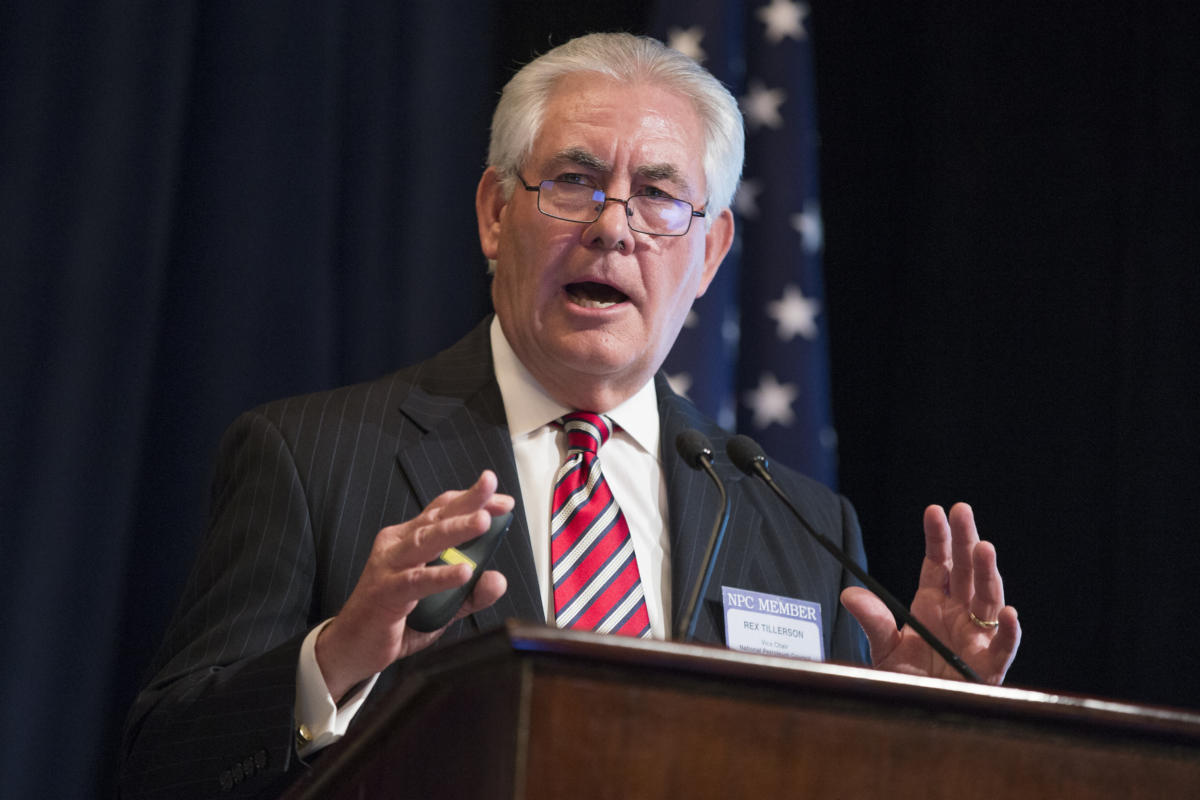 Via WaPo:  Trump ousts Tillerson, will replace him as secretary of state with CIA chief Pompeo
Trump last Friday asked Tillerson to step aside, and the embattled diplomat cut short his trip to Africa on Monday to return to Washington.

Pompeo will replace him at the State Department, and Gina Haspel — the deputy director at the CIA — will succeed him at the CIA, becoming the first woman to run the spy agency, if confirmed.
Mike Pompeo, Director of the CIA, will become our new Secretary of State. He will do a fantastic job! Thank you to Rex Tillerson for his service! Gina Haspel will become the new Director of the CIA, and the first woman so chosen. Congratulations to all!

— Donald J. Trump (@realDonaldTrump) March 13, 2018
The BBC had a recent profile of Pompeo:  Mike Pompeo: America's Trump loyalist spymaster.
The former Tea Party representative from Kansas is seen as a Trump loyalist who has performed a delicate balancing act in managing frayed relations between the spy agency and a commander-in-chief who compared America's intelligence services to Nazis.

He has in the past played down findings by the CIA that the Russians attempted to influence last year's US election.

But when push comes to shove, he has shown a willingness to contradict the president on the issue.

After Mr Trump said he believed Russian President Vladimir Putin's denials, Mr Pompeo firmly stood by US assessments of Moscow's alleged meddling.

The CIA director is more hawkish on the Kremlin than the president, and has previously warned that President Putin is a dangerous leader.

Before joining the CIA, the 53-year-old former-three-term Republican from Wichita, Kansas, was a vehement critic of the Obama administration's nuclear deal with Iran.

He has previously defended the National Security Agency's bulk data collection programme and opposes shutting the prison at Guantanamo Bay.
Here's a NYT profile of Haspel from when she was appointed as deputy last year:  New C.I.A. Deputy Director, Gina Haspel, Had Leading Role in Torture.
The elevation of Ms. Haspel, a veteran widely respected among her colleagues, to the No. 2 job at the C.I.A. was a rare public signal of how, under the Trump administration, the agency is being led by officials who appear to take a far kinder view of one of its darker chapters than their immediate predecessors.

Over the past eight years, C.I.A. leaders defended dozens of agency personnel who had taken part in the now-banned torture program, even as they vowed never to resume the same harsh interrogation methods. But President Trump has said repeatedly that he thinks torture works. And the new C.I.A. chief, Mike Pompeo, has said that waterboarding and other techniques do not even constitute torture, and praised as "patriots" those who used such methods in the early days of the fight against Al Qaeda.

Ms. Haspel, who has spent most of her career undercover, would certainly fall within Mr. Pompeo's description. She played a direct role in the C.I.A.'s "extraordinary rendition program," under which captured militants were handed to foreign governments and held at secret facilities, where they were tortured by agency personnel.

The C.I.A.'s first overseas detention site was in Thailand. It was run by Ms. Haspel, who oversaw the brutal interrogations of two detainees, Abu Zubaydah and Abd al-Rahim al-Nashiri.
Confirmation hearings could be dramatic.  They will, at a minimum, bring the torture issue back into the public discussion.
UPDATE (James Joyner):  I was posting at the same time but decided to consolidate here.
While "Why now?" is the obvious question—to which we may never have a definitive answer—this was inevitable. And, frankly, Tillerson had to go. As Dan Drezner has ably documented, Tillerson is easily the worst Secretary of State in modern history. He was simply a disaster as a manager and public diplomat. At the same time, he was not only not carrying the President's water but got caught calling him "a moron." There was simply no way he could last.
UPDATE 2 (James Joyner): In a follow-up piece titled, "Who is Mike Pompeo?" I observe that, "While Rex Tillerson was an awful Secretary of State who simply had to go, it's quite possible that Pompeo will be an even greater disaster."