Trump Backs Away From Age Restrictions On Gun Sales
Not surprisingly, the Trump Administration is backing away from gun regulations opposed by the N.R.A.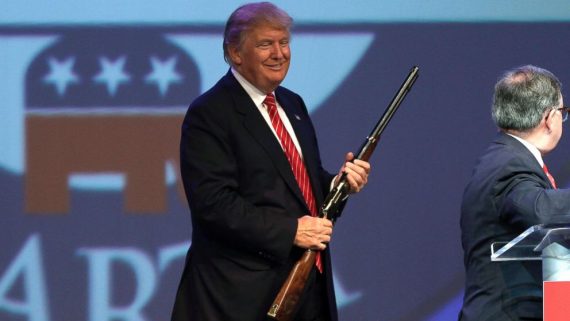 In the immediate wake of the school shooting last month in Parkland, Florida, President Trump appeared to get on board with the idea of raising the minimum age to buy hunting rifles, AR-15's, and other long guns. Almost as soon as he took that position, though, he appeared to back off many of the ideas he had immediately backed after meeting with officials from the National Rifle Association. As a result, it was unclear exactly what the President would support when it came to gun legislation at the national level. Yesterday, the answer to that question became clearer when the White House laid out the outlines of its gun policy proposal:
The White House on Sunday vowed to help provide "rigorous firearms training" to some schoolteachers and formally endorsed a bill to tighten the federal background checks system, but it backed off President Trump's earlier call to raise the minimum age to purchase some guns to 21 years old from 18 years old.

Responding directly to last month's gun massacre at a Florida high school, the administration rolled out several policy proposals that focus largely on mental health and school safety initiatives. The idea of arming some teachers has been controversial and has drawn sharp opposition from the National Education Association, the country's largest teachers lobby, among other groups. Many of the student survivors have urged Washington to toughen restrictions on gun purchases, but such measures are fiercely opposed by the National Rifle Association, and the Trump plan does not include substantial changes to gun laws.

Rather, the president is establishing a Federal Commission on School Safety, to be chaired by Education Secretary Betsy DeVos, that will explore possible solutions, such as the age requirement for purchases, officials said.

DeVos characterized the administration's efforts as "a pragmatic plan to dramatically increase school safety."

"We are committed to working quickly because there's no time to waste," she said on a conference call with reporters on Sunday evening. Invoking past mass school shootings, she continued, "No student, no family, no teacher and no school should have to live the horror of Parkland or Sandy Hook or Columbine again."

The administration's proposals come after 17 people were shot and killed last month at Marjory Stoneman Douglas High School in Parkland, Fla., a massacre that spurred officials in Washington to reevaluate gun laws.

Democratic lawmakers and gun-control advocates accused Trump of succumbing to pressure from the NRA and other special-
interest groups.

"The White House has taken tiny baby steps designed not to upset the NRA, when the gun violence epidemic in this country demands that giant steps be taken," Senate Minority Leader Charles E. Schumer (D-N.Y.) said in a statement. "Democrats in the Senate will push to go further including passing universal background checks, actual federal legislation on protection orders, and a debate on banning assault weapons."

ris Brown, co-president of the Brady Campaign to Prevent Gun Violence, said in a statement that "President Trump has offered only drips of water in response to a five-alarm fire."

Trump has said he was personally moved by the shooting — and by the persistent and impassioned calls for action from some of the teenage survivors as well as parents of the victims — and elevated the issue of school safety in his administration. He has called for raising the minimum age for purchasing an AR-15 or similar-style rifles from 18 to 21 years old.

"Now, this is not a popular thing to say, in terms of the NRA. But I'm saying it anyway," Trump said in a Feb. 28 meeting with lawmakers. "You can buy a handgun — you can't buy one; you have to wait until you're 21. But you can buy the kind of weapon used in the school shooting at 18. I think it's something you have to think about."

But the White House plan released Sunday does not address the minimum age for gun purchases. Pressed by reporters about the apparent backtracking, a senior administration official said the age issue was "a state-based discussion right now" and would be explored by DeVos's commission.

(,,,)

The centerpiece of the administration's plan is Trump's vow to "harden our schools against attack." Since almost immediately after the Parkland shooting, the president has advocated arming some teachers as a solution to stopping future massacres.

"A gun-free zone to a maniac — because they're all cowards — a gun-free zone is, let's go in and let's attack, because bullets aren't coming back at us," Trump said during a Feb. 22 listening session at the White House with teachers, students and parents.

The administration will start working with states to provide "rigorous firearms training" to teachers and other school personnel who volunteer to be armed, said Andrew Bremberg, director of the White House Domestic Policy Council. The White House has not proposed offering states new funding for this training.

Lily Eskelsen García, president of the NEA, the teachers lobby, said last month that "bringing more guns into our schools does nothing to protect our students and educators from gun violence. Our students need more books, art and music programs, nurses and school counselors; they do not need more guns in their classrooms."

The NRA supports the idea of allowing armed teachers in schools. Bremberg said the administration is backing two pieces of legislation: A bipartisan bill by Sens. John Cornyn (R-Texas) and Chris Murphy (D-Conn.) that is designed to improve the accuracy and effectiveness of the National Instant Criminal Background Check System; and the STOP School Violence Act, which would authorize state-based grants to implement violence prevention training for teachers and students.

The administration also is urging all states to pass risk-protection orders, as Florida recently did, allowing law enforcement officers to remove firearms from individuals who are considered a threat to themselves or others and to prevent them from purchasing new guns, Bremberg said.

Lastly, the administration wants to better integrate mental health, primary care and family services programs, and the president has ordered a full audit and review of the FBI tip line, he said. The FBI has said it ignored a warning that 19-year-old Nikolas Cruz might attack a school just weeks before he allegedly carried out the rampage in Parkland.

"The president is determined to get to the root of the various societal issues that lead to violence in our country," Bremberg said. "No stone will be unturned."
To be sure, there is at least some merit in some of the ideas that the White House is putting forward here. School security does need to be re-examined and, in some cases, the idea of "hardening" security is an idea that ought to be explored. It shouldn't be easy, for example, for someone who isn't a student, teacher, or staff member to get into a school building during the day. This can be accomplished via a number of potential means, including limiting outside access to school facilities to an entrance where someone would be required to identify themselves and, potentially, proceed through a metal detector before being allowed into the building. Additionally, it may be worthwhile to discuss the idea of either increasing the number of armed security or law enforcement personnel on campus or allowing non-classroom personnel to carry concealed weapons provided that they are able to pass both a background check and a training program on the safe use of firearms during mass shooting incidents.
Rather than directly backing any of these ideas, though, the White House is proposing to pass them off to a commission that would be headed by Education Secretary Betsy DeVos, who finds herself under fire this morning after a 60 Minutes interview in which she came across as exceedingly weak and clueless. This is somewhat ironic given the fact that, just a day before during a campaign speech, Trump mocked the idea of commissions to study issues such as the opioid overdose epidemic:
At a political rally Saturday night in Pennsylvania, Trump mocked the idea of commissions to solve the nation's drug epidemic. "Do you think the drug dealers who kill thousands of people during their lifetime, do you think they care who's on a blue-ribbon committee?" Trump said. "The only way to solve the drug problem is through toughness."

Administration officials demurred Sunday night when asked why Trump found commissions an inadequate response to the drug epidemic but an appropriate way to respond to gun massacres.

"There are not going to be one-size-fits-all approaches and solutions, and I think that that is a very cogent argument for having a commission," said a senior administration official, who would answer questions from reporters only on the condition of anonymity.
The bigger issue, of course, is the extent to which the President has abandoned ideas such as age restrictions on gun sales and expanded background checks. However, it's a change that should be entirely unsurprising.
Earlier this month, in the wake of a bipartisan meeting at the White House in which the President appeared to take positions on gun control decidedly to the left of the Republican Party and most especially out of line with the National Rifle Association. This included appearing to be open to ideas such as universal background check legislation that would require most private sales to be accompanied by a background check conducted by a licensed Federal Firearms Dealer, changing the law to make it easier to keep guns away from mentally ill people, closing the loophole in Federal law that allows people under age 21 to purchase nearly any weapon other than a handgun, and even appearing to agree that there should at least be a discussion on banning some so-called "assault weapons."  As I noted at the time, though, it was apparent even at the time of that meeting that there was no reason to put any faith in the idea that this President would back the kind of restrictions that were being talked about in that meeting.
In his initial response to the Parkland shooting, for example, Trump said that he was willing to consider looking at some gun control measures that the N.R.A. does not support, including raising the minimum wage to purchase a rifle.the President said he was willing to look at some measures that the NRA does not support such as raising the minimum age to purchase a rifle from 18 to 21, His statements in the days that followed, though, called that into doubt. The extent to which Trump could not be trusted became apparent just a day later after the Congressional meeting when the White House quite clearly began to back away from many of the ideas that Trump had appeared to endorse just a day earlier. Most likely not coincidentally, this happened after Trump had met with officials from the N.R.A. over dinner in the White House during which those officials reportedly heavily lobbied Trump regarding the issues he had appeared to back during the meeting with Republican and Democratic legislators. The outline that the White House laid out yesterday seems to make clear that, in the end, the N.R.A. won the day given that something as seemingly non-controversial as raising the age to purchase weapons is being abandoned in favor of the very ideas that the N.R.A. has been backing in the wake of both the Parkland shooting and other similar events.
None of this should be surprising, of course, because it fits a pattern we have seen from this President before. In January, the President seemed to give his support to a broad solution to the imminent problem of what to do about the beneficiaries of President Obama's Deferred Act For Childhood Arrivals. In that case, there was also a bipartisan meeting at the White House during which the President appeared to tell those in attendance that he would support whatever solution they came up with. Two days later, though, he blasted a bipartisan plan developed by Senators Graham and Durbin during a meeting in which he derided immigrants from what he referred to as "shithole" countries. Days after that, Trump met in the Oval Office with Senate Minority Leader Chuck Schumer as part of a last-minute effort to avoid a government shutdown and appeared to endorse a proposal that would have solved the DACA problem with a bill that included funding for Trump's border wall only to walk back that agreement hours later, an action that led Schumer to remark that negotiating with Donald Trump was like negotiating with Jello.
What's clear from all of this is that Donald Trump is a man who obviously has no core principles and whose policy pronouncements and commitments he appears to make to legislators are guided most prominently by whatever he saw on "Fox And Friends" or elsewhere on Fox News Channel or who he last spoke to on a given issue. When he's before the camera, Trump obviously enjoys creating the impression that he's being the open-minded "deal maker," an image which he was cultivating long before he entered the race for President in 2015. Rather than being a deal maker who cannot be trusted to keep his word and who is easily manipulated by staff members and Cabinet officials such as Stephen Miller, Commerce Secretary Wilbur Ross and his close aide Peter Navarro and, of course, the lobbyists for the National Rifle Association. Instead of being a leader, it's quite apparent that Donald Trump is, as I've said before, an easily manipulated empty suit.