Trump, Clinton Hold Solid Leads In New York
With just over a week to go, both Donald Trump and Hillary Clinton have solid leads in New York.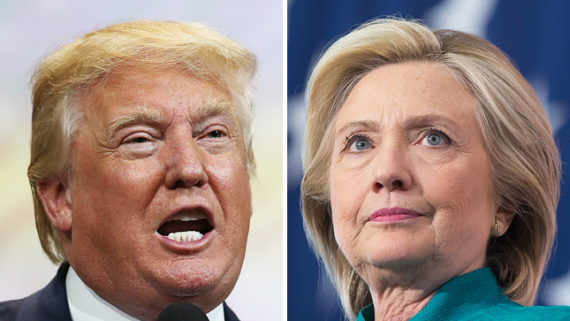 With just over a week to go before what amounts to one of the biggest single state primaries, and several weeks during which their campaign have allegedly floundered a new poll shows that both Donald Trump and Hillary Clinton are on track for big victories in New York.
First up, there's the Republican race, where a new poll finds that Donald Trump holds a commanding lead in the Empire State:
Trump dominates with 54 percent support among likely GOP primary voters.  John Kasich garners 22 percent and Ted Cruz is third with 15 percent.

The poll, released Sunday, was conducted Monday through Thursday evenings.  Cruz had a convincing 13-point win over Trump in the Wisconsin Republican primary Tuesday.

But the Empire State is a completely different world — especially for Cruz who cracked wise about "New York values" in January.

"Very" conservative voters loved Cruz in the Badger State and gave him a primary season high of 65 percent support.  In the Empire State, 61 percent of them prefer Trump.  Just 19 percent of very conservatives go for Cruz.

There is a gender gap in Trump's support — although it only affects the magnitude of his lead.  He's the favorite among 59 percent of men vs. 49 percent of women.

Republican voters without a college degree are 13 points more likely than college grads to pick Trump.
Trump's numbers are largely unsurprising since he's held similarly massive leads in the polls out of the Empire State for months now. The result of this is that Trump presently holds a 32.5 point lead over Governor Kasich and Senator Cruz in the RealClearPolitics average and appears to be well-situated to win more than 50% of the vote statewide, a number of huge importance in the delegate hunt because it would mean that Trump would win the vast majority of the at-large delegates allocated to the state. In addition to those delegates, there are also a number of delegates awarded based on how each candidate performs in the state's Congressional Districts. Given Trump's massive advantage in the state as a whole, it is these delegates that John Kasich an Ted Cruz are largely competing for, hoping to pick up a handful of delegates in a district or two and thus thwart a sweep by Trump that helps to put him back on track in the race for the Republican nomination. Assuming that it holds up over the next week, though, the size of Trump's lead in the statewide polls suggests that he's likely to do well enough in individual Congressional Districts to undercut much of what Kasich and Trump
Even if Kaisch or Cruz manage to pick up a few delegates from a Congressional District, a decisive win by Trump in New York is likely to end at least some of the reporting about his campaign falling behind in the delegate hunt since it will make it slightly more likely that he's able to put together the 1,237 delegates that he needs to win the nomination on the first ballot. This is especially true since the New York primary will be followed by primaries on April 26th in Connecticut, Maryland, and several other states in the Northeast where Trump is expected to do well. Indeed, another Fox News poll released yesterday showed Trump with a lead of more than thirty percent in Pennsylvania, which also holds its primary on April 26th. While the importance of this number is undercut by the fact that 54 of Pennsylvania's 71 delegates will not be bound by the results of the primary. Nonetheless, even the 17 delegates that are up for grabs as a result of the primary are important when the race is as down to the wire as the Republican race looks to be turning into.
On the Democratic side, Hillary Clinton has a similar commanding lead:
In the race for the Democratic nomination, Sanders is hoping to turn the momentum from his double-digit Wisconsin win into a home state victory in New York.

The trouble for Sanders is, Wisconsin is the kind of state he wins — mostly white and independents could participate in the open primary.  New York is a more diverse state, and has a closed primary — and that's to Clinton's advantage.  Plus, it's been her home state more recently than Sanders.

The poll shows Clinton tops Sanders by 53-37 percent among NY likely Democratic primary voters.  Another nine percent are uncommitted.

Clinton's clearly the pick among women (61-30 percent) and non-whites (56-37 percent).

Men give the edge to Sanders by just 47-43 percent.

"Sanders has a lot of work to do if he's going to make this race a close one," says Anderson.  "He's currently losing among every demographic group with the exception of men and voters under age 45.  Many more middle-age New Yorkers are going to have to feel the Bern for Sanders to have a chance of catching Clinton."

Young voters are Sanders' biggest backers.  He's up by 11 points among those under 45 (52-41 percent) — and by 30 points among the under 35 crowd (63-33 percent).

The former NY senator holds a 27-point advantage among voters 45 and over (58-31 percent).

Among those living in a union household, Clinton's up by 49-40 percent.

She also leads among Jewish voters (59-35 percent) as well as Catholics (53-34 percent).

Regionally, Clinton dominates Sanders in New York City (+19) and is even running slightly ahead beyond the city and its suburbs.

Both Clinton (85 percent) and Sanders supporters (79 percent) have a high degree of vote certainty.

Still, one in five Sanders backers says they could change their mind (20 percent)
As with Trump, Clinton's lead in what amounts to her adopted home state is not much of a surprise. She has been leading the field there by double digits for months now, and presently holds at 14.0 point lead over Bernie Sanders in the RealClearPolitics average, a number that suggests that she will do will enough on primary night to garner the majority of the state's proportionally awarded delegates and thus move further ahead of Sanders in the race for a delegate majority. Also like Trump, Clinton seems well-positioned headed into the Mid-Atlantic primaries that take place on April 26th. This includes Pennsylvania, where a new poll shows that Clinton leads Sanders by eleven points. Assuming these numbers hold up, Clinton will pick up a significant number of delegates and further widen the gap between her and Senator Sanders. These expected victories won't end Clinton's quest for an outright majority, but they are likely to put Sanders so far out of reach mathematically that continuing the race any further could only be described as a vanity exercise on his part.
There's a lot that can happen between now and next Tuesday, of course, but if these trends continue it looks like both Donald Trump and Hillary Clinton are well positioned to put many of the doubters behind them.